Anger Management Activities for Students I CBT Portfolio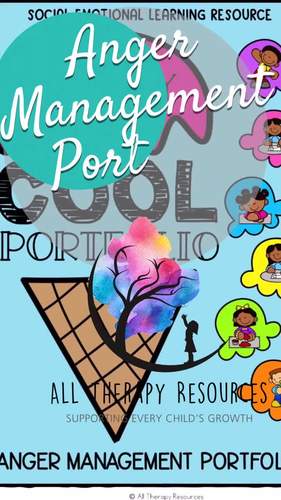 ;
What educators are saying
Great set of worksheets and educational materials addressing anger. I found it very useful for clients in 3-5th grades. Colorful, fun! Includes psychoeducation as well as application ideas.
Also included in
32 x Workbooks - School Counselor Bundle - Behavior, Impulse Control, Relationships, Personal Space and Boundaries, Anger Management, Emotions, Kindness, Self-care, Emotional Regulation, Growth Mindset, Personal Values, Anxiety, Self-esteem, bullying, grief and loss, divorce and much more!Please cli

Price $93.35

Original Price $186.70

Save $93.35

This bundle includes AMAZING resources which includes everything you need to tackle Anger Management. This includes workbooks, lesson plans, problem solving templates and programs, social stories, Incident Prevention and Response Plan Templates as well as a variety of anger management programs.Click

Price $54.99

Original Price $109.79

Save $54.80

This bundle includes 35 of our anger management, growth mindset and social emotional learning best sellers! These include our Anger Management Workbook for Teenagers and our Behavior and Feelings Workbook. These two resources together includes countless of anger management books, anger management wo

Price $78.86

Original Price $157.72

Save $78.86
Description
Navigating emotions can be difficult, especially when you're an adolescent. That's why we designed the Mental Health Workbook for Adolescents! This comprehensive portfolio covers everything related to anger management and can help guide young people to take control over their emotions. It's engaging, reflective, and full of thought-provoking exercises. This social emotional learning resource is perfect for school counselors and psychologists in elementary or middle schools.
Inside, you'll find activities that cover anger warning signs, identifying personal triggers, and red vs. green choices. It also includes emotional regulation strategies to help create a sense of calm which is so important for growing minds. We know that managing our feelings isn't just about counting to ten or deep breathing – it's about gaining insight into why we feel the way we do. With this portfolio, students will have access to more than just basic strategies; they'll be able to develop an understanding of their own unique situations. There are so many angles in this robust SEL resource to support students in developing insight and understanding into anger and this portfolio is sure to have something for everyone!
This portfolio is divided into six individual lessons. You can choose to use the lessons in isolation or scaffold them. The six lessons include:
1. All About Anger
What is Anger?
What Does Anger Look and Feel Like?
Warning Signs and Triggers
My Anger Questionnaire
Consequences (Keeping vs. Losing Your Cool)
Anger Awareness
2. My Engine Speeds
Our Speedometer
Managing My Car Speeds
Sometimes We Need a Mechanic
Revving Up and Calming Down Strategies
Posters
3. Red and Green Choices
What are Red and Green Choices?
Red/Green Choices Poster
Spotlight on Your Choices
Is This a Good or Poor Choice Worksheet
What are the Green vs. Red Choices in that Situation?
Coloring Page
4. Helping Hands vs. Hurting Hands
Physical Aggression
What are Helping and Hurting Hands
Using Hands to Feel to "Help Others" vs. "Hurt Others"
Poster Promise Pledge
Sorting Activity
5. How to Keep My Cool - Emotional Regulation Strategies
Anger Management Tips for Keeping Your Cool
Cooling Down Strategies
Write / Draw Your Own Strategies
6. Craft – Cool Down Ice Cream
Cool Down Strategies Craft Poster
I Can Cool Down Coloring Page
Keep it Cool Ice Cream Craft
Craft Example and Templates
► Looking for more workbook topics? We've got you covered!
⚠️ Click HERE to follow All Therapy Resources and be alerted of new products and free downloads! ⚠️
© All Therapy Resources - Please read my Terms of Use regarding personal and commercial use of All Therapy Resources. You can download the free document here.
Teaching Duration
Lifelong tool
Report this resource to TPT