Anger Management Mini Flipbook for grades 4-8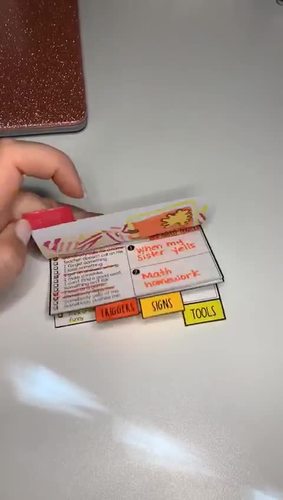 ;
What educators are saying
This was a cute activity to let the students have a bit of a mental health day and watch the Angry Birds movie while reflecting on their own emotions.
This is a great resource for students who are struggling with anger. I have used it with individual students to discuss ways to recognize and cope with their anger.
Description
Managing anger is easy with this anger management activity to help kids get back on track and ready to learn. Students will love learning how to recognize when they are starting to get angry, and begin using coping skills to return back to a calm state of mind. They complete a four tab flipbook and choose from the 10 unique anger tips bookmarks. There are also two full color anger posters to hang in your classroom, office or hallway. Great for social skills groups, lifeskills lessons for special education teachers, or individual counseling sessions.
Editable flipbook included. (option to change any and all text)
Uses only one sheet of paper per student!!!
Includes:
4 tab anger management flipbook
10 anger tips bookmarks
2 colorful wall posters
Need the younger version?
More Anger Resources
• Anger Management Brochure K-2
• Anger Management Brochure Upper Elementary
• Anger Management Activities for Kids
• Anger Management - Mini Flipbook and Bookmarks Lower Elementary
Report this resource to TPT