Animal Research Project Templates | End of the Year Research Reports Writing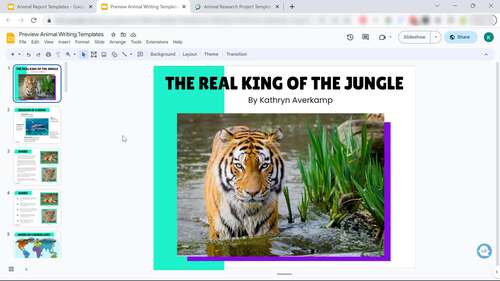 ;
PDF

Google Apps™
Includes Google Apps™
The Teacher-Author indicated this resource includes assets from Google Workspace (e.g. docs, slides, etc.).
What educators are saying
This was an excellent resource for an animal research project! I was able to edit the template slides to customize this resource for my student needs.
My students love the layout of these research pages to help them express what they learned about their chosen animal.
Also included in
Get $145 worth of free products with our entire year bundle! 50+ activities and resources in Google Slides to use with your 2nd grade students. Back to School activities, agenda slides, vocabulary digital notebook, biography report templates, parent teacher conference slides, graphic organizers, cou

Price $149.00

Original Price $290.50

Save $141.50

Get $125 worth of FREE products with this entire year bundle! 40+ activities and resources in Google Slides to use with your 3rd grade students. Back to school activities, digital agenda slides, parent teacher conference slides, holidays around the world, graphic organizers, multiplication mystery p

Price $129.00

Original Price $253.50

Save $124.50

Engage your students with these 5 digital activities for Spring! Send students on a digital Easter Egg Hunt, have them stand up for an Earth Day cause, host a poetry celebration during April, design and print Mother's Day cards, and give them a completely editable animal report template to research

Price $16.00

Original Price $25.00

Save $9.00

5 beautifully designed (and EDITABLE) report projects for your students for the end of the year or anytime during the year! Create the exact presentation you want for your students but customizing any of the projects to fit your needs.This bundle includes report templates to share all about a countr

Price $22.00

Original Price $32.00

Save $10.00
Description
Create the EXACT animal research project you want for your students with these customizable animal report templates. Choose from 25 digitally designed (EDITABLE) templates in Google Slides for your end of the year research projects or anytime throughout the year.
Students will use the slides to share all about an animal they researched while working with all sorts of text features (headings, table of contents, photos, captions, fun facts, bold words, glossary, and more).
Want more report templates for the year? Click here for the BUNDLE!
Open the Google Slides presentation and decide which slides you want your students to complete for their animal writing project. (Or, give them the freedom to choose.) Simply delete the rest.
There are multiple versions of the same slide (noted below) such as Habitats and Babies, so you can decide if you want your students (or specific students) to create a list or type in paragraph form.
You can change any of the headings to match your preference (ex. Change Babies to Life Cycle)
You can type in any special writing lingo you use or directions that you want your students to remember (ex. what they should include in their introduction) in the given text boxes.
When you love it, send the presentation to your students to complete through Google Classroom or send them the Google Slides link.
What do you want to know?
Websites to get you started (Edit this list for your students)
Notes about _____ (Blank slides for students to take notes on their research)
Cover
Table of Contents
Introduction
Babies (2 versions)
Appearance (2 versions)
Diagram of a ________
Diet
Adaptations
Habitat (2 versions)
Where do _____ live?
Did you know? (Fun facts)
Photos
Human Impact
Videos + Websites
Conclusion
Glossary
Sources I Used
About the Author
Create your own slide
Creating a clickable Table of Contents and Glossary
Inserting videos of the animal they researched
Inserting links to websites to share about the animal they researched
Digitally sharing and commenting on classmates' animal presentations (instructions included)
Easily printing a hard copy
Yes! I created this activity so you have maximum freedom to customize the slides exactly how you want them.
All of the text is 100% editable. Just click and type!
The formatting is 100% editable (Except for 3 slides due to image copyright)
You can easily change the headings on the slides. If you'd rather it say Life Cycle than Babies, click and change it!
Students can easily change the size and orientation of the image boxes depending on the images they find.
You can delete or duplicate any slide in the presentation.
I purposely did not lock down the elements on the slides so students have the freedom to make the presentation their own.
It's great for students and teachers who are just starting to use Google Slides and also those already Google Slides savvy. Share this activity through Google Classroom or simply share the link.
Student directions are listed next to the slides to help students:
Insert and Crop photos
Insert Links and Videos
Create a clickable Table of Contents and Glossary
Add and delete rows in a table
*NOTE: When you purchase this product, the license can be used for one classroom, not an entire grade level or school. Please purchase multiple licenses if it will be used by more than one teacher. Thank you.
New! ANY Subject Report Templates
Get them ALL + any future ones added!
Kathryn Averkamp - kat@makewayfortech.com
Google Certified Educator
Master's degree in Educational Technology
Taught each grade K-4 over the past 11 years
Awarded Teacher of the Year for the 2019-2020 school year
♥ Don't forget you can earn TpT credits by leaving a review after you purchase products.
----------------------------------------------------------------------------------------------------------------------------
⭐⭐⭐⭐⭐More Google Activities ⭐⭐⭐⭐⭐
• End of the Year Memory Slideshow (Great for parent celebrations/Open House)
• End of the Year Student Gifts
• End of the Year Discussion/Refection Slides
• End of the Year Student Awards
• End of the Year Autograph Party
• Host a Poetry Writing Celebration
• Summer Multiplication Mystery Pictures
• Thank Your Classroom Volunteers - Slideshow in Google Slides
Beginning of the Year
• FAVORITE: Ultimate Teacher Hub
• Meet the Teacher Letters and Slideshow
• Back to School Night/Open House/Meet the Teacher Presentation
• Back to School Forms for Parents and Students
• Top 5 Picks of Summer Collaborative Class Activity
• Back to School Games and Activities Jamboards
• 9 Back to School Google Activities
• All About Me Collaborative Slideshow
• Digital Growth Mindset and Classroom Rules Poster Activity
• Student of the Day/Week Digital Posters & Class Book
• ENITIRE BACK TO SCHOOL BUNDLE ($31 worth of free products)
All Year Resources
• Assignment and Agenda Slides with Timers
• Monthly Calendars and Newsletter Templates
• Student of the Day/Week Digital Posters & Class Book
• Printable Growth Mindset and Inspirational Quote Posters
• Entire Year Ultimate Google Slides BUNDLE (Growth Mindset, Reading  Logs, Sharing Projects, more)
• The Great Kindness Challenge Activities in Google Slides
• Digital Growth Mindset Poster Activity
Google Jamboards
• GET THEM ALL MEGA JAMBOARDS BUNDLE
• Social Emotional Learning Jamboards
Writing/Reading
• Animal Research Report in Google Slides
• Biography Report Template in Google Slides
• Digital Reading Logs and Graphic Organizers
• Digital Vocabulary Notebook For Any Subject
• Digital Stickers: Improvement Needed + Motivational
• Mother's Day Cards in Google Slides
Math
• Add and Subtract within 20 Word Problems (Great for review/assessment)
• Repeated Addition, Arrays, Equal Groups (Great for review/assessment)
• Entire Year Digital Multiplication Mystery Pictures in Google Slides
• Counting Coins and Bills Activities and Assessment
• Subtraction - Regroup or Not?
• Subtraction with Regrouping Word Problems Review (Topic 6 Envision)
Social Studies
• Me on a Map Digital Flipbook + Landforms Digital Flipbook
• Google Slides Sharing Projects (Timelines, Family Traditions, Community Workers Current Events)
• Communities: Rural, Urban, and Suburban in Google Slides (+ Google Earth!)
Report this resource to TPT
Standards
to see state-specific standards (only available in the US).
Write informative/explanatory texts in which they introduce a topic, use facts and definitions to develop points, and provide a concluding statement or section.
With guidance and support from adults, use a variety of digital tools to produce and publish writing, including in collaboration with peers.
Participate in shared research and writing projects (e.g., read a number of books on a single topic to produce a report; record science observations).
Write informative/explanatory texts to examine a topic and convey ideas and information clearly.
With guidance and support from adults, use technology to produce and publish writing (using keyboarding skills) as well as to interact and collaborate with others.