Animal Unit (Habitats, Mammals, Reptiles, Amphibians, Birds, Fish, Insects)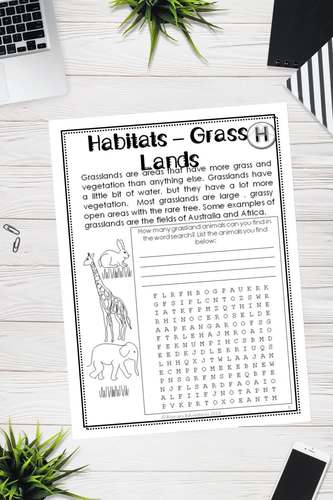 ;
Also included in
This Grade 2 Animal Bundle includes an animal unit on the classes of animals as well as prep worksheets for a research report on animals.Animal Unit for Grade 2!Students love learning about the animal families through this unit! This booklet includes over 68 pages of colorful activities using easy t

Price $13.00

Original Price $16.00

Save $3.00
Description
Animal Unit for Grade 2!
Students love learning about the animal families through this unit! This booklet includes 74 pages of enjoyable activities using easy to understand language. These lessons are taught through learning about animal groups: Mammals, Reptiles, Amphibians, Fish, Birds, Insects. Activities integrate Language Art concepts making the science lessons comprehensive. The unit includes all the worksheets I use to teach my animal unit.
1) Animal Habitats
Water lands
Grasslands
Deserts
Arctic and Antarctic
Forests
Review sorting activity
2) Animal Classifications/Families - each family has its own section
Mammals:

Overview on what mammals have in common
Which Animal are Mammals activity
Mammal Order (Alphabetical order)
All About Bears
Hibernation
Endangered Giant Panda
Amphibians:

Overview on what amphibians have in common
All About Frogs
Frog Stages
Life Cycle of a Frog ordering
Reptiles:

Overview on what reptiles have in common
All About Chameleons, Camouflage
Chameleon coloring sheet
Rhyming Reptiles (writing couplet poems using reptiles)
True and False about Reptiles
Birds:

Overview on what birds have in common
Bird Match, Migration
Migrate or Hibernate
Canada Geese Adjective Hunt
Peacock coloring sheet
All About Penguins
My Bird (Students design their own bird)
Fish:

Overview on what fish have in common
Fishy waters fill in letters activity
Shark Adjective Hunt
All About Seahorses
Seahorse Body Parts Sort
Fish of My Own
Insects:

Overview on what insects have in common
Insect Parts
Ladybug Adjective Hunt
All About Honeybees
Honeybee Life Cycle
Types of Honey bees
Life cycle of butterflies
3) Animal Family Posters
4) Definition Flap Book for the animal families
** Note: Migration, Hibernation, Endangered Animals, Camouflage, and Animal life cycles activities throughout the unit.
*** The unit discusses Canada Geese when talking about migration. This is great for Canadian teachers but other teachers can easily use it as well!
I hope you enjoy them as much as my students did! Please feel free to contact me if you have any questions!
Made by Primary Adventures
Fonts by TeachesThirdinGeorgia
Check out my math resources!
Report this resource to TPT