Animals and their Habitats SUB PACK- unit of work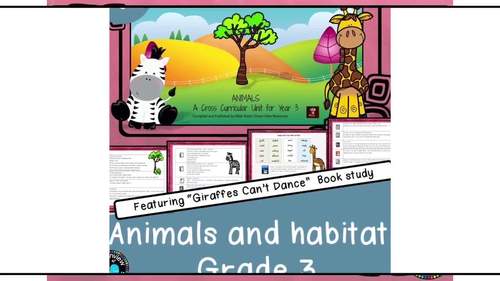 ;
Also included in
This combination booklet is a time saver for all primary teachers. Within the book are links and activities which will keep your middle primary class busy for a week or more. There are links to units of work, videos, interactive games, fantastic apps and printable activities. Based on the theme o

Price $4.20

Original Price $6.00

Save $1.80
Description
Kids just love learning about animals.
Animals Unit featuring Giraffes Can't dance book study is full of wonderful engaging ideas and activities.
This resource booklet is a time saver for all primary teachers.
Within the book are links and activities which will help keep a year 3 class busy for a week or more. There are links to units of work, videos, interactive games, fantastic apps and printable activities. Based around the theme of Animals, children will have opportunities to engage in some wonderful activities base on the story book "Giraffes can't dance" by Giles Andreae
☀Included is a set of spelling words linked to the theme of animals, and a QUIZLET created for you to utilise on the IWB
☀Worksheets that you can utilise
☀Hyperlinked images that will take you to an amazing collection of websites for you to pick and choose from so that you can create a unit of work that suits your teaching style and the needs of your students.
☀An interactive suggested timetable, which is linked to all of my pinterest boards, so that you will have a resource that keeps on growing.
☀Suggested math activities that you can keep the animal theme running through your daily, weekly or monthly plan
(All resources and sites that have been selected are free, or through subscription (with no fee)
To get maximum benefit from this eBook you will need to really explore the links and contents to adapt and modify to the children you will be working with.
The suggested timetable is linked to hundreds of ideas for Creative and Performing arts. and PE , and health sessions
This booklet will save you hours of searching the internet for quality resources.
⭐This booklet has been labelled as appropriate for grade 3, however, the content could easily be applied to grades 2 or 4
26 pages
You'll get 1 PDF
Related Products
• 3 Product Bundle- Value deal
• Animal AND Sea-Ocean Units for Kindergarten to grade 6 (BUNDLE)
• Animal and Sea units of work for kindergarten to year 6 (bundle)
• Animals a complete unit of work for grade 1
• Information Report-Australia lapbooks
• Logic games, puzzles and brain teasers. Animal theme
Report this resource to TPT