Animals and their Habitats Upper Primary (The great Kapok Tree) SET 1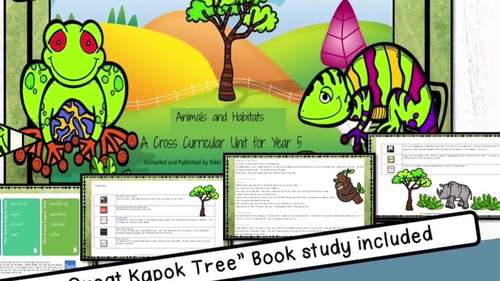 ;
Also included in
This is the bundle for your older primary students. This combination booklet is a time saver for all primary teachers. Within the book are links and activities which will keep your upper primary classes busy for a week or more. There are links to units of work, videos, interactive games, fantastic

Price $4.20

Original Price $6.00

Save $1.80

Ocean life and Animals are such fun topics to teach. I love to plan my units of work so that they link across all curriculum areas making learning more authentic, engaging and relevant.My resources are not a print and go resource, they are designed for you to create your own unit of work using the

Price $12.25

Original Price $17.50

Save $5.25
Description
Kids just love animals!! This themed unit delves deeper into the impact of man on the natural habitat of many much loved animals, in this unit we explore the rainforest habitat and its destruction
The Great Kapok Tree is the focus story book in this unit and I have linked ideas and activities across all subject areas.
The writing focus is on Persuasive writing, and author's purpose.... This is such a time saver, I have done all the hard work of searching for quality websites and activities for you.

This resource booklet is a time saver for all primary teachers.
Within the book are links and activities which will help keep a year 5 class busy for a week or more. There are links to units of work, videos, interactive games, fantastic apps and printable activities.

☀Included is a set of spelling words linked to the theme of animals, and a QUIZLET created for you to utilise on the IWB
☀Worksheets that you can utilise
☀Hyperlinked images that will take you to an amazing collection of websites for you to pick and choose from so that you can create a unit of work that suits your teaching style and the needs of your students.
☀An interactive suggested timetable, which is linked to all of my pinterest boards, so that you will have a resource that keeps on growing.
☀Suggested math activities that you can keep the animal theme running through your daily, weekly or monthly plan

(All resources and sites that have been selected are free, or through subscription (with no fee)

To get maximum benefit from this eBook you will need to really explore the links and contents to adapt and modify to the children you will be working with.

The suggested timetable is linked to hundreds of ideas for Creative and Performing arts. and PE , and health sessions

This booklet will save you hours of searching the internet for quality resources.
⭐This booklet has been labelled as appropriate for grade 5 however, the content could easily be applied to grades 4-6

Click the ★green star★ at the top of my store to follow me to find out when a new product is posted
Don't forget that leaving feedback earns you points toward FREE TPT purchases. I love that feedback!
Also, follow me and be notified when new products are uploaded.
As always, please contact me with any questions!
Follow me on Facebook for exclusive fan FREEBIES!
Follow my BLOG for ideas
Follow my Facebook page for giveaways and updates!
Thank you for visiting OceanviewResources
You may also be interested in these other helpful resources:
⭐ 2nd Edition Survival Kit for Casual Teachers Updated version
⭐ Awards, Rewards and Behaviour Management
⭐Best of Teachers Pay Teachers Marketplace EBook -200 FREEBIES (Back to school )
⭐ Substitute Teaching BUNDLE Survival Kit and Easy Links.
⭐ Substitute/Casual/ Relief teaching ideas ebook(Easy Links)
⭐ The Best of Teachers Pay Teachers Marketplace- FREEBIES PRODUCT VIDEO
⭐ Ultimate Substitute Teachers Survival Kit
⭐ Ultimate Substitute Teachers Survival Kit (300 printable pages.worksheets) #Behaviourmanagement #reliefteachingsurvivalkit #reliefteachingideas #relief teachingbundle #substituteteacherideas #backtoschool #bestresourceever #subtub #substituteteacher #reliefteacher #classroomorganisation #spelling #term3
This is for use by one teacher in one classroom. If you would like to share with your colleagues, PLEASE purchase a multiple license. Thank you :)
Report this resource to TPT