Animals and their habitats Unit for kindergarten SUB PACK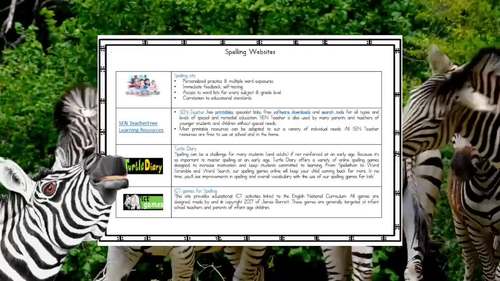 ;
Description
Animal Unit -Kindergarten
Teaching Animals is so much fun, having taught younger grades for many years, it has always been a favourite unit of mine,
I love planning my themed units around picture books and in this unit I have chosen some classic favorites.
Kindergarten students have a deep interest in animals and the world around them
This resource booklet is a time saver for all primary teachers.
Within the book are links and activities which will keep a kindergarten class busy for a week or more. There are links to units of work, videos, interactive games, fantastic apps and printable activities.
Based on the theme of Animals, children will enjoy "Brown Bear, Brown Bear' by Eric Carle and 'One is a Snail, Ten is a Crab.' by April Pulley Sayre.
Here is a breakdown of what is in the unit
☀Suggested spelling list and copy and trace worksheet
☀Flashcards to use for sentence building
☀Spelling ideas and activities to engage your students
☀A free resource from Ripper Reading Resources with comprehension prompt cards
☀Brown Bear worksheet where children complete the sentence 'I see a______looking at me" It is then illustrated to compile into a class reader
☀A week of suggested activities using online readers from United for Literacy
☀Sentence matching clues (could be used in literacy rotations)
☀I went on Safari and what did I see? Students can compile a similar book to brown bear, using their prior knowledge of jungle animals
☀A host of links with free activities and online games to use with IWB to support the teaching of this unit across all subject areas.
☀ Lapbook templates to use as scaffolds for writing (example photos are included)
To use this booklet to its best, you will need to really explore the links and contents within.
✅Links across all subject areas to a host of free resources and activities readily available on the internet
✅A brilliant free game from my collaborator Adrian Bruce
✅ Suggested timetable with clickable links to my Pinterest boards for each subject area. Plenty of inspiration to be found (All linked to themed boards)
✅Spelling lists and activities, alongside a range of online sites to practice them. Spelling games and ideas to reinforce and consolidate list words
✅A free resource from my wonderful collaborator from Ripper Reading Resources.
✅Explore animal protection and animal welfare with the links provided in the Animal Themed unit
✅BONUS Classroom management guide and Attention Getters
Related Products
• Animal Themed Decor Pack- NSW Foundation Font (Back to school )
• Animal Themed Decor Pack- ABC FONT Editable
• Year 1 - Sea Themed Cross Curricular Unit
• Year 1 Sea and Animal Themed Bundle
• Subitising Dot Patterns - How Many Bubbles?
• Teacher Planner Binder (teacher Diary)
• Ultimate Substitute Teachers Survival Kit (300 printable pages.worksheets)
• Ultimate Bundle- All k-6 Animal and Sea themed books
• Ultimate Bundle- All k-6 Animal and Sea themed books (15 books)
| thematic unit | labelled diagram | labelled diagram | foundation | grade 1 | year 1| | report writing | information books | living things❘ animal welfare❘ animal habitat❘ Animals ❘ habitats❘
Report this resource to TPT