Annabel Lee by Edgar Allan Poe Complete Poetry Unit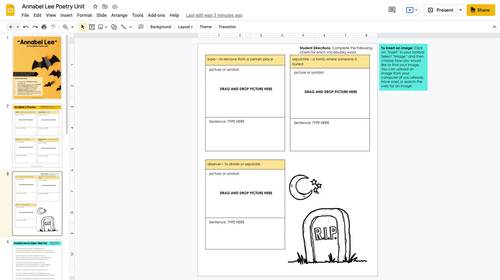 ;
Zip

Google Apps™
Includes Google Apps™
The Teacher-Author indicated this resource includes assets from Google Workspace (e.g. docs, slides, etc.).
What educators are saying
This was really helpful in introducing my 7th grades to Poe. The annotated teacher copy was really helpful to use for hard copy notes for students who needed them. Excellent resource.
This is a thorough resource. I was thankful for the annotation notes. It helped me as I worked through the poem with my students.
Description
A deceptively complex poem, there's a lot to dig into with Edgar Allan Poe's "Annabel Lee." We've created a great unit for this poem, including three fun and engaging evidence-based activities that challenge students and force them to work closely with the text. This unit also includes a blank copy of "Annabel Lee" for student use as well as a teacher annotated version (which we know you'll find to be very helpful!). The task cards are also a great way to get students discussing the text in a deep and meaningful way. We hope your students enjoy this unit as much as ours have!
THIS RESOURCE IS ALSO A PART OF OUR EDGAR ALLAN POE HALLOWEEN UNIT!
INCLUDED IN THIS RESOURCE:
Background Information on Edgar Allan Poe (for teacher use)
Blank Copy of "Annabel Lee"
Teacher Annotated Copy of "Annabel Lee"
Vocabulary Preview Activity
Instagram Activity

Students will love taking on the role of the poem's speaker as they showcase his love for Annabel in this fun Instagram activity

"Annabel Lee": I Am Poem Activity

A guided poem activity to help students explore characterization

8 Task Cards for "Annabel Lee"

8 writing tasks to help students think more deeply about the poem

Digital Version

We've added this remote resource to the unit, so your remote learners can engage in the same activities as in-class students!
***************************************************************************
Looking for more writing resources for your middle school classroom? Check out these other great resources we have in our store.
★ ONE-PAGER CHOICE BOARD - DIGITAL AND PRINT
★ 10 CRITICAL THINKING ACTIVITIES TO BE USED WITH ANY NOVEL
★ EVIDENCE GRAPHIC ORGANIZER FOR LITERARY OR INFORMATIONAL TEXT
★ 7 DAY LITERARY ANALYSIS BOOTCAMP
***************************************************************************
★ Also, make sure to follow us to be notified when we upload new resources! We always do a special discount when we release a new resource, so it pays to follow us! ★
Answer Key
Does not apply
Report this resource to TPT
Standards
to see state-specific standards (only available in the US).
Analyze how particular elements of a story or drama interact (e.g., how setting shapes the characters or plot).
Determine the meaning of words and phrases as they are used in a text, including figurative and connotative meanings; analyze the impact of rhymes and other repetitions of sounds (e.g., alliteration) on a specific verse or stanza of a poem or section of a story or drama.
Analyze how a drama's or poem's form or structure (e.g., soliloquy, sonnet) contributes to its meaning.
Analyze how particular lines of dialogue or incidents in a story or drama propel the action, reveal aspects of a character, or provoke a decision.
Determine the meaning of words and phrases as they are used in a text, including figurative and connotative meanings; analyze the impact of specific word choices on meaning and tone, including analogies or allusions to other texts.