Annotating Text: Collaborative Roles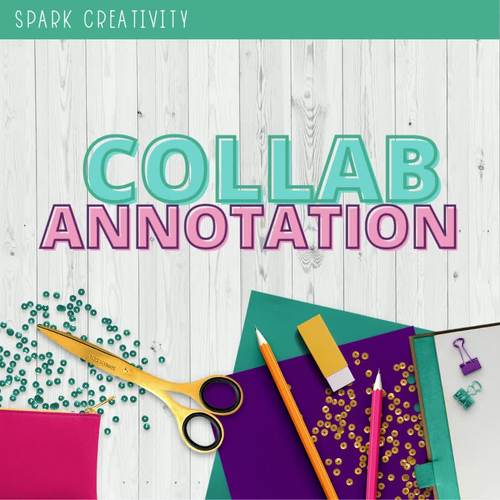 ;
Zip

Google Apps™
Includes Google Apps™
The Teacher-Author indicated this resource includes assets from Google Workspace (e.g. docs, slides, etc.).
What educators are saying
This was very easy to implement and my students loved how easy it was to do. I changed the poem that we used, but the concept was easy to understand. Thanks!
This is such a fabulous strategy! It helps students give students more purpose, ownership, and direction when annotating.
Description
Want to coach your students on improving their annotation of text? Try this fun collaborative activity with giant Shakespeare sonnet posters on your wall, then use the model you've introduced students to over and over with any text.
This activity helps students hone their annotation style and practice effective annotation, plus it gives you visual models for your walls to help continue reinforcing the principles of good annotation as long as you keep your posters up.
Here's how it works:
Divide your class into groups. Give them each a copy of the annotation roles and let them choose what to focus on.
Then give each group the puzzle pieces for one giant sonnet poster (there are four sonnets included here), some scissors, tape, markers, and sticky notes if you have them.
Each group will assemble their poster on the wall, then annotate it using their roles. The last step on the instructions is for each group member to share what they added according to their roles, and then talk together about what questions they can add in the margins based on what they've learned.
Finally, let groups present to a partner group and do a gallery walk. By the end of the day, students will have seen many models for annotation style to help them further develop what works best for them.
Once you introduce this activity with these Shakespearean sonnet posters, you can use the collaborative annotation roles to guide students in close readings of any text throughout the year.
What's included:
Collaborative Roles Guiding Handout
Example
4 Large Sonnet Posters (each poster is divided onto six slides for printing)
Looking for more annotation resources? Check these out:
Annotation Guided Practice: Use these five guided annotation practices with any text. Students focus on one skill, developing their repertoire of options for when they are annotating independently.
Annotation Illumination: Show students the power of annotation when they showcase their annotation of one text with color, imagery, and depth. This memorable project will make a great addition to your walls, and help students develop their personal annotation style.
Annotation Posters: Reinforce the creative foundations of effective annotation with these colorful posters.
Teaching Duration
90 minutes
Report this resource to TPT
Standards
to see state-specific standards (only available in the US).
Determine a theme or central idea of a text and analyze in detail its development over the course of the text, including how it emerges and is shaped and refined by specific details; provide an objective summary of the text.
Analyze how complex characters (e.g., those with multiple or conflicting motivations) develop over the course of a text, interact with other characters, and advance the plot or develop the theme.
Determine the meaning of words and phrases as they are used in the text, including figurative and connotative meanings; analyze the cumulative impact of specific word choices on meaning and tone (e.g., how the language evokes a sense of time and place; how it sets a formal or informal tone).
Analyze how an author's choices concerning how to structure a text, order events within it (e.g., parallel plots), and manipulate time (e.g., pacing, flashbacks) create such effects as mystery, tension, or surprise.
Analyze how an author draws on and transforms source material in a specific work (e.g., how Shakespeare treats a theme or topic from Ovid or the Bible or how a later author draws on a play by Shakespeare).