Anxiety Coping Skills Social Emotional Worksheets Plus Digital Activity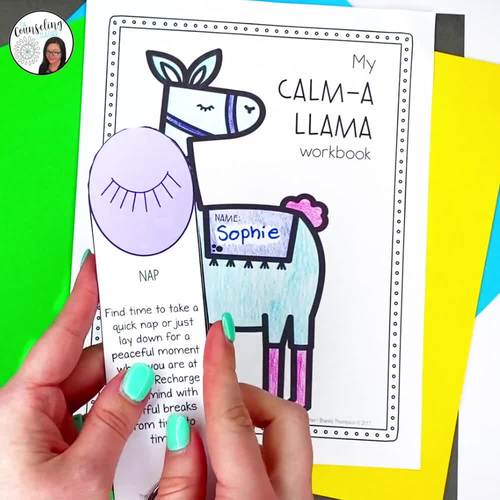 ;
Easel Activity Included
This resource includes a ready-to-use interactive activity students can complete on any device. 
Easel by TPT is free to use!
Learn more
.
Also included in
This bundle includes nine products with presentations, flipbooks, banners, worksheets, bookmarks, and crafts for topics such as conflict resolution, character education, anxiety coping skills, faulty thinking patterns, friendship and more. Save 20% by purchasing this bundle instead of each product

Price $26.80

Original Price $33.50

Save $6.70

School Counselors in grades 3-8 will be all set with these must haves for their office. I have selected 20 of my favorite products so you can hit the ground running this year.

Price $80.80

Original Price $101.00

Save $20.20

Don't let stress and anxiety become a barrier to your students' education. These stress management activities for students will prepare them to perform their best while improving their behavior as well. This bundle has all of my favorite stress relieving activities to help your students focus. Inc

Price $28.00

Original Price $35.25

Save $7.25

This bundle includes the first and second edition of the Llama Worry Workbooks. First Edition:The Calm-a-Llama workbook is filled with stress management activities for students. They learn emotional regulation for dealing with big feelings like stress, worry, anxiety, and anger. A stress thermomete

Price $12.75

Original Price $17.00

Save $4.25
Description
Developing coping skills for anxiety and worry are a crucial part of any Social Emotional Learning Curriculum and School Counseling Program. Utilize this interactive workbook, featuring adorable llamas, as a stress management activity for students to build their resilience.  The Calm-A-Llama workbook is jam-packed to help students learn emotional regulation surrounding feelings like anxiety and anger.  Feelings Check in and check outs will be loads more fun with a llama.
*Now featuring an SEL distance learning version to make virtual learning easier.
Students can gauge their level of stress visually with a clever thermometer (or Ther-llama-ter) and learn how to keep track of their emotional patterns. 
(Bonus Tip: use this workbook as a way to introduce journaling into your students' lives.)
This ready-to-print workbook is customizable and can be colored by students, which also reduces stress levels.
Not only will students learn to regulate their emotions by identifying with the fluffy llamas, but they'll also find coping activities within the workbook to help soothe them through their current state of overwhelm. 
This workbook is also the perfect solution for teachers and counselors looking for ways to reach students through distance learning. 
The Printable Calm-A-Llama Coping Skills Workbook Includes:
•Stress Thermometer (Ther-llama-ter)
•Stress Thermometer activity sheet
•Weekly Stress Tracker
•Daily Stress Tracker
•Writing page
•Drawing Page
•Positive Self-Talk Bubbles
•Calm Breathing Chart
•Body Tightening Exercise (Progressive Muscle Relaxation Script)
•Coloring Page
•Grounding Exercise
•Cootie Catcher Craft with calming coping tools (2 zen designs)
•Cootie Catcher blank template (2 zen designs)
•Calmness Quotes Posters (3)
35 Colorful Coping Skills Cards
35 Black and white Coping Skills Cards
American School Counseling Association (ASCA) Standards & Mindsets
M 1. Belief in development of whole self, including a healthy balance of mental, social/emotional and physical well-being
B-SMS 2. Demonstrate self-discipline and self-control
B-SMS 7. Demonstrate effective coping skills when faced with a problem
----------------------------------------------------------------------------------------------------
Love Llamas? Check out this companion resource:
Calma Llama Kindness & Gratitude Journal!
❤️Click here to follow my store for notifications of half-off pricing for new products.
⭐Save 20% by purchasing the bundle⭐
►Llama Bundle for School Counselors and Teachers
You might also like:
Drama Llama Conflict Resolution I Messages
Drama Llama Gossip Craft & Presentation
Friendship Activities "Friends or Frenemies
You might also like these
Social Emotional Learning Brochure Bundles
******* Follow Me on Social Media *******
@thecounselingteacherbrandy on Instagram
Report this resource to TPT