Anxiety Group | Mindfulness Group | Stress Group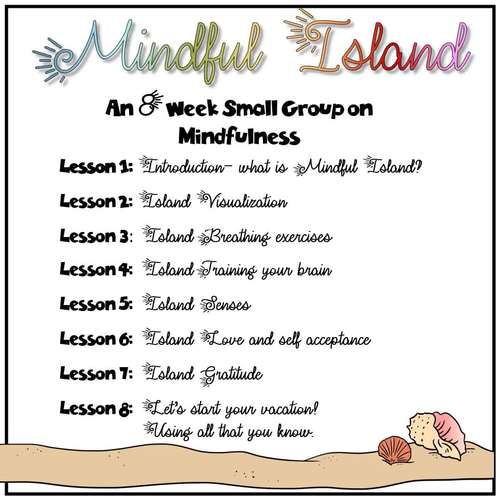 ;
What educators are saying
This resource is great with my upper elementary kiddos who are in desperate need of calming strategies! It's been an engaging resource and very much needed this school year!
I have used this a few times with individual counseling - can't wait to be able to get back to group counseling and use this!
Also included in
This Group Counseling Bundle contains lessons and group curriculum for you to hold the following 7 groups:Motivation Group (Sessions are listed individually in the preview of what's included)Study Skills Group (Sessions are listed individually in the preview of what's included)Divorce/Changing Famil

Price $82.00

Original Price $117.50

Save $35.50
Description
Mindful Island is an 8 week mindfulness small group counseling curriculum that helps to reduce stress and anxiety and teach kids to become calmer and more focused. The group's goal is to provide an opportunity for students to focus on emotional awareness, learn relaxation and stress reduction techniques, increase their self-awareness, foster better peer connections and create better friendships by working on mindfulness and coping strategies.
Students will participate in a variety of activities and projects while focusing on a weekly themed lesson. The overall goal is for students to learn to learn to improve their emotional regulation, academic and social success.
What's great about this group, is that these lessons can also be used with individuals and as classroom lessons.
Each lesson focuses on a different aspect of mindfulness.
Lesson 1- introduces mindfulness and includes guided imagery as a brain break
Lesson 2- helps students to understand visualization
Lesson 3-explains the hand model of the brain and "flipping your lid"
Lesson 4-explains fight, flight or freeze and teaches self-affirmations
Lesson 5-uses the 5 senses for grounding
Lesson 6-explains stress and uses stretching and yoga
Lesson 7-explores gratitude and negative thinking
Lesson 8- is a summary of what was learned over the group
This curriculum has everything:
Scripted Lesson Plans
Data Collection Sheets
Alignment with ASCA Mindsets and Behaviors
Parent Letters and Forms
Teacher Referral and Follow Up Forms
Counseling Passes
Pre and Post Test
Group Evaluation Form
Session Exit Slips
Worksheets
Posters
Gratitude Journal
Certificate of Completion
Icebreakers
Color and Black and White Versions
Check out the preview to see everything included!
Need more group counseling materials? Check these out:
★★★★★★★★★★★★★★★★★★★★★★★★★★★★★★★★★★★★★★★★★★★★★★★★★★★★★★★★
Once you have purchased this resource don't forget to come back and leave feedback to help you gain some TpT credits! If you want to keep up to date with my sales, new resources, freebies and so much more click the green ★ next to my store name!
What are TpT Credits?
You can gain TpT credits by going back and leaving feedback on any purchases that you have made. The credits build up and then you can use them off future purchases - from any seller on TpT!
Report this resource to TPT