Apraxia: Sound Blending in Syllables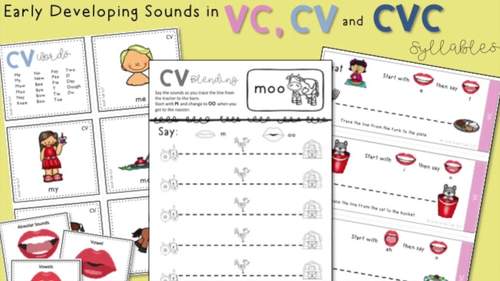 ;
What educators are saying
This is amazing, and was so easy to prep. I love the variety of options to target similar goals with different difficulty levels and get lots of repetitions.
These have been very helpful when working with my students with CAS! Great visual cues and easily understood by the students and parents! Thanks!
Description
Children with Childhood Apraxia of speech (CAS) can be very challenging to work with, especially in the early stages of treatment. Because of the nature of this motor speech disorder, children with CAS often have difficulty with:
* moving from one speech sound to another in a syllable or word
* producing vowels correctly resulting is distortions
* consistent productions of sounds and syllables in subsequent repetitions
* blending sounds together to produce words or phrases without pauses or breaks that cause segmentation
* timing and voice onset
This product was created to help children with CAS combine early developing consonants and vowels into simple syllable shapes without segmentation. This is accomplished by:
* using a dynamic approach, which includes observing how the child responds to different levels of cuing and incorporating those cues into treatment at the level of support needed by the child
* careful selection of early developing consonants and vowel combinations, building simple syllables and shaping them into functional words
* providing opportunity for multiple repetitions of treatment targets
* Creating new words by building on newly mastered consonant-vowel combinations
PLEASE view the preview video to see this product in action.
Apraxia: Sound Blending in Syllables includes:
* 3 full-color picture card sets containing 5 VC words, 23 CV words, and 19 CVC words
* 2 sets of visual cue cards (color and black and white), featuring the tongue and lip positioning of early consonant and vowel sounds
* 47 black and white syllable blending worksheets for use during treatment and for home practice (VC, CV and CVC syllable shapes)
* 47 colored practice strips that match the worksheet targets designed to be portable for use during play. Print on card stock, laminate and cut to create a durable set that can be used again and again
* An instructional video including clips of the product in use
* Syllable Inventory Data Sheets
Buyer Testimonial:
Here's what a satisfied buyer has to say:
The whole package is so well thought out. The inventory list at the end is perfect for keeping everything organized and easy to share with parents re: progress, goals, home practice. To think that at the end of using this product, a child could have 25+ words is outstanding! I've become very vocab/word building focused as I am reading so much about targeting syllables, movement/motor planning and patterns, and more complex word shapes rather than the traditional sound by sound approach, so this really fits the research surrounding EBP and Apraxia.
On a more anecdotal side, I do have to share that with the 2 kiddos that I have used these worksheets consistently, it is really giving them the boost or push needed to get that blending happening. I also see more attempts to vocalize in general with syllables and phrase building. It's built my confidence too just know "where to start" with some of these tricky kiddos who have really limited word shapes and motor planning.
- Amy Walter, SLP
Related Products
Report this resource to TPT