Apraxia of Speech Cards for Speech Therapy l Prosody Cue Cards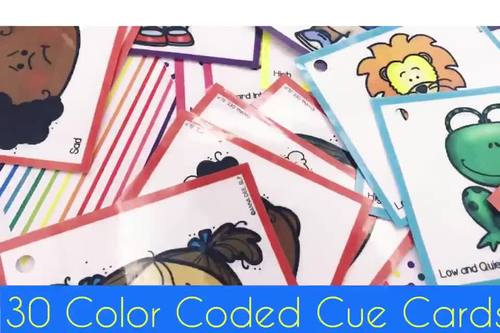 ;
What educators are saying
This is a very helpful for practicing varied prosody. The pictures are cute and the students enjoy practicing with these visual cues.
Bought these a while ago, and I am finally getting around to printing them. Can't wait to use them in my pre-k classroom this year.
Also included in
Use this HUGE bundle of Visuals to support your preschool and kindergarten students with behaviour, articulation, phonology, prosody, wh questions, following directions, describing, categorization, vocabulary, grammar and more! These visual cue cards can be used with ANY book, song, activity, craft

Price $18.99

Original Price $23.74

Save $4.75

Digital play-based speech and language activities and time-saving resources that you can use with ANY STUDENT on your preschool therapy caseload! This bundle is designed for DISTANCE LEARNING, but all of the resources can be used during in-person sessions.This is a MEGA bundle, which means it includ

Price $148.75

Original Price $185.94

Save $37.19
Description
Do you have students with Apraxia of Speech on your speech therapy caseload?
Did you know that children with Apraxia of Speech should be working on prosody (inflection, rate, volume, pitch) from day one of therapy?
You can use these colourful cards to make working on rate, inflection, volume, and pitch FUN for your students. Your student will love saying their words just like the animals and objects in the pictures. These cards can also be used for providing feedback and teaching self-monitoring.
There are a total of 30 cue cards.
6 cards for Volume (3 boy; 3 girl)
3 cards for Inflection
2 cards for Pitch
3 cards for Rate
12 Emotions cards (6 girl; 6 boy)
4 cards for Mixed Volume and Pitch
This package includes:
Explanation of How to Use the Cards and Activity Ideas
Color Version with Text
Black and White Version with Text
Color Version with No Text
Black and White Version with No Text
Legend of what the Symbols Represent: Black and White
Legend of what the Symbols Represent: Color
UPDATED MAY 2020: Added Low Ink Option wth updated Clipart
Save 20% with the money-saving Visuals Bundle.
If you have questions, please contact me at annadeeslp@gmail.com. I am more than happy to answer any questions you may have.
You may also be interested in the following resources for Apraxia of Speech:
–––––––––––––––––––––––––––––––––––––––––––––––––––––––––––
Let's Connect!
FOLLOW MY TPT STORE: Click "Follow Me" on my Store Page. I send alerts with sales and any new freebies that have been posted!
FOLLOW ME ON INSTAGRAM for product demos, play therapy ideas and all things speech related.
CHECK OUT Anna Dee SLP on FACEBOOK for articles and my favourite online resources.
SUBSCRIBE TO MY NEWSLETTER to be the first to get Subscriber Only Freebies, learn Play-Based Therapy tips and tricks, and stay informed about new products and promotions!
Report this resource to TPT