April Fool's Joke: Inference / Critical Thinking Lesson: Fake News vs Tulips 002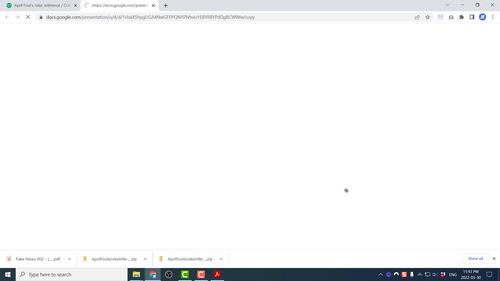 ;
Zip

Google Apps™
89 slides, lesson plan (8 pg), exit ticket (1 pg), answer guide (1 pg)
Includes Google Apps™
The Teacher-Author indicated this resource includes assets from Google Workspace (e.g. docs, slides, etc.).
Also included in
This bundle includes every resource in my TPT store. ⭐ GET EVERYTHING so you don't have to worry about missing out! If you agree with this video at 2:09and you agree with my ideas about EFFORT at 15:52then you will love my stuff⭐ 38 teachers have INVESTED in this bundle so far! As I add resources,

Price $164.25

Original Price $328.50

Save $164.25
Description
High-Interest April Fools' Joke + Critical Thinking Lesson!
Can your students figure out if this is a real Google™ product?
Seriously. This is a legit Google video. But, can your students infer it's an April Fool's Joke?
Look at the Preview VIDEO and PDF to see what you get in this product.
⭐ ⭐ ⭐ Want a free sample? Check out FAKE NEWS vs The Five Ws
60 minutes of content:
Part 1: Fake News vs Tulips + Exit Ticket (30 min)
Part 2: Taking up the Answers + Student Reflection (30 min)
The slideshow lesson teaches critical thinking concepts.
Use the Five Ws (who, what, when, where, why/how) to think about the video.
Then ask "Why or How" questions to gain a deeper understanding.
The exit ticket assessment gives students a chance to demonstrate their understanding.
Marking Guide includes sample "look-fors."
Simple / straightforward answer
Answers demonstrating increasing complexity
A list of "Next Steps" is included on the exit ticket. You can choose one for the student, or they can self-select what they think they need to work on.
Generic rubric categories are used instead of numbers or marks:
Epic, Great, Good, Simple, Very Simple, Misunderstanding.
This way, you can use this activity with different grades - just shift the benchmark where students need to demonstrate to get a "B", "level 3" or 75%
If you teach a higher grade, maybe "Good" is what students need to demonstrate to get a "B."
If you teach a lower grade, maybe "Simple" is what students need to demonstrate to get that same "B."
If a student is on accommodations, ELL, ESL, or an Individual Education Plan (IEP), maybe they need to demonstrate the ideas from the "Very Simple" category to get that "B."
The answer guide has ideas of varying complexity so you can use these "look-fors" to create your own marking scheme.
The "Taking up the Answers" slideshow
shows students how to take a simple answer and create a more complex idea using "idea volleyball."
It takes a "straightforward" answer and shows students how to create a more complex answer.
It takes that same "straightforward" answer and simplifies it to shows students what a lower mark answer might look like.
Social-Emotional Learning is built directly into the lesson and assessment:
The exit ticket is designed to help students develop self-awareness skills as they work their way through the "Fake News versus" series.
After students see the correct answer, the "Taking up the Answers" slideshow walks students through the goal-setting process to improve:
Step 1: What did you do well?
Step 2: What ideas did you miss this time?
Step 3: What is your goal for next time?
Step 4: What might help you to improve?

The "Taking up the Answers" slideshow gives students examples of actions they can take to improve:
Optimize results (by looking at previous work to see if there are patterns.)
EARLY BIRD SPECIAL - This product is HEAVILY DISCOUNTED right now for a limited time.
This product was launched on March 30, 2022.
Some of my products are FREE or deeply discounted when they are first released. This is a special thank you to people who follow my store.
SIGN UP for the Educircles Newsletter to get free stuff!
WORRIED ABOUT MISSING OUT ON DEALS? DO YOU WANT MY NEW PRODUCTS FOR FREE?
Stop worrying about waiting for my products to go on sale.
Stop stressing about missing out on early bird FREE pricing for my new products.
✅ The slideshow lesson teaches the concepts (28 slides.)
✅ The "Taking up the answers" slideshow shows students where they went wrong and how they can improve (55 slides.)
✅ You can EDIT THE GOOGLE SLIDES to fit your classroom needs.
✅ Visual Lesson Timing PDF (8 pages) shows you which slides to teach (i.e. a lesson plan just with slide thumbnails.)
✅ Exit Ticket Handout (1 page.) Note: I used Google Slides to make the handout.
✅ Answer Guide PDF (1 page) with things to "look-for" for different categories on the rubric. (i.e. ideas with increasing complexity.)

✅ Scanned Handwritten Example Answer PDF (1 page) so students can see what a complex answer might look like. (i.e., how to get all of those complex ideas into a tiny space by being precise and concise.)
✅ Use the one-click copy links (in the START HERE File Table of Contents PDF) to quickly find the files you need.
If you have any questions, please email me at Mike@educircles.org or ask in the Questions and Answers section!
Total Pages
89 slides, lesson plan (8 pg), exit ticket (1 pg), answer guide (1 pg)
Answer Key
Included with rubric
Report this resource to TPT