Area, Perimeter, and Volume Design a City Challenge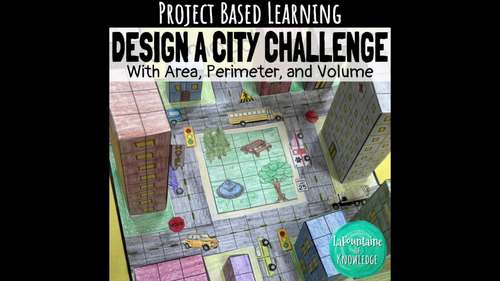 ;
What educators are saying
Students loved being creative in math class, while learning and urban planning. Great resource for the end of the year for students working on volume and perimeter.
This was a fun hands-on way for students to continue their exploration of volume! I made it an optional activity during our unit and many students were intrigued and gave it a shot.
Also included in
This bundle includes 3 differentiated project based learning projects: Level 1: Design a Farm Challenge - students design a farm with vegetable gardens and animal enclosures using a minimum required area and perimeter. This resource uses smaller numbers and a larger grid. It's perfect for 3rd grade.

Price $8.05

Original Price $11.50

Save $3.45
Description
In this math project based learning activity, students use area, perimeter, and volume to design their own city. They must adhere to the minimum size requirements for roads and green space and other project guidelines as they construct their city. After constructing their city, students must:
find the perimeter of the green space
find the total surface area of roads
find the volume of each 3D rectangular prism building
This download includes:
teacher directions
student directions and project guidelines
all printable materials needed
a scoring rubric
a finished example
This project is ideal for 5th grade and above. For an easier version of this project, check out my Area and Perimeter Design a Zoo Challenge or, even easier, Area and Perimeter Design a Farm Challenge. Or buy the bundle of all 3 to save 30%! Great for differentiation!
Please follow my store here for more great resources!
You can also find me on Facebook, Instagram, and lafountaineofknowledge.com where you'll discover ideas, inspiration, and plenty of freebies! Or join my email list to get my monthly newsletter with exclusive FREE resources you can't get anywhere else!
Want free money to spend on Teachers Pay Teachers? Rate this product to earn some TpT credit! Leaving feedback helps us both out and takes less than a minute! Your support makes it possible for me to continue making and sharing great resources! Thank you!
A special thank you to for the border and Designs and for the clip art.
Click for more math crafts and project based learning activities!
Teaching Duration
3 hours
Report this resource to TPT
Standards
to see state-specific standards (only available in the US).
Recognize volume as an attribute of solid figures and understand concepts of volume measurement.
A cube with side length 1 unit, called a "unit cube," is said to have "one cubic unit" of volume, and can be used to measure volume.
A solid figure which can be packed without gaps or overlaps using 𝘯 unit cubes is said to have a volume of 𝘯 cubic units.
Measure volumes by counting unit cubes, using cubic cm, cubic in, cubic ft, and improvised units.
Relate volume to the operations of multiplication and addition and solve real world and mathematical problems involving volume.