Argument Writing: Editing and Revision Stations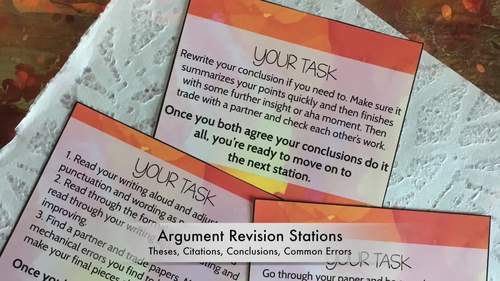 ;
What educators are saying
This was a great resource! It helpd my students in their final steps of writing their argument paper.
This was a great resource for my students to perfect their final drafts. It forced them to break the steps down.
Description
When it comes to argument writing, there are a lot of bases to cover. Chances are, many of your students are making the same mistakes over and over and over. And you are trying to put out alllll the fires with your comments, conferences, and review lessons.
What if it didn't have to be that way?
Let students circulate through these four revision stations after completing a draft of any argument essay. At each station, they'll learn to avoid common missteps and make the revisions they need.
Each station has an overview poster, a resource or two to help students succeed in their revision, and then a task to do alone, with a partner, or alone AND with a partner. By the time they move through all four stations, they will have a far more polished rough draft, ready to take home and tighten up to turn in.
Troubleshooting AND grading are about to get a whole lot easier, my friend.
From the reviews:
"If you have students who write an essay and assume they are done...or students who think editing is the same as revising - these stations will help! The stations walk students through both editing and revising processes. I especially like the part that guides them to address a counterclaim - Betsy's method makes it really easy."
"This is exactly what I needed to help students be more thoughtful and deliberate in the writing process."
"My students really struggle in these areas and this resource was just what I needed! Not only does it explain how to check for correctness, it also gives ways to correct them. This resource is just what I needed to get my students through argumentative papers. Thanks for sharing."
Here are the focus points for each station:
THESIS STATION: Students learn what it means for a thesis to be ARGUABLE, complete an activity to make sure their thesis IS arguable, and then follow the directions on the task card to improve their thesis
CITATION STATION: Students review how to correctly cite quotations within a paper and learn how to present their quotations inside quotation burgers (introduce / quote / analyze). Then they follow the task card instructions to check over their own quotations and make any needed corrections.
COMMON ERRORS STATION: Students learn some of the most common errors for formal writing style (using first or second person, being too wordy, not using specific language, not writing out numbers, etc.) and then follow the instructions on the task card for solo and peer editing.
CONCLUSION STATION: Students discover what NOT to do in a conclusion, and learn how to add some depth and insight to the finale of their paper. A resource guides them in brainstorming possibilities for an "aha" moment, and then they follow the instructions on the task card to improve their conclusions and trade with a peer to make sure they've come up with a reasonable "aha" moment.
Check out the preview video for a close look at the materials inside and a quick overview from me.
This is a new curriculum set, so I hope you'll consider leaving a review. Not only will I be so happy to hear from you, but you'll help other teachers decide if it's right for them AND earn credits towards future TPT purchases!
Don't forget to follow along with my store so you don't miss fun freebies and all the latest curriculum to empower your teaching creativity.
Teaching Duration
90 minutes
Report this resource to TPT
Standards
to see state-specific standards (only available in the US).
Write arguments to support claims in an analysis of substantive topics or texts, using valid reasoning and relevant and sufficient evidence.
Introduce precise claim(s), distinguish the claim(s) from alternate or opposing claims, and create an organization that establishes clear relationships among claim(s), counterclaims, reasons, and evidence.
Develop claim(s) and counterclaims fairly, supplying evidence for each while pointing out the strengths and limitations of both in a manner that anticipates the audience's knowledge level and concerns.
Use words, phrases, and clauses to link the major sections of the text, create cohesion, and clarify the relationships between claim(s) and reasons, between reasons and evidence, and between claim(s) and counterclaims.
Establish and maintain a formal style and objective tone while attending to the norms and conventions of the discipline in which they are writing.