Argumentative Text - Reading Interactive Notebook Pages & Passage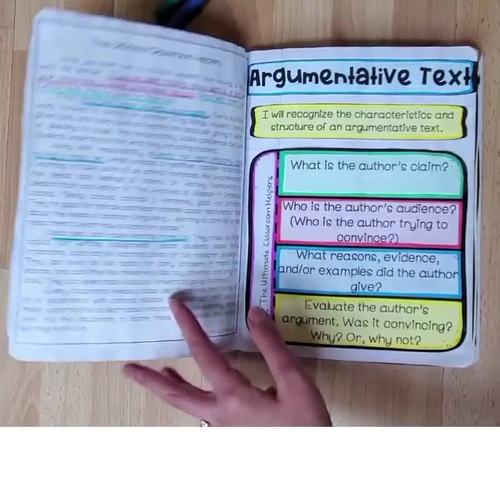 ;
PDF

Google Apps™
Includes Google Apps™
The Teacher-Author indicated this resource includes assets from Google Workspace (e.g. docs, slides, etc.).
What educators are saying
I loved the way the resources were organized. Plus the students loved the texts that were included with the set.
Perfect addition to our reading notebooks and a great way to review what we had talked about during the lesson.
Also included in
Want a tool to help you quickly plan engaging, effective reading lessons? The Reading Interactive Notebook is just what you're looking for! This Common Core and TEKS-aligned reading interactive notebook is a great tool for introducing skills and strategies and will be an effective supplement to your

Price $29.01

Original Price $44.62

Save $15.61

This argumentative text bundle has everything you need for the week!The 5-day Argumentative Text Unit will help you teach your students to recognize and identify the characteristics and structures of argumentative text (ie. the author's claim, the intended audience, and the facts & evidence use

Price $14.40

Original Price $18.00

Save $3.60
Description
If you're overwhelmed by the idea of teaching argumentative text, or you just don't know where to start, this argumentative text interactive notebook is for you.
This interactive notebook offers a hands-on, engaging approach to teaching the characteristics and structures of argumentative text by identifying the author's claim, distinguishing facts from opinion, and identifying the intended audience.
This notebook doesn't just give you interactive pages to use with your students. It also gives you loads of tools to help you plan a fun, engaging unit.
What's Inside:
⭐ Interactive Notebook Pages That Include:
Mini Interactive Anchor Charts for Both Argumentative Text and Persuasive Text
Original Argumentative Text Passage
3 Interactive Pages That Can Be Used with Any Argumentative Text
Mini Interactive Anchor Chart for Fact and Opinion
Fact and Opinion Sorting Activity to Help Your Students Practice Distinguishing between fact and opinion.
Versions Compatible with Google Slides™ are Provided for Each of the Interactive Notebook Pages to help you move seamlessly between in-person and virtual learning as needed.
⭐ Resources to Help You Plan:
Links to FREE Argumentative Articles Online
Book List for Persuasive Text (Not the same as argumentative text)
Book List for Fact and Opinion
Lesson Ideas for Teaching Argumentative Text and Fact & Opinion
Please take a look at the preview to see examples of the argumentative interactive notebook pages in use. And please let me know if you have any questions.
⭐ What Other Buyers Are Saying:
"I used this during shared reading and it was fabulous. I love that she included multiple organizers of the same information to show variety and to solidify the information. My students used one organizer with me and I gave them a different organizer and a different text to do with a partner. They were successful because I was able to scaffold with the same academic vocabulary. Great resource!"
"My students used this resource and really loved it. It was super effective in preparing them to take the STAAR test and benchmark test. Love it."
"Students usually struggle with argumentative text and argumentative text resources are always hard to find! I really liked doing the activity with the passage with my class."
_________________________________________________________________________________
⭐ Save by purchasing this in the bundle:
The Reading Interactive Notebook
⭐ What Others Have Said About The Reading Interactive Notebook:
"This resource has been such a stress reliever for me!! Whenever I am ready to start a new unit, I just go search and see what resources there are. I like that there are several options for each skill."
"After buying a few of the pieces separately, I finally purchased the entire notebook for my centers."
"WE love this resource in my classroom. It helps to put reading skills in easy terms for my students. They love the visual to refer back to. Well worth the investment in this resource!"
"This resource is so amazing and has made students understand the way they learn best. It gives choices of mentor texts you can use with it and multiple levels. The students are able to group together and make their own anchors in their interactive notebooks to take advantage of their own learning. I like how it gives examples as well to help with the setup and how it is to be used if you wanted."
_________________________________________________________________________________
✨ All my new products are 50% off for the first 24 hours. Click here to follow my store and receive notifications when I create something new so you don't miss out on the savings.
I'd love to hear from you if you have any questions, issues, or requests!
❤ Laura Heinen
laura@cultivatingcriticalreaders.com
cultivatingcriticalreaders.com
_________________________________________________________________________________
✨ Leave a review to get TPT credit to use on future purchases:
Each time you give feedback, TPT gives you feedback credits that you use to lower the cost of your future purchases. You can easily do this by clicking the "Provide Feedback" button next to the items you've purchased on your "My Purchases" page.
Report this resource to TPT
Standards
to see state-specific standards (only available in the US).
Describe how reasons support specific points the author makes in a text.
Determine the main idea of a text; recount the key details and explain how they support the main idea.
Distinguish their own point of view from that of the author of a text.
Determine the main idea of a text and explain how it is supported by key details; summarize the text.
Explain how an author uses reasons and evidence to support particular points in a text.