Art Around The World Lessons: 18 Easy Art & Craft Activities + Writing for Kids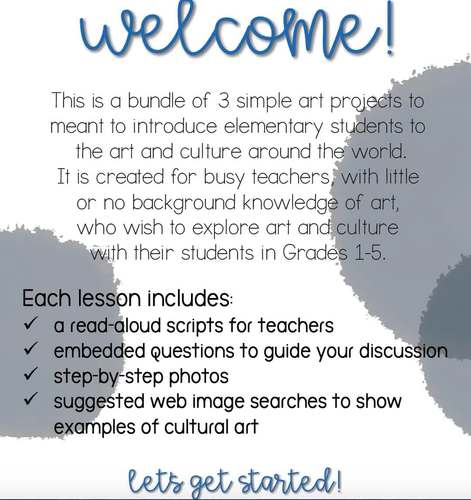 ;
What educators are saying
Fantastic. I connected all the projects to Social Studies ( Canadian curriculum) and learning about the the different countries and cultures around the world.
This is such an engaging resource. I used it at home with my kids and was able to teach multiple ages together.
Products in this Bundle (6)
showing 1-5 of 6 products
Bonus
Art Around The World Student Portfolio Covers
Description
Art Lessons From Around the World: Are you looking for easy arts & crafts activities for kids that focus on different countries and cultures? Art Around the WORLD is a collection of 18 art lessons focusing on 6 countries/continents specifically designed for elementary students from first grade and up. Explore the world of art with over 160 pages of step-by-step photo instructions to guide each art project.
You will NOT need any prior knowledge of each area of study because each resources to students. The information provided introduces students to the culture or history of the area, as well as the relation to the art projects. There are questions embedded to ensure your discussion is engaging and fun!
This bundle complements the bestselling Art History 1 and Art History 2 collections.
In this bundle, the focus is on art from different countries/continents and cultures around the world. Your art lessons expand to become studies of geography and culture as well! Use these year after year with gorgeous results!
Note: The terms of use for this resource is for single classroom use only, and so not for commercial purposes such as Outschool.
Here are the details:
All 18 of our Unique Art Lessons feature a teacher script, step-by-step photos, templates and literacy integration activities.
6 Different Countries/Continents and Cultures - India, Mexico, Australia, Africa, China and Canada each have THREE are lessons/art projects included for a thorough exploration of different aspects of each unique culture.
Teacher Scripts - You don't have to have any background knowledge or in-depth knowledge of the art curriculum to implement this program. The teacher scripts are written in straightforward language so you can turn to page one and start the discussion! There are guiding questions embedded to facilitate a meaningful discussion before introducing the art project.
Step By Step Photos - Every lesson features a visual supply list using very basic and inexpensive supplies. You can make AMAZING art with a very low budget! Each lesson has step-by-step photos and descriptions to walk you through the process. You can even show this page to your students as they work so they can use it as reference!
Literacy Extensions - Every country has a collection of literacy projects for early finishers, writing centers or extension projects. There are coloring pages, reflection writing pages, word searches, creative writing prompts, sequencing writing templates, and a lot more!
You do not need to use any particular websites to complete this collection. I would suggest doing a simple google search for images relating to the art studied, and I have provided suggestions for search terms. Project these images for the class to discuss during the read-aloud introductory discussion for great results!
All projects can be kept in a portfolio or scrapbook, which results in a great educational portfolio and keepsake! I have included a cute cover for scrapbooks in both black and white and color -see them in the preview!
You can see the preview by clicking the green button near the top of this page. Please look at the preview to see the details before purchasing to ensure these are right for your class.
A journey from Cave Art to Modern Art and the impact on cultures on the art styles. Click the link to see over 500 positive reviews of this collection of engaging lessons!
More artists to study with step by step directions. The focus is on more modern artists than in Art History for Elementary 1.
Seasonal Crafts For Each Month of the School Year (8 crafts per month)
This is a resource for busy teachers with limited time and supplies. All the work is done for you! Just choose between 8 cute crafts for each month.
Directed Drawing And Writing Full Year Bundle
This bundle has 53+ directed drawing packs that are perfect for adding to your weekly routine, literacy centers, early finishers, or seasonal art lessons. Each topic has 10 differentiated templates to draw a picture and then write about it. Everything is embedded on the page, so it's no prep!
It also includes 25+ Drawing VIDEOS - just press play and students draw along! See some of them by clicking HERE.
I genuinely appreciate the lovely feedback I've received on these art units!
Keeping art alive in classrooms by integrating it with other subjects is near and dear to my heart - thank you for helping!
If you have any ideas or concerns, please email me directly at whimsyworkshopcreations@gmail.com
If you have any trouble with downloading or printing your documents with the clip art, please read the help on this page: https://www.teacherspayteachers.com/Help
If you still need troubleshooting, please email support@teacherspayteachers.com and the TPT tech team will be happy to help you.
Clip art bundles are collected in a compressed ZIP file and include all clip art on the cover, my logo, a preview image, and a link to my TOU. You can read more about zip files by clicking HERE.
Would you like to see a huge list of similar resources all on one page?
Just click the category below that you'd like to browse:
⭐️  Click to see all SOCIAL SKILLS resources.
⭐️  Click to see all ART resources.
⭐️  Click to see all MATH resources.
⭐️  Click to see all FREE DIRECTED DRAWING VIDEOS resources.
⭐️  Click to see all SENTENCE BUILDING resources.
⭐️  Click to see all PHONICS AND READING resources.
If you have any questions or concerns, please email me directly at whimsyworkshopcreations@gmail.com
Please read my TOU first as many questions are answered there.
Whimsy Workshop Teaching Terms Of Use
You can see ALL clip art and early literacy sets organized in one place by clicking Whimsy Workshop Teaching -- simply choose a tab at the top of the page to explore!
Don't miss out on free and discounted resources by keeping in touch!
Teachers Pay Teachers Notifications
Our Newsletters and Free Resource Library
-Susanna
Whimsy Workshop Teaching
Please read my TOU first as many questions are answered there.
Whimsy Workshop Teaching Terms Of Use
This download allows for single classroom use only. If you know of other teachers who wish to have their own copy, you can click on extended licenses during the checkout process (at reduced prices), or email the product link to colleagues so they can purchase their own legal copy and receive any updates in the future. *Not for commercial purposes such as Outschool.
Thank you for respecting my TOU and hard work.
Original Resources and Illustrations ©S.Westby - Whimsy Workshop Teaching.com
***************************************************************************
Report this resource to TPT
Standards
to see state-specific standards (only available in the US).
Write opinion pieces in which they introduce the topic or name the book they are writing about, state an opinion, supply a reason for the opinion, and provide some sense of closure.
Write informative/explanatory texts in which they name a topic, supply some facts about the topic, and provide some sense of closure.
Write narratives in which they recount two or more appropriately sequenced events, include some details regarding what happened, use temporal words to signal event order, and provide some sense of closure.
With guidance and support from adults, focus on a topic, respond to questions and suggestions from peers, and add details to strengthen writing as needed.