Art Lesson: Paul Klee Abstract Portrait | Sub Plans, Early Finishers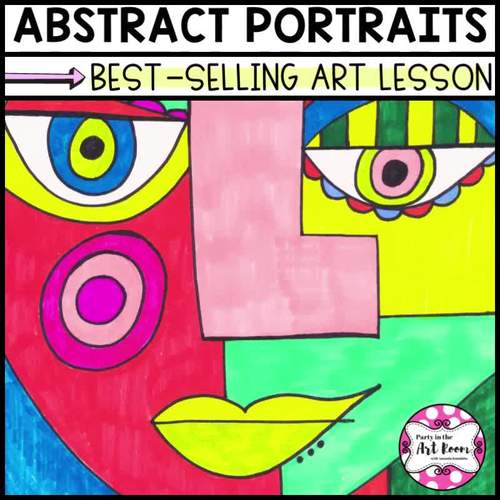 ;
Easel Activity Included
This resource includes a ready-to-use interactive activity students can complete on any device. 
Easel by TPT is free to use!
Learn more
.
What educators are saying
My kinders had just learned how to make self portraits, so we did this as an activity. They loved being so creative and free with this!
This was my Y1 favorite lesson during the whole year. These little ones created amazing portraits following the steps of this material. I really recommend it!
Also included in
Amazing art activities inspired by master artists!  This art and roll game bundle is jammed packed with fun and exciting low prep art activities that will engage your art students. Perfect to use for sub plans or your art minilessons for the day.  With these lessons, your students will be able to cr

Price $110.25

Original Price $118.50

Save $8.25

Get Roll Art Activities for the entire school year! Are you looking for fun art games to supplement your art curriculum? Art and roll activities are the perfect solutions to keep your students engaged and excited about learning throughout the entire school year. These easy-to-implement art activitie

Price $429.10

Original Price $613.25

Save $184.15
Description
Are you teaching your students about Paul Klee? Are they going to create an abstract portrait? Here's a fun lesson to brighten up your lesson plans!
Engaging abstract portrait art lesson with language (writing) activities. These no-prep abstract portrait art projects are perfect for your art sub tub. Super easy to implement for substitute teachers. Plus, the engagement will help with behavior! Perfect to start your art integration activities or to use as mini-lessons in larger units. Use as writing prompts and center printables. Great for homeschooling, language arts teachers, and art teachers alike. This resource is adaptable across multiple grade levels. Differentiation ideas included.
You and your students will fall in love with the #1 BEST SELLING original Paul Klee abstract portrait art lesson found here!
About the Art Process: 
This art lesson provides the perfect structured yet open-ended art process for students at a variety of readiness and ability levels. Students will use the game sheet as a prompt to create their own unique work of art with plenty of opportunities to exercise their own independent creative thinking. Any media works well for these lessons, but markers/crayons and kid-friendly paints are recommended.
Included: 
A 15 page non-editable PDF including game sheet, how-to-draw sheet, templates, detailed instructions, artwork compare and contrast activity, coloring page, finished example, and artist reflection activities.
Value of Hand-Drawn Resource:
You might notice not all of this resource is digitally created. That is for a reason. Students can be pretty hard on themselves about their drawing. They expect perfection because usually what they are looking at is a digitally created image. Of course no child can draw like that! I've found that hand-drawn resources help take the pressure off so kids don't feel like they have to be perfect. It is a buffer for them. They see the hand-drawn work and get engaged because they aren't as afraid of making mistakes. These high-quality pages print well, are clearly visible for students, and offer that extra layer of support for building confidence. They no longer feel like they have to be perfect. It is a buffer for them. They see the hand-drawn work and get engaged because they aren't as afraid of making mistakes.
In addition to the hand-drawn on paper sheet, a digitized hand-drawn sheet is also included. The digitized sheet will print and show on screen as having darker lines, which may be more suitable for students with visual perception issues. You have two options for best supporting your students. Use your knowledge of their needs to choose the best version to ensure their success. It's WIN-WIN-WIN!
You Might Also Like:
Art Lesson: Rousseau Jungle | Sub Plans, Early Finishers, No Prep
Art Lesson: Selfie Portrait | Sub Plans, Early Finishers, No Prep
Art Lesson: Monkey | Sub Plans, Early Finishers, No Prep

Licenses and Terms of Use:
This product is licensed for single user/single classroom use. If other teachers at other grade levels or schools are interested in this resource, please send them to my TpT store at Party in the Art Room. Further TOU are outlined within this product which you will have access to when you download it. This is my original work and I have put a lot of time, effort, and energy into creating it. I appreciate your compliance with my TOU policy. 
Be SURE to Check Out the Party in the Art Room site and blog for more great art education and art integration ideas and resources.
Thank you:
Amanda Koonlaba, Ed. S.
© 2022, Amanda Koonlaba, Good Morning LLC 
Paul Klee, Abstract Portrait
Teaching Duration
2 hours
Report this resource to TPT
Standards
to see state-specific standards (only available in the US).
Produce clear and coherent writing in which the development, organization, and style are appropriate to task, purpose, and audience.
Write routinely over extended time frames (time for research, reflection, and revision) and shorter time frames (a single sitting or a day or two) for a range of tasks, purposes, and audiences.