Articulation Activities Giant Notebook BUNDLE for Speech Therapy - Bestseller!!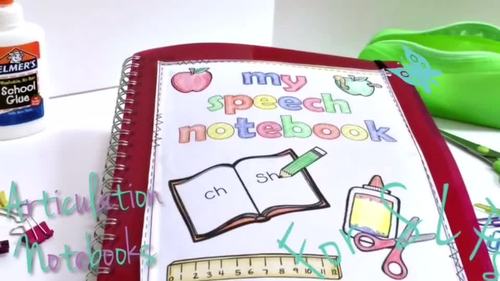 ;
What educators are saying
This is great for parent involvement and multiple opportunities to practice target words. Love using these for notebooks that students take home and bring back to school.
Products in this Bundle (6)
showing 1-5 of 6 products
Also included in
Make your speech therapy sessions fun and engaging with this GIANT Speech and language therapy activities bundle to take your speech therapy engagement to the next level. This Giant Speech and Language Therapy Bundle includes every resource from the Teaching Talking store! With over 1000 pages of sp

Price $1047.00

Original Price $1313.00

Save $266.00

This is an Extra Value Bundle of two Customer Favorites from my Store - Both my Language and Articulation Bundles. Buying all of the Articulation and Language Worksheets for Notebooks here together in one listing saves you a further $$$ compared to buying each bundle separately.These two bundles are

Price $119.50

Original Price $170.00

Save $50.50
Description
Looking for the perfect articulation activities for mixed articulation groups in speech therapy? Look no further than this comprehensive bundle of 24 sets of articulation activities for notebooks! With all articulation targets included, these interactive notebook activities are perfect for students of all ages and reading levels.
Your students will love creating week-by-week projects while also having plenty of opportunities to practice their articulation target words or phrases. Plus, with differentiation made easy, you can easily address the needs of each individual student, no matter what their grade level or target sound may be.
These articulation activities are perfect for busy SLPs, as they require minimal preparation and can be completed by the student during their session.
Whether you're working in a school or clinical setting, or even sending the worksheets home for extra practice, this value bundle has everything you need to keep your students engaged and making progress.
With low prep activities, non-readers and readers alike can benefit from these fun and effective speech therapy materials.
Don't wait – try the Speech Therapy Articulation Activities bundle today and watch your students thrive!
Articulation Activities Worksheets and Notebook Bundle includes:
24 articulation activities packs - Each pack includes:
30 articulation cards with the target sound in the initial, medial, final positions
Interactive Notebook pockets - perfect for storing articulation cards
"I can…" statements for each sound
24 Themed notebook pages for the entire year
24 matching "target word" pages of mini images that match the articulation cards
A blank sheet to customize the word list
Articulation Notebook Templates to extend your notebooks for higher level carryover and language tasks
Check out this blog post which provides a detailed overview of the articulation notebooks in use with plenty of photographs for you to see the detail. Click here to read more and see images.
*********************************************************************
The 24 packets included in this value bundle are for the following sounds - /s/, /z/, /l/, /r/ (pre-vocalic), /r/ (vocalic), /s/ blends, /l/ blends, /r/ blends, /sh/, /ch/, /th/, /J/, /k/, /g/, /f/, /v/, /p/, /b/, /t/, /d/, /m/, /n/, /h/ & /w/ and complex 3 element clusters!
*********************************************************************
If you are looking for both Speech & Language Activities, check out these bundles!
Follow Teaching Talking for more engaging speech therapy activities!
Report this resource to TPT