Articulation Activities Speech Therapy Flipbooks - K, G, F, V, S, R, TH, etc.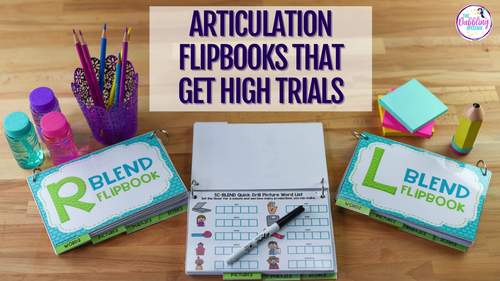 ;
What educators are saying
Love this so much! It does take some time to print, laminate and bind each book - but so worth it!! Easy resource to grab and use with a variety of students working on the same or different sounds.
It took a while to prep, but once ready, it has been a great grab and go activity in my toolbox. The students LOVE using a dry erase marker and choosing the next activity within the flip book
Products in this Bundle (12)
showing 1-5 of 12 products
Bonus
Articulation Flipbook for L
Description
Are you an SLP pulling your hair out trying to find engaging articulation activities? Do you find it challenging to keep your students engaged and motivated to practice their articulation skills throughout the entire session? The problem with traditional articulation activities is that they can be boring and repetitive, making it hard to keep students engaged and focused.
Articulation activities speech therapy flipbooks will help you get high trials in your sessions without kids getting bored!
These articulation flipbooks are the perfect solution for you! These articulation activities are specifically designed for speech therapy sessions to help your students make larger gains with learning their targeted sounds and achieving better generalization into sentences and conversation.
Research shows that a child who produces a high number of repetitions with their targeted sound will make the best gains. These articulation flipbooks provide a dose of 50 to 70 productions per session, making it easy for you to hit your target and achieve better results.
EACH FLIPBOOK INCLUDES:
Speech Therapy Word lists for each position of sound to take progress monitoring data
Speech Therapy Word Lists with pictures for quick articulation practice
Spelling activities to work on phonics while practicing their sound
Fill-in-the-blank word activities to work on spelling and writing while practicing their sound
Sound-Loaded Carrier phrase activities for building sentences and phrase match-ups
Sound-loaded speech picture scenes and cheat sheet word lists
ARTICULATION FLIPBOOKS INCLUDED:
⭐Interactive Articulation Flipbooks for /f,v/
⭐Interactive Articulation Flipbooks for /s,l,r-blends/
⭐Interactive Articulation Flipbooks for /k,g/
Interactive Articulation Flipbooks for /r-initial & r-blends/
Interactive Articulation Flipbooks for final consonant deletion
Interactive Articulation Flip Books For Early Developing Sounds /p,b,t,d,m,n/
⭐Interactive Flip Books For /prevocalic r, ar, air, or, ear, er/
⭐Interactive Articulation Flipbooks for /s,z/
⭐Interactive Articulation Flipbooks for /SH,CH,DJ/
⭐Interactive Articulation Flipbooks for /TH/
⭐Interactive Articulation Screener Flipbook includes a Google Slides and Google Form option
➡️ NOTE: Please check out each description listing to get more details about what is included in the articulation flipbooks. These flipbooks are being updated to include new fonts, clipart, and formatting. A star by the flipbook means that it has been updated.
Check out this video on my youtube channel to see what is included in these interactive articulation flipbooks!
➡️ SET UP: You can use these articulation flipbooks as a therapy tool or a progress monitor data collection tool. To utilize as therapy material, use the activities with students to get high trials and use the word lists to collect data on productions. You can print out these pages on cardstock, laminate, and cut out. Hole punch and adhere together with binder clips. Your students can practice their sounds using a dry-erase marker (they will be so motivated using the markers.)
If you do not have time to prep these flipbooks, you can still use it on your computer or iPad. When using on your iPad, you can add this to your notability app,iBooks app, or Adobe Reader app. Students can write on the flipbook pages using these apps. You can use the Kami Chrome extension to write on the PDF if using a computer or Chromebook during a teletherapy session.
➡️ GAIN TEACHER BUY-IN: Some of the activities in these flipbooks target spelling patterns and work on having the students build a short sentence that directly addresses some of the common core standards. Teachers may be more willing to have the students practice their speech sounds during a literacy center, knowing that the child is getting practice with spelling. Please advise that you should always consult with a speech pathologist before using these with a student in the classroom. Many students need to establish the correct sound production before moving into long-term practice at the word, phrase, and sentence levels.
➡️ HELPFUL HINTS: SLPs that have large caseloads and see students in mixed groups may struggle to find that extra time to serve students individually. Use this no-print articulation resource as a speech center during your group therapy time. Your student can practice their sounds with this articulation resource individually while you are helping other students in the group. When it is the student's turn to practice with you, this is when you give feedback on productions, take data or play a 2-minute challenge game. 
To see how you can set up articulation stations in your therapy room, check out this blog post HERE. For more information about the traditional articulation approach, you can head to this BLOG POST. It has a free cheat sheet to download.
Use these flipbooks for your quick articulation sessions. You will get the high trials you need, and students love using dry erase markers with these flipbooks. Print out one of the pages and send home as a homework assignment. When progress monitoring is due, use the word lists to get quick data on how your students are doing with their speech productions.
⭐️BUNDLE & SAVE ⭐️
By purchasing this BUNDLE of interactive articulation flipbooks, you are receiving these at 10% off the original price.
SLPS LIKE YOU SAID…
⭐️⭐️⭐️⭐️⭐️ "I used this resource when doing our "quick artic" sessions. My older kids liked that they weren't looking at a paper and they liked being able to hold the book themselves. They were so excited when they got to flip to the next page and show their groupmates how many pages they'd "already done". - Anna B.
⭐️⭐️⭐️⭐️⭐️ "My students enjoy a new resource and very helpful to work through the phoneme target. Excellent to send home to practice with parents/adult with no confusion. Students were able to use independently.- Susan R. 
_______________________________________
NO PRINT ARTICULATION FLIPBOOK RESOURCES:
❤️NO PRINT Consonant Cluster Flipbooks - Distance Learning
❤️NO PRINT Interactive Articulation Flipbook for /k,g/
❤️NO PRINT Prevocalic /r/ and Vocalic /r/ Interactive Articulation Flipbooks
❤️NO PRINT Interactive Articulation Flipbook for /p,b/
❤️NO PRINT Interactive Articulation Flipbook for /sh, ch, j/
❤️NO PRINT Interactive Articulation Flipbook for S,Z
❤️NO PRINT Interactive Articulation Flipbook for voiced and voiceless /TH/
❤️NO PRINT Prevocalic /r/ and Vocalic /r/ Interactive Articulation Flipbooks
❤️NO PRINT Interactive Articulation Flipbook for /k,g/
❤️NO PRINT Interactive Articulation Flipbook for /f,v/
❤️NO PRINT Consonant Cluster Flipbooks - Distance Learning
_______________________________________
************** STAY CONNECTED WITH ME ***********************
★BLOG★NEWSLETTER★FACEBOOK★INSTAGRAM★PINTEREST
Please email me at feliceclark@thedabblingspeechie.com if you have any questions or concerns!
_______________________________________
Customer Tips
Get credits to use for future Teachers Pay Teachers purchases.
Visit the My Purchases Page and click the leave a review button. Your account will be credited for future purchases. 
Click Here to Follow Me and be the first to hear of new products, exclusive deals, and more!  
Having difficulty with a file?
Visit the FAQs section, submit a help ticket, or ask a question on the Q& A tab before leaving feedback.
___________________________________
© Felice Clark Speech Pathologist Inc.
Permission to copy for single classroom use only.
Please purchase additional licenses if you intend to share this product.
Report this resource to TPT