Articulation Activities for Speech Therapy l Sound Loaded BOOM Card Games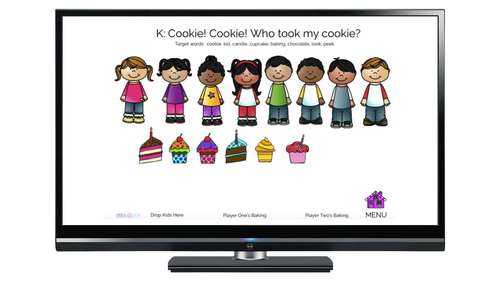 ;
What educators are saying
This was great for keeping my little client engaged during distance learning - we got in so much practice and he stayed engaged the whole session!
I love this product and that Anna Dee SLP often provides tutorials for how to use play-based therapy materials on her Instagram.
Also included in
Digital play-based speech and language activities and time-saving resources that you can use with ANY STUDENT on your preschool therapy caseload! This bundle is designed for DISTANCE LEARNING, but all of the resources can be used during in-person sessions.This is a MEGA bundle, which means it includ

Price $148.75

Original Price $185.94

Save $37.19
Description
Are you looking for a fun and creative way to target speech sounds? Use this play-based articulation therapy resource with your preschoolers during distance learning and in-person sessions!
This no-prep, no-print resource includes TWENTY-ONE BOOM Card Games! Each game is designed to be loaded with your student's target speech sound - which means the sound will naturally throughout the activity.
Your students will love hiding and finding the objects in each game and practicing their speech words. You will love the easy to use cheat sheet of target words and elicitation ideas!
The best part is that you can play these games over and over, as you have control to hide the pieces in a different place each time! Use this game year-round with your entire caseload.
TWENTY ONE Hide and Find Games. There is one game for each of the following sounds: W H P B T D M N K G F V S Z SH CH J L R TH S-BLENDS
HANDOUT for each game with Instructions, Target Word List and Elicitation Ideas
Aren't sure if this product is for you?
Check out a free preview, please visit: PREVIEW
You can also download the FREE Sample - Cookie, Cookie! Who Took My Cookie?
You may also be interested in these other play-based resources:
If you have questions, please contact me at annadeeslp@gmail.com.
I am more than happy to answer any questions you may have!
–––––––––––––––––––––––––––––––––––––––––––––––––––––––––––
Let's Connect!
SUBSCRIBE TO MY NEWSLETTER to be the first to get Subscriber Only Freebies, learn Play-Based Therapy tips and tricks, and stay informed about new products and promotions
FOLLOW MY TPT STORE: Click "Follow Me" on my Store Page. I send alerts with sales and any new freebies that have been posted!
FOLLOW ME ON INSTAGRAM for product demos, play therapy ideas and all things speech related.
CHECK OUT Anna Dee SLP on FACEBOOK for articles and my favourite online resources.
Report this resource to TPT