Articulation Activity - Dot It Out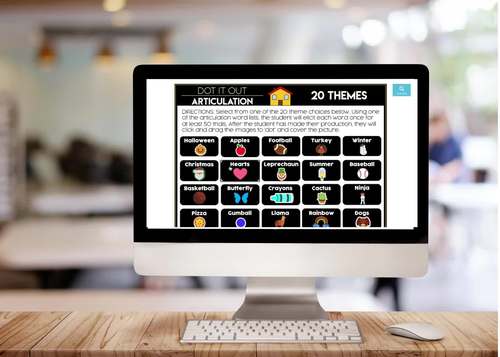 ;
What educators are saying
My students love having visual reinforcements of their work. This resource is a great way to help encourage students to practice their speech sounds and makes repetition/practice more fun!
My students loved coloring the hearts for each production for Valentine's Day! I'm excited to use it for each holiday!
Also included in
Articulation practice in speech sessions can be a struggle. Different skills, different needs, not enough variety in your resources! This bundle gives you the variety you need with resources articulation drill, games, and carry-over so your sessions stay fresh and your kids get the practice they ne

Price $12.00

Original Price $17.50

Save $5.50
Description
Keep it simple; DOT IT OUT! This articulation resource offers a simple and low-prep solution to articulation activities that is both engaging and effective. Sometimes, a simple activity can be just as impactful as an elaborate one, and this resource offers the perfect balance of simplicity and engagement.
The 4x6 pages included in this resource are conveniently sized to fit into a photo box, making them easy to store and access during therapy sessions.
With a variety of themes and ways to play, this resource is sure to become a favorite for both SLPs and their students. The different themes provide a fun and exciting way for students to practice their articulation skills, while the various game options offer a dynamic and engaging way to keep students motivated and invested in their therapy.
This articulation resource is an excellent choice for SLPs seeking a low-stress, high-impact way to incorporate articulation activities into their sessions. By utilizing this resource, SLPs can provide effective and enjoyable therapy while reducing the stress and preparation time that often comes with planning elaborate activities.
Making learning both effective and fun. PLUS EASY FOR YOU!
━━━━━━━━━━━━━━━━━━━━━━━━━━━━━━━━━━━━━━━━━
✨ WHAT'S INCLUDED?
WORD LIST CARDS
There are word list cards for the following sounds →T, D, F, K, G, S, CH, SH, J, TH, S-BLENDS, L, L-BLENDS, PREVOCALIC R, VOCALIC R, R-BLENDS, CV WORDS, VC WORDS, and CVC WORDS.
Each word list is comprised of academic high frequency words and common vocabulary words to make time spent on articulation as meaningful as possible for your students. Most lists of 10 words in the initial, medial, and final position. To reduce 'filler' and 'fluff' words, not all lists will have 30 words.
20 DOT THEME CARDS ( BOOM CARD OPTION INCLUDED: THEME CARDS ONLY) : 
Each card has 50 themed dots for students to cover, color, paint, etc.
Apples
Halloween
Football
Turkey
Winter
Christmas
Hearts
Leprechauns
Sunglasses
Baseball
Basketball
Butterfly
Crayons
Cactus
Ninja
Pizza
Gumball Machine
Llamas
 Dogs
Rainbow
⭐ TIP: Use a theme card and pair it with a similarly themed book! Have the student use targeted words from the book for their repetitions while keeping track on their card!
➡️ SUGGESTIONS FOR PLAY:
After the student has made their production, they can use a variety of materials to 'dot' and cover the picture.
stamps
dry erase marker
mini erasers
washi tape
hole punch ( best used if not laminating )
crayons
paint daubers
Q-tip and water colors
ink and thumb print
pom poms
building blocks
dinky doo dads
This easy to use articulation resource offers a simple yet engaging approach to articulation activities that is sure to be a hit with students!
━━━━━━━━━━━━━━━━━━━━━━━━━━━━━━━━━━━━━━━━━━━━
WHY DOT IT OUT! ARTICULATION?
✏ Research Based. This resource is supported by research regarding the use of high-frequency vocabulary when treating articulation/phonological disorders. ( Cummings& Barlow, 2011)
✏ Easy to Use. The 4x6 size keeps things portable. Perfect for interventions and travel.
━━━━━━━━━━━━━━━━━━━━━━━━━━━━━━━━━━━━━━━━━━━━
WHO IS IT FOR? ☞ This resource would best service students in 1st through 5th grade.
━━━━━━━━━━━━━━━━━━━━━━━━━━━━━━━━━━━━━━━━━━━━
SEE WHAT OTHER SLPS HAD TO SAY:
❤️ "Love the flexibility of these pages.  Different themes to fit different times of year or different sounds targeting. So simple and can be used in many ways.  My favorites are to use dot markers or small stickers."- Dawn M. 
❤️ "My students love dot markers so this activity is perfect for them to use their favorite markers and get a whole bunch of repetitions in! Thank you for making a simple but fun activity!" - April P. ━━━━━━━━━━━━━━━━━━━━━━━━━━━━━━━━━━━━━━━━━━━━
LOOKING FOR MORE LIKE THIS?
★ You will want to check out PAPER PLATE CRAFTS
★ And don't miss NO PREP ARTICULATION
★ Make sure you look at One Month Articulation Drill Sheets
━━━━━━━━━━━━━━━━━━━━━━━━━━━━━━━━━━━━━━━━━━━━
ABOUT THE SLP:
✋Hi! I'm Maureen, and it's awesome to meet you. I am an experienced and ASHA-certified Speech-Language Pathologist, as well as a Certified Autism Specialist. Being a speaker at the American and Hearing Association Convention, as well as at various state conventions, over the years has been truly inspiring.
✍I have been creating resources since 2012 to help other professionals support their students. I believe in creating thoughtful and thorough materials to help you shine; Innovative and supportive creations to help you love what you do! ❤️
⭐If you have any questions about this resource, or if you simply like to 'talk speech' with me, send me an email at thespeechbubbleslp@gmail.com. 
━━━━━━━━━━━━━━━━━━━━━━━━━━━━━━━━━━━━━━━━━━━━
Customer Tips
Get credits to use for future Teachers Pay Teachers purchases.
Visit the My Purchases Page and click the leave a review button. Your account will be credited for future purchases. 
Having difficulty with a file?
Visit the FAQs section, submit a help ticket, or ask a question on the Q& A tab before leaving feedback.
━━━━━━━━━━━━━━━━━━━━━━━━━━━━━━━━━━━━━━━━━━━━
Follow me for awesome info✨TPT ✨Blog  ✨Newsletter ✨Facebook ✨Instagram ✨ Pinterest
━━━━━━━━━━━━━━━━━━━━━━━━━━━━━━━━━━━━━━━━━━━━
Copyright © The Speech Bubble SLP
Permission to copy for single classroom use only.
Please purchase additional licenses if you intend to share this product.
Report this resource to TPT