Articulation Digital Interactive Notebook Activities Bundle for Speech Therapy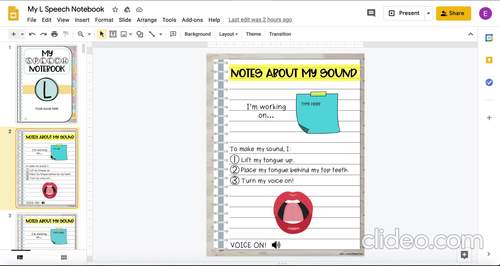 ;
Google Slides™

Internet Activities
Includes Google Apps™
This bundle contains one or more resources with Google apps (e.g. docs, slides, etc.).
What educators are saying
I absolutely love this resource! I used it with all of my remote learning kiddos and I loved how they could keep their own speech journal. Great resource!
This was very engaging for my students and requested various activities in it. On the younger side with visuals so who was assigned to was an important consideration.
Products in this Bundle (14)
showing 1-5 of 14 products
Description
Looking for a FUN, individualized method to work on a student's articulation sounds from start to finish? These interactive Google Slides™ offer a variety of engaging activities to complete in person or through teletherapy. The SLP can also easily communicate with the parent and provide FUNctional homework!
These notebooks includes:
Sound information- notes on how to produce target sound with visual (and editable page to create your own notes!)
Check-in page-addresses emotions and feelings regarding speech as well as self-assessment of session motivation
Phoneme pages- includes two interactive activities
Syllable pages- includes interactive activities for each position (4 activities total)
Word pages- includes 3 interactive activities for each position of the word (I Spy, Tic-Tac-Toe, 4 in a row)
Phrase pages- includes 2 interactive activities for each position of the word
Sentence pages- includes two interactive activities for each position of the word. One activity is a 'build the scene' and the other activity is a 'build the food.' 6 unique activities total.
Carryover pages- includes a "scrapbook" page of real pictures to target the sound in conversation and 3 sound-loaded reading passages (1 passage for each position)
Parent communication page-SLP can type out what goals were addressed, any notes on the session, and provide homework
Blank pages- 3 blank notebook pages are included for you to input your own pictures, words, or games that are tailored to that student.
*SEE PREVIEW FOR PAGE EXAMPLES!*
SOUNDS INCLUDED:
Currently: S, R, L, F, K, G, CH, SH, TH, J, S, Blends, R Blends, L Blends, Vocalic R
NOTE: This is a Google Slides™ resource. When downloaded, you will receive a copy of the resource downloaded to your Google Drive. I recommend saving a master copy and then saving copies with your students' initials so as to individualize the notebook to each student. You will also be able to share the link to the student's notebook to that student's parents/caregivers for homework and carryover purposes.
You might also like my phonological processes digital interactive notebooks!
------------------------------------------------------------------------------------------------------------------------
CUSTOMER TIPS:
FREE money (TpT credits) for leaving feedback:
• Go to your 'My Purchases' page. Next to each purchase you'll see a 'Provide Feedback' button. Each time you give feedback on paid purchases, TPT gives you credits that you use on your future purchases (AKA reduced or even freeee products!). I LOVE reading your feedback!!
What's the green ★ for?:
• Click the green star to become a follower. You'll be the first to know about freebies, sales, and new products. All new products are discounted 50% off the first 24 hours as a big thank you for following along.
As always, please contact me with any questions at erin@speechtea.com.
Thank you so much!
Erin Larsen
-------------------------------------------------------
Let's connect!
Report this resource to TPT