Articulation Feeding Mats for Farm Animals: Speech Toy Companion + Boom Cards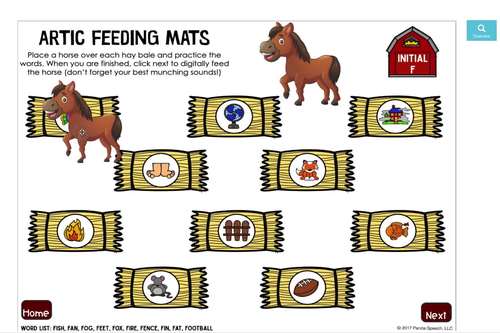 ;
What educators are saying
This product can be used to lead very interactive sessions in articulation therapy! User-friendly, with great graphics!
Description
Do you need a super fun activity to keep your articulation students engaged?
Want to feed farm animals in therapy with no to low prep? You need these unique feeding mats! Easily get 100+ trials per session with this activity. A new way to use farm animal toys.
Now includes a BOOM card version (horse/hay). Great for distance learning, teletherapy, or a no print options. If you are interested in the digital/BOOM version ONLY click here.
Color AND black & white! Low Prep! Ink Friendly Options!
Also A Play Dough Companion! (Can be used with out play dough)
This activity was designed to be a simple, no-prep activity to target articulation in an engaging way. This version includes the following sounds: Initial/final p/b/m (for bilabials and final consonants), final t, d, n (for final consonants), initial/medial/final: k, g, f, v, l, s, z, sh, ch, th, j, lblends, , sblends (sp, st, sm, sn, sk, sl, sw, mixed), pre-vocalic r, er, or, ar, air, ear, ire, mixed vocalic r, & rblends. I also included blank open-ended pages.
I included mats with hay and mats with grass to choose from in the color version. I use toy cows, horses, goats, and sheep with these mats.
→ Materials Needed: Feeding mats, toy animals (or use optional printable animals)
Optional: play dough, bingo chips, bingo dotters, crayons
→ Assembly: Low Prep! Print the feeding mats in color, one sided (you can choose between hay or grass versions). Laminate or place in sheet protectors (optional, not required). Use the black & white version for an ink friendly option.
Optional animals: Cut out and laminate (to substitute for the toy animals).
→ To use (PRINT VERSION): Set the feeding mats in front of the student (by target phoneme) and give them farm animal toys. You could also set up a barn if you have it behind the mat. The student will squish play dough over the grass or hay and practice the target word in the circle (10X per word will = 100 trials per mat). I have my students squish the play dough and then make the farm animal pretend to eat it 10X (each time practicing the word). This activity is meant to be simple and fun. If you don't have play dough or prefer not to use it, simply have the student make the animal pretend to eat each bale of hay or grass as they practice each word (for a drill activity). If you don't have toy farm animals, cut out the paper cow and horse included in this download and laminate.
Phonemes included
★Initial/Final p, b, m
★Final t, d, n
★Initial/Medial/Final k
★Initial/Medial/Final g
★Initial/Medial/Final f
★Initial/Medial/Final v
★Initial/Medial/Final l
★Initial/Medial lblends
★Initial/Medial/Final s
★Initial/Medial sblends
(separate mats for sp, st, sm, sn, sk, sl, sw, mixed)
★Initial/Medial/Final z
★Initial/Medial/Final sh
★Initial/Medial/Final ch
★Initial/Medial/Final j
★Initial/Medial/Final th
★Pre-vocalic r
★Initial rblends
★Vocalic r (separate pages for er, or, ar, ear, air)
★Mixed vocalic r
★blank pages
(this comes with a printing guide, to find the phonemes you need quickly!)
Variations:
→ Bingo chips: The students will place a bingo chip over each circle on the food items as they practice the target word. I use magnetic chips for extra fun. After they have filled up the mat, I let the student hold the animal and magnet together and "eat" all of the chips! This provides another opportunity for practice. I have even taped a small magnet to a toy horse's nose to pick up the magnetic chips!
→ Bingo dotters: The student will dot each circle as they practice it. I use toy animals with the black and white version too, the student will dot the circle and make the animal pretend to eat the hay. They could also use crayons or markers if you don't have bingo dotters.
Try my other toy companions!
• Articulation Feeding Mats for Farm Animals: A Speech Therapy Toy Companion
• Articulation and Language Racing Mats Toy Companion BUNDLE!
• Earn Your Bricks Language Toy Companion: A Speech Therapy Activity
• Frog Launching Pad Toy Companion BUNDLE: Articulation and Language Activity
• Train Tracks for Phonological Processing Toy Companion
• Wind Up Toy Companion for Articulation
Other Play Dough Compantions
★ ARTIC Pop! Early Targets! Speech Therapy Activity (+BONUS NO-PRINT ACTIVITY)
★ ARTIC WEBS BUNDLE: Speech Therapy Activity
★ Artic Swat BUNDLE: Articulation Activity
★ Articulation Frog Food: A Speech Therapy Activity: BUNDLE
★ Articulation Feeding Mats for Farm Animals: A Speech Therapy Toy Companion
Report this resource to TPT