Asking Questions Ask and Answer Reading Strategy Graphic Organizers Activities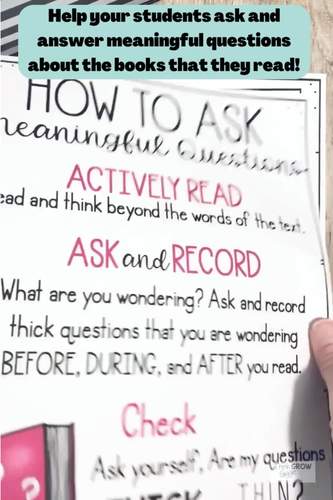 ;
PDF

Google Apps™
Includes Google Apps™
The Teacher-Author indicated this resource includes assets from Google Workspace (e.g. docs, slides, etc.).
What educators are saying
This resource is a great addition to my literature circle units. I used it to teach the students of all the different aspects of a story.
This was a great resource for my questioning unit. Very thorough and well laid out. The graphic organizers were great for independent practice. Thank you!
Also included in
Are you looking to strengthen your students' reading comprehension skills and the strategies that use as readers? Help your students succeed at applying fiction reading strategies while reading ANY text with these reading strategy anchor charts, activities, and student work. With task cards, graphic

Price $30.00

Original Price $48.25

Save $18.25

Are you looking to increase your students' reading comprehension and help them grow as readers this year? Help your students master both the fiction and nonfiction reading strategies that they need in order to understand the increasingly complex texts that they read all year long!This reading strate

Price $68.50

Original Price $98.00

Save $29.50
Description
Looking for activities to support asking questions reading strategy work in your classroom? Help your students to ask and answer meaningful questions about the texts that they read before, during, and after reading with these questioning graphic organizers, task cards, and activities. These activities will help your students dive deeper into the books that they read!
Anchor chart posters and student reference sheets are informative resources for young readers both during the unit and throughout the school year. Activities included can be used with any book!
Questioning as readers is a comprehension strategy that will help your students understand what they read at a deeper level, making inferences as readers.
With a variety of graphic organizers, question stems, task cards, and practice activities your students will be asking meaningful questions as they read ANY book in no time!
Save 20% off by purchasing this set in the Reading Strategy Bundle
This product includes both print and digital versions.
CONTENTS:
✓ Directions and Link for use in Google Classroom™
✓ Teacher Notes and Book Recommendations
✓ Anchor Charts to Guide Instruction:
What is Questioning
How To Ask Meaningful Questions
Thick Questions
Thin Questions
Questioning Helps You…
How Are My Questioning Skills
✓Questioning Student Reference Sheet (in 3 sizes)
✓Questioning Page for pre and post assessment
✓Student Questioning Sheet for any Read Aloud
✓10 Student Questioning Graphic Organizers
✓Student End of Chapter Questioning Response Sheet
✓Student Questioning Sticky Note Organizer
✓Student Question Stems for Independent Reading
✓Questioning Exit Slips
✓Questioning Teacher Rubric
✓5 Questioning Skill Practice Sheets
✓8 Task Card Summaries with 8 Task Card Matching Questions with suggested activities
Recent Feedback on this Product:
⭐️⭐️⭐️⭐️⭐️
"I use this as part of my guided reading. This is another amazing product. Thank you!! My students' desks are going to be covered with your posters in reduced sizes. They love it."
⭐️⭐️⭐️⭐️⭐️
"I used this in my intervention group for the students to better understand how to ask GOOD questions while reading. This really helped them! :)"
⭐️⭐️⭐️⭐️⭐️
"Great product for questioning. My students enjoyed the thick/thin question posters. This has been a good supplement for my class."
⭐️⭐️⭐️⭐️⭐️
"Great package. A MUST BUY!"
Need more Reading Strategy Resources? Check out the packs in the same series below!
Follow me by clicking the green star at the top of my store page for notifications of new products and sales. Remember new products are always 50% off the first 24 hours!
Subscribe to my blog for engaging teaching ideas and exclusive freebies!
Follow me on Instagram for behind the scenes views of Think Grow Giggle:
Think Grow Giggle on Instagram
Follow me on Pinterest for more teaching ideas:
Think Grow Giggle on Pinterest
Follow me on Facebook for teaching ideas and flash freebies:
Questions? Email me at ThinkGrowGiggleShop@gmail.com
Report this resource to TPT
Standards
to see state-specific standards (only available in the US).
Ask and answer such questions as who, what, where, when, why, and how to demonstrate understanding of key details in a text.
Ask and answer questions to demonstrate understanding of a text, referring explicitly to the text as the basis for the answers.