Atomic Structure Foldable Notes and PowerPoint with Digital and Print Versions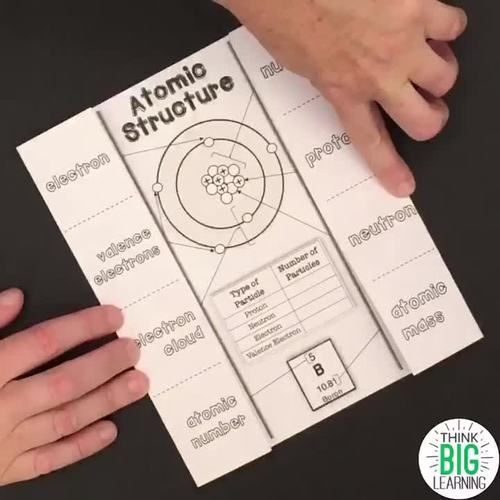 ;
Zip

Google Apps™
Includes Google Apps™
The Teacher-Author indicated this resource includes assets from Google Workspace (e.g. docs, slides, etc.).
What educators are saying
This foldable is so well organized, loved it! Bonus for having the digital option for some of my students with a computer accomadation.
This resource was a great way to review atomic structure with my 8th graders. Students enjoyed completing and placing these notes in the science notebooks. It was well aligned to the TEKS.
Description
Want an engaging way to share atomic structure with your students? This interactive foldable notes page uses rich images, coloring and labeling to allow students to identify the subatomic particles. This can be used virtually or face-to-face. It also helps them build connections to the content, as they explore the role and significance of each particle.
There are multiple versions of the foldable included in the download; one is more interactive and allows students to color the subatomic particles/concepts to match with the name of that particle/concept and draw arrows to each. This is the most interactive version of the foldable. A second version allows students to color code the particles/concepts, but the arrows are already present for them. The third version is suitable for color printing, and the colors and arrows are already present. This version would be best for someone with limited time. You can choose the appropriate level for your classroom and your students.
Big idea: All matter is made up of atoms, and in order to understand how the world around us works, it is important to understand subatomic particles and how they interact to give all matter its properties. For example, atoms bonding together to form important compounds like water or carbon dioxide happen because of these subatomic particles.
What's Included in This Product
-Multiple versions of the Atomic Structure Foldable
-PowerPoint that guides students through coloring/labeling and fill-in-the-blank notes page
-Answer key
Other Products You May Like
Atom Counting: A Chemical Formula Activity
Atomic Structure Interactive Diagram Digital and Printable Activity
Atomic Structure Races Activity
Atomic Structure Foldable Notes and PowerPoint
Periodic Table Thinking Cards STAAR Review Activity
Metals Nonmetals Metalloids Interactive Diagram Digital and Printable Activity
Significance of Protons and Valence Electrons STAAR Review Game
Connect with Think Big Learning
For how-to videos, freebies, and other great ideas:
Like us on Facebook
Follow us on Instagram
Pin with us on Pinterest
Check out our Think Big Learning TpT store
Click the "Follow Me" button next to our store logo/name to receive notification of new products we post as well as sales.
Terms of Use
Copyright © 2018 Think Big Learning.
By purchasing this file, you agree to the following terms. All rights reserved by author. This product is to be used by the original downloader only for personal or classroom use only. Copying for more than one teacher, classroom, department, school, or school system is prohibited. This product may not be distributed or displayed digitally for public view. All graphics and fonts are also protected by copyright from their original author/artist.
Standards
NGSS
Core Disciplinary Ideas
This interactive notes page builds a foundation for the following core disciplinary idea:
• PS1.A: Structure and Properties of Matter
o Substances are made from different types of atoms, which combine with one another in various ways. Atoms form molecules that range in size from two to thousands of atoms. (MS-PS1-1)
Crosscutting Concepts: Patterns, Scale, Proportion, and Quantity, Systems and System Models, Energy and Matter
Scientific and Engineering Practices: Developing and using models, constructing explanations (for science), obtaining, evaluating, and communicating information
Science Texas Essential Knowledge and Skills (TEKS)
8.3B – TSIET use models to represent aspects of the natural world such as an atom, a molecule, space, or a geologic feature;
8.5A – TSIET describe the structure of atoms, including the masses, electrical charges, and locations, of protons and neutrons in the nucleus and electrons in the electron cloud;
8.5B – TSIET identify that protons determine an element's identity and valence electrons determine its chemical properties, including reactivity;
Teaching Duration
30 minutes
Report this resource to TPT