Author's Argument Task Cards - Identify the Authors Claim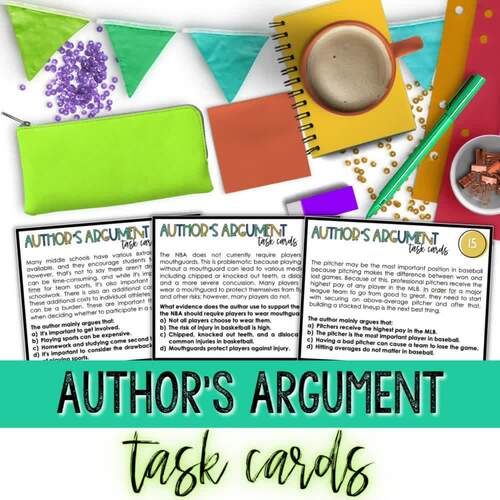 ;
PDF

Google Apps™
Includes Google Apps™
The Teacher-Author indicated this resource includes assets from Google Workspace (e.g. docs, slides, etc.).
What educators are saying
This was great practice after learning about claims in arguments. I was afraid it would be too easy, but I was surprised that some of my students found it challenging - which is good!
This was a great addition to my informational text unit! I put the cards around the room and the students loved getting to read about different sports.
Also included in
While middle school students might be naturals at arguing, teaching them how to read and understand argumentative texts is a different story! With this reading toolkit for informational standard 6.8, you'll get access to several mini-lessons and activities that break down the elements of an argument

Price $13.43

Original Price $20.49

Save $7.06
Description
Give your students the essential and interactive practice they need when identifying the author's claim using these sports-themed task cards! Students will enjoy getting up and moving around the room, reading various sports blurbs, and determining the author's argument. You'll revel in seeing them build confidence & familiarity with the skill before jumping into more difficult content!
✔ Check out the preview for a closer look!
In order for students to evaluate an author's point of view and assess the validity of an argument, they need first to be able to identify the author's main claim.
This set of 20 task cards will give your students beneficial practice in doing just that!
► What's Included:
20 Task Cards
Printable Version
Digital Google Forms Version
► Ways to Use These Task Cards:
Whole Class: Hang the cards around the room or place them on desks. Allow your whole group to move about the room and answer each card.
Small Group: Use as a station activity. Put all cards on a binder ring and have students rotate to the station and complete the cards.
Add to your choice board.
Assign the task as a digital activity.
You can use these task cards to introduce your argumentative unit & review what they've previously learned, or you can use them after launching your unit as a quick independent practice activity!
Task cards are versatile and can be used whole group, in station rotations, or as an option on a choice board.
✎ Boom Card Alternatives: These task cards are also offered as a Boom Deck on Boom Learning. You can access the listing here if you'd rather purchase the Boom Deck.
Both digital and printable versions are included, so you can provide a kinesthetic experience for your students or post it on your learning management system for virtual, no prep, or out-of-class learners!
_______________________________________
TEACHERS LIKE YOU SAID…
⭐️⭐️⭐️⭐️⭐️ Language Arts Connection said, "Students enjoy these task cards because the text is about sports. Thank you for creating this awesome resource."
⭐️⭐️⭐️⭐️⭐️ Kelly said, "Great Resource! My students loved this as a review."
⭐️⭐️⭐️⭐️⭐️ Amy said, "Good overview and review of the elements of argumentative writing. Visually appealing and student-friendly. Thanks!"
_______________________________________
Supports Common Core Standards (CCSS):
RI.5.1, RI.5.8
RI.6.1, RI.6.8
RI.7.1, RI.7.8
_______________________________________
You might also like these argument mini-lessons:
OR, ⭐️ Bundle & save for a discount ⭐️
Purchase the for this activity, plus the mini-lessons listed above! 
Have a question?
Please check out the Q & A section or email me at info@heynatayle.com.com. I'll get back to you within 24 hours.
Remember to leave feedback! I love to hear what my buyers say, how the product worked for them, and any feedback I can use to improve my product! (It also earns you points towards future TPT Purchases)
✔️ Follow me to be notified when I've posted new products. New products are always 50% off for the first 48 hours!
✔️ Subscribe to my NEWSLETTER for tips, ideas, and activities that make teaching middle school ELA feel engaging and purposeful.
Thanks so much,
Natayle Brown
___________________________________
Copyright © Hey Natayle.
Permission to copy for single classroom use only.
Please purchase additional licenses if you intend to share this product.
Report this resource to TPT
Standards
to see state-specific standards (only available in the US).
Quote accurately from a text when explaining what the text says explicitly and when drawing inferences from the text.
Explain how an author uses reasons and evidence to support particular points in a text, identifying which reasons and evidence support which point(s).
Cite textual evidence to support analysis of what the text says explicitly as well as inferences drawn from the text.
Trace and evaluate the argument and specific claims in a text, distinguishing claims that are supported by reasons and evidence from claims that are not.