Author's Purpose Task Cards PIE'ED in Print and Digital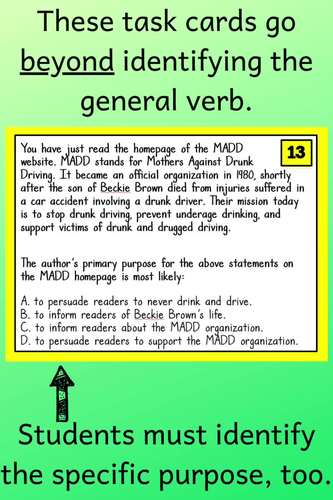 ;
Easel Activity Included
This resource includes a ready-to-use interactive activity students can complete on any device. 
Easel by TPT is free to use!
Learn more
.
Easel Assessment Included
This resource includes a self-grading quiz students can complete on any device. 
Easel by TPT is free to use!
Learn more
.
What educators are saying
I purchased this resource to review material for state testing. I love how engaging it is and that my students were able to discuss or work together on the cards. Great resource!
This was used in small groups. It was mainly used as a review for spring testing. The kiddos had fun.
Also included in
This author's purpose bundle is designed to teach upper elementary and middle school students about an author's purpose for writing a literary piece in a way that will keep them engaged. This bundle has everything you need to teach your students about the FIVE categories of author's purpose. This bu

Price $13.00

Original Price $24.99

Save $11.99

Task Card BUNDLE: If you use a lot of task cards in your classroom, then your students may find this new little twist on them engaging and unique. This BUNDLE contains the following 31 SETS OF TASK CARDS! Check out the PREVIEW or click on each link to take a closer look!Inferences Context Clues Aut

Price $50.00

Original Price $90.98

Save $40.98
Learning Objective
After reading a passage, students will choose the author's primary purpose for writing the passage from a list of four multiple choice options.
Description
This author's purpose resource contains 24 task cards. Each task card contains a short passage, followed by this question:
"The author's primary purpose for writing this passage most likely is..."
Four multiple-choice options follow the question stem.
I prefer teaching the five-option author's purpose format to my upper elementary students as I feel it better prepares my students for tests. Many multiple-choice tests add a fourth purpose as a choice, and when I only focused on the basic three, I wasn't adequately preparing my students for the tests.
I also try to take it a step further by asking my students WHAT the author is trying to inform, describe, explain, etc. For example, one of the task cards has a paragraph about pollution, and then the answer choices include:
A. to inform readers about pollution.
B. to inform readers about the Earth.
C. to persuade readers to change certain habits that will help the Earth.
D. to persuade readers not to pollute the Earth by reading.
Again, I noticed that many standardized test questions involving author's purpose are worded in this way. I feel like this helps my students be more equipped to identify the main idea of a paragraph, too!
In addition to the basic answer sheet format, there is also an optional worksheet/activity to help further engage students as they work through the task cards. Students record their answers on a themed worksheet asking "Which pie is the favorite?" Once they have recorded all their answers, students tally their A, B, C, and D answers to reveal the favorite pie flavor!
********This resource is available in three formats:
Traditional Printables- Print the PDF and distribute paper task cards and recording sheets.
Easel Activity- With this digital format, there is one task card per slide. Students read each passage and select the best answer that completes the statement. This has a multiple-choice format, and students push the button beside the correct answer. No checking is necessary! When your students turn it in, you will see their score and the number of attempts they made on each card.
Easel Assessment- Students complete this self-grading quiz on a device, as well. After reading each passage, students select the author's purpose from a list of four possible answer choices. With this option, the teacher chooses whether or not his or her students receive immediate feedback.
***If you would like to have a Google Slides and/or Google Forms version of this activity, click on these links to access the digital version or the bundle.
Click on the links below to take a peek at some of my other PIE'ED products!
Author's Purpose: Targeted Tri-folds
Author's Purpose Earth Day Craftivity (including five passages!)
Copyright by Deb Hanson
This item is a paid digital download from my TpT store
www.teacherspayteachers.com/Store/Deb-Hanson
This product is to be used by the original downloader only. Copying for more than one teacher is prohibited. This item is also bound by copyright laws. Redistributing, editing, selling, or posting this item (or any part thereof) on an Internet site that is not password protected are all strictly prohibited without first gaining permission from the author. Violations are subject to the penalties of the Digital Millennium Copyright Act. Please contact me if you wish to be granted special permissions!
Teaching Duration
45 minutes
Report this resource to TPT
Standards
to see state-specific standards (only available in the US).
Assess how point of view or purpose shapes the content and style of a text.