Author's Purpose and Point of View Mini-Lesson - Passages & Quizzes Included!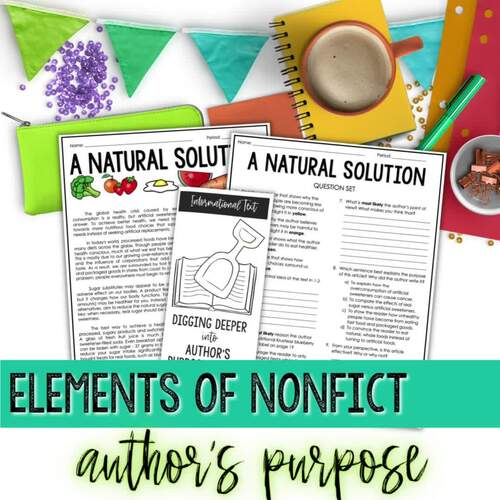 ;
Zip

Google Apps™
Includes Google Apps™
The Teacher-Author indicated this resource includes assets from Google Workspace (e.g. docs, slides, etc.).
Also included in
Launching your nonfiction reading unit? Get access to thorough, research-based nonfiction text minilessons and activities that you can feel good about! This nonfiction comprehension toolkit breaks down the elements of nonfiction in easy, digestible ways for middle school students. These nonfiction r

Price $17.99

Original Price $24.47

Save $6.48

If coming up with thorough & engaging units for the four major genres of literature has ever made you feel frustrated, overwhelmed, or even unsure, I made this bundle of ELA mini units for you. This HUGE BUNDLE is your complete kit for teaching the elements of literature this year!CHECK OUT THE

Price $74.99

Original Price $112.62

Save $37.63
Description
Help your students uncover the author's purpose and point of view with this comprehensive RI.6.6 mini-lesson! This lesson makes understanding the author's purpose easier than ever, with an editable slideshow, a set of informational passages with quizzes, and a scaffolded brochure to use with any nonfiction text!
✔ Check out the preview for a closer look!
Using these in-depth materials, your students will learn how to read closely and detect nuisances in the author's craft so they can accurately determine the author's purpose in any text.
In this resource, students will be asked to:
Identify textual evidence to support their answers
Determine the main idea of a text
Describe the author's purpose in writing the text
Determine the author's point of view
Evaluate the effectiveness of the text
► What's Included?
Editable PowerPoint or Google Slides Lesson
3 Author's Purpose Passages & Question Sets
Audio Files for Each Passage (Making Differentiation Easy!)
Scaffolded Brochure You Can Use With ANY Nonfiction Text
Author's Purpose Digital Notebook
► Nonfiction Text Passage Topics:
The Problem with Sugar
A Natural Solution
The Sweet Journey of Sugar
All texts are at an 800-1010 Lexile Level. What's up with the sugar theme? These passages are intended to be used as a follow-up to my main idea series on bees and my text structures series on candy!
By breaking down a tricky skill into manageable chunks, you can witness deep learning in your students without the hard work. You can use this lesson whole group, with a small targeted group of students, in a remedial reading course, as a sub plan, or as a station rotation activity. 
_______________________________________
TEACHERS LIKE YOU SAID…
⭐️⭐️⭐️⭐️⭐️ 3rd Grade with Miss K said, "Absolutely loved this resource! So easy to prep. Highly recommend!"
⭐️⭐️⭐️⭐️⭐️ Bethany D said, "Loved this resource during remote learning!"
_______________________________________
Supports Common Core Standards (CCSS):
RI.5.6, RI.6.6, RI.7.6
RI.5.4, RI.6.4, RI.7.4
_______________________________________
You might also like these mini-lessons:
⭐️ Bundle & Save! ⭐️ Purchase the Elements of Nonfiction Texts Bundle to get this activity, plus the mini-lessons listed above, and save!
Have a question?
Please check out the Q & A section or email me at info@heynatayle.com. I'll get back to you within 24 hours.
Don't forget to leave me feedback! I love to hear what my buyers say, how the product worked for them, and any feedback I can use to improve my product! (It also earns you points towards future TPT Purchases)
✔️ Follow me to be notified when I've posted new products. New products are always 50% off for the first 48 hours!
✔️ Subscribe to my NEWSLETTER for tips, ideas, and activities that make teaching middle school ELA feel engaging and purposeful.
Thanks so much,
Natayle Brown
___________________________________
Copyright © Hey Natayle.
Permission to copy for single classroom use only.
Please purchase additional licenses if you intend to share this product.
Report this resource to TPT
Standards
to see state-specific standards (only available in the US).
Determine a central idea of a text and how it is conveyed through particular details; provide a summary of the text distinct from personal opinions or judgments.
Determine the meaning of words and phrases as they are used in a text, including figurative, connotative, and technical meanings.
Determine an author's point of view or purpose in a text and explain how it is conveyed in the text.
Determine two or more central ideas in a text and analyze their development over the course of the text; provide an objective summary of the text.
Determine the meaning of words and phrases as they are used in a text, including figurative, connotative, and technical meanings; analyze the impact of a specific word choice on meaning and tone.