Autism Classroom Mini-Schedules for General School Activities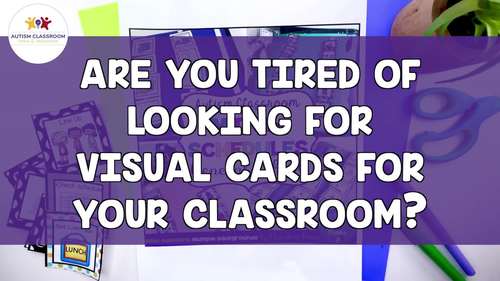 ;
What educators are saying
Thank you. I was struggling with the ability to make everything I needed to support one of my high needs ASD students and this helped tremendously.
Great to adapt for my students, some need a lot of supports while others only need minimal. Very colorful!
Also included in
Stop wasting time finding and making visuals with this autism visual schedule BUNDLE! You will find 5 sets of mini visual schedule resources for all different purposes within the special education world. Help your students gain independence by learning life skills through these visual task analyses

Price $21.00

Original Price $25.00

Save $4.00

Are you looking to set up your special education classroom, but don't know where to start? This comprehensive bundle includes everything you will need to set up a self-contained classroom. These special education classroom setup resources include schedules, planning tools, behavioral tools and much

Price $110.92

Original Price $123.25

Save $12.33

This special education classroom setup kit is like a classroom in a bundle! It has everything you need to set up the structure of the classroom except the students, the printer and the laminator. Setup your special education classroom and plan everything for your year with this comprehensive bundle.

Price $103.72

Original Price $115.25

Save $11.53
Description
Mini schedules are sometimes called activity schedules or task analysis visuals. Whatever they are called, they are designed to break down the steps for completing specific tasks during the student's day. They might include visuals for the steps of a task, like the arrival or departure routine. Or they might include materials the student needs to get and the steps to participate in class.
This set is now included in a discounted bundle including 4 other sets. Check it out here. Autism Classroom Mini-Schedules GROWING BUNDLE for Special Education
**This product is also included in a bundle offered at a discounted price: The Starter Kit for Successful Inclusion
This packet is designed to allow you to print them in different sizes with different backgrounds. In the directions I share some ideas for how I use them in the classroom for a variety of students.
What's Included?
✓ I have tried to include visuals that will be appropriate for all ages—sometimes there is more than one choice of the same step or material to provide alternatives for older and younger students. See the preview for pictures of the actual visuals included.
✓ Each of the visuals is included with backgrounds in white, gray background, black and white polka dots, multi-color polka dots, and rainbow chevron. They are designed to match my schedule bundlesfrom my store.
✓ Each background also has a PowerPoint with blank squares to add in your own.
✓ Finally, each file can be printed in different sizes so that you can adapt them to your students' needs. Directions are included in this file and in a video.
Printed as-is (select fit-to-page in the print dialog box), the visuals are approximately 2.5 x 2.5 inches with the outside border. If you trimmed off the outside border they would be about 2.25 x 2.25 inches. I find these are best for early learners and those with fine motor difficulties.
You can also print them so there are multiples to a page. If you print them 2 to a page, as shown with the directions of the picture below, they are about 1.5 x 1.5 inches with the border. They are approximately 1.25 x 1.25 without the border.
*************************************************************************
Download the preview to see what visuals are included
For more classroom materials for students with autism and special education
my schedule bundles
*************************************************************************
This product is copyrighted to Autism Classroom News-Christine Reeve 2017 for use in one classroom. They may not be copied for additional classes without purchasing extra licenses. For bulk discounts, please email me at drchrisreeve@gmail.com.
Teaching Duration
Lifelong tool
Report this resource to TPT