BACK to SCHOOL JIVE With A GIF Brain Breaks Music Movement Minutes Activities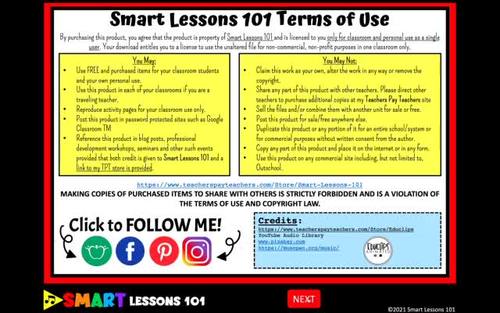 ;
35 slides, audio included
Also included in
Do your students have trouble paying attention? Do they need a break from desk work? Do they lose interest during distance learning zoom lessons? Problem solved - Give them a MUSICAL MINUTE of MOVEMENT! JIVE With a GIF Music Seasonal Movement Brain Breaks are powerpoints which include 400 possible

Price $30.00

Original Price $42.00

Save $12.00
Description
Do your students have trouble paying attention during the first weeks of BACK TO SCHOOL? Do they need a break from desk work? Do they lose interest during distance learning zoom lessons? Problem solved - Give them a BACK TO SCHOOL MUSICAL MINUTE of MOVEMENT!
BACK TO SCHOOL JIVE With a GIF Music Movement Brain Breaks is a powerpoint which includes 50 possible combinations of music and movement to use for transitions, activity breaks, energizers, team-builders and more!
COVID has changed our teaching methods, requiring students to remain socially distanced in their chairs or desks, or tending to a computer screen for long periods of time. Taking time for brain breaks during the day is more important now than ever and students need opportunities to move to stay focused and calm. Brain Breaks are a great way to energize your distance learning classroom, activate the mind, reduce behavior problems, and help to relieve stress! All activities can be completed in independent spaces with social distancing in mind and many of the movements in this resource can be done while socially distanced seated.
RESOURCE INCLUDES:
· Spinner to generated random combinations of
10 different movements demonstrated by cute BACK TO SCHOOL GIF's
One-minute segments of BACK TO SCHOOL themed music:
1. The Syncopated Clock - Anderson
2. The Typewriter - Anderson
3. C Major Prelude - Bach
4. National Emblem - Bagley
5. Salute. to a Nation - Edelbrock
NOTE: This is a Powerpoint product. Animations and audio may not work if you are opening with Google Slides.
♫ OTHER JIVE WITH A GIF RESOURCES YOU MIGHT LIKE:
Back to School Jive With a Gif
SALES & FREEBIES
Click HERE to be the first to see new products and FREEBIES and learn about upcoming sales!
FREE STORE CREDITS
Want to get Free store Credits? Click HERE to provide FEEDBACK!
♫ MUSIC FREEBIES
Smart Theory NOTE NAME POSTERS
LINES ON THE STAFF Music Theory FREEBIE with Video and Reproducible
BAG Recorder Fingering Boom Cards for Google Classroom TM
Rhythm Symbol Anchor Chart FREEBIE
♫ SEASONAL MUSIC FREEBIES
First Day of Music Photo Signs
Meet the Teacher Posters and Editable Invitation
Winter Treble Clef Staff Paper FREEBIE
Groundhog Day Color by Rhythm Symbols FREEBIE
♫ OTHER MOVEMENT ACTIVITIES YOU MIGHT LIKE:
The Chicken Dance Cup Games, rhythm playalongs & more!
The Hokey Pokey (Rhythm Sticks, Recorder Playalong, Tempo Terms)
The Monster Mash Cup Passing Game
Itsy Bitsy Spider Cup Passing Game
♫ FOR THE MUSIC TEACHER:
Editable Meet the Teacher Open House Presentation
Editable Music Teacher Planner Binder with 478 pages
Editable Music Teacher Digital Planner 607 Slides
Editable Music Teacher Planner Teacher Binder BUNDLE 1085 Slides - FREE Updates for Life!
Student Helpers Classroom Decor Labels
♫ BACK TO SCHOOL PRODUCTS YOU MIGHT LIKE:
Back to School Jive With a Gif
Music Rhythm Flashcards - 129 Printable cards, 10 levels
September Rhythm Flashcard Videos
September Note Name Worksheets
Back to School Rhythm Worksheets
Back to School Rhythm Bingo
Back to School Treble Clef Bingo
Back to School Bass Clef Bingo
Pop Playalongs (Cha Cha Slide, Chicken Dance, YMCA, Limbo, Mexican Hat Dance, Hokey Pokey, Locomotion)
♫ POSTERS FOR YOUR CLASSROOM:
Treble & Bass Clef Note Posters
♫ BACK TO SCHOOL MUSIC BOOM CARDS YOU MIGHT LIKE:
BTS Lines and Spaces Boom Cards
BTS Treble Clef Note Boom Cards
BTS Seek and Spy Rhythm Boom Cards
BTS 3 and 4 Note Spelling Boom Cards
BTS Instrument Family Boom Cards
BTS Counting Rhythms Level 1 Boom Cards
BTS Counting Rhythms Level 2 Boom Cards
BTS Treble and Bass Clef Boom Bingo
BTS Lines and Spaces Boom Bingo
BTS Rhythm Flashcard Boom Bingo
BTS Orchestra Instruments Boom Bingo
CATEGORIES: band activities, band distance learning, Band Games, band google classroom, Band Lessons, Brain Breaks, choir activities, choir games, Christmas activities, Back to School games, Back to School music activities, Back to School music games, Back to School music lesson plans, Back to School music lessons, composers, Covid -19, COVID 19, Covid 19 Return to School, Covid 19 Social Distancing, Covid Safety in the Classroom, dance lesson plan, Dance unit, September Activities, September music, September music activities, September music activities for kids, September music for kids, September music game, September music games, September music lesson, September Music lessons, digital music resources, distance learning, distance learning concert band, distance learning elementary music, distance learning music, elementary music, Elementary music activities, end of the year, end of the year activities, end of the year games, end of year activities, Fun activities, Fun activities before spring break, fun activities for back to school, Fun stuff , google classroom, google classroom activities, google classroom distance learning, google classroom music, google classroom music lessons, icebreaker, icebreaker activities, icebreakers, Interactive music games, Lessons for music fall, Movement Breaks, music activities, Music and dance, Music and Movement, music at home, Music back to school, music composers, music distance learning, music distance learning interactive, Music ed, Music Education, music for google classroom, music games, music games for grade 1, music games powerpoints, music google classroom, Music lesson for sub, Music lesson plans K-5, Music Lessons, Music Listening, Music listening activities, Music sub plans, music sub plans for non music sub, powerpoint music activities, powerpoint music games, Social Distancing Covid, Stand Up Sit Down Brain Break, Substitute Lessons, substitute plans, substitute teacher, Substitute teacher activities, Fall Activities, Fall Music Activities, Fall music class lesson, Fall music for kids, Fall music games, Fall Music Lessons, Fall music plans
Total Pages
35 slides, audio included
Report this resource to TPT