BALANCED LITERACY for the Elementary Classroom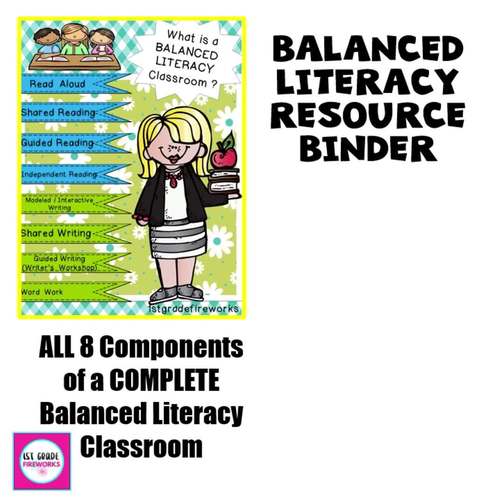 ;
Description
Balanced Literacy AND Structured Literacy.
First, we organize ourselves.
THEN, we plan for instruction.
How to do BOTH?
Balanced Literacy classroom activities begin with teacher lesson plans.
This resource will take the "teacher-time" out of using balanced literacy research, to schedule, set up, and implement balanced literacy in YOUR classroom.
Descriptors, samples, pictures, and resources, are ALL included. Check out the PREVIEW VIDEO!
This easy prep and student-engaging framework will incorporate lesson planning, templates, schedule suggestions, activities, centers, and more!
Read Alouds
Shared Reading
Guided Reading
Independent Reading
Modeled / Interactive Writing
Shared Writing
Guided Writing (Writer's Workshop)
Word Work
Help to incorporate ALL aspects of Balanced Literacy into your school day!
All of these are resourced in a BINDER format.
Components are defined for collaborative discussions and suggested uses for the classroom.
Examples for adding to YOUR own lesson plans.
Daily use of elements through curriculum integrations ensure consistency for students.
Center activities, lesson plan guides, and teacher organization tips, are all included.
B/W Assessment printables, centers, minilesson suggestions, etc.
An ongoing resource for creating A BALANCED LITERACY CLASSROOM.
Click here to find out MORE! https://1stgradefireworks.net
Questions? Email me 1stgradefireworks@gmail.com
Report this resource to TPT
Standards
to see state-specific standards (only available in the US).
Orally produce single-syllable words by blending sounds (phonemes), including consonant blends.
Read with sufficient accuracy and fluency to support comprehension.
Determine central ideas or themes of a text and analyze their development; summarize the key supporting details and ideas.
Read and comprehend complex literary and informational texts independently and proficiently.
Write routinely over extended time frames (time for research, reflection, and revision) and shorter time frames (a single sitting or a day or two) for a range of tasks, purposes, and audiences.