BOOM Preschool MEGA ELA and Math Growing Bundle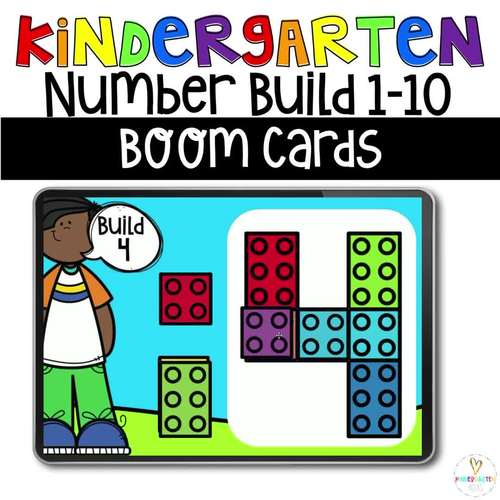 ;
What educators are saying
Great resource! I ended up not using Boom cards for my TK class this year, but the activity is cute and engaging and I will use in the future
My students all love Boom cards! It's nice to assign decks of cards that can be individually tailored to their needs.
Description
Are you looking for endless BOOM cards for your preschool-aged children? Then you will LOVE our BOOM Preschool Math and Literacy Growing Bundle. Each set will have a minimum of 20 cards and will work on a variety of skills. Any future preschool products will be placed into this unit, so buy it now while the price is SUPER low!
When you download this file, click on the pdf picture and you will be taken to BOOM, where the product will be added to your library. It is free right now for teachers!
Units Currently Included:
**Units will be added starting in May and continue throughout the summer.
**UNITS LISTED BELOW ARE CURRENTLY INCLUDED IN THE BUNDLE
Math:
Counting Kids on the Bus
Color Identification
Counting Objects to 10
Count to 10 (Ten Frames)
Count to 20 (Ten Frames)
Number Identification to 10
Back to School Numbers to Sets
Number Order
Count and Identify Teen Numbers
Building Numbers to 10 (Paint)
Building Numbers to 10 (Blocks)
Patterns
3D Shapes
Ten Frames
Ten Frames
Twenty Frames
Addition to 10
Subtraction with Objects
Fall Count 1-20
Base 10 Count
Fall Number Order
Fall Comparing Sets
Graphing
Hot Cocoa Addition
Holiday Count and Compare
Valentine Love Bugs
Valentine Graphing
ELA
Rhyming Sort
Rhyming (Choice of 2)
Beginning Sounds
Apple Beginning Sound Sort
Beginning Sound Discrimination
Uppercase Lowercase
Uppercase Lowercase Match
Apples Uppercase and Lowercase Match
Fall Syllable Sort
Sight Word Match
Snowman Syllable Sort
March
Digraphs
Sight Words Build
Comparing Sets
Before and After
April
CVC Missing Letter
How Many Sets
Number Order
Measuring Earthworms
May
Beginning Blends
Making 10
Comparing Ten Frames
Base Ten
June
Count Objects to 20
Subtracting Shells
Adding Ten Frames
July
Digraphs
Number Order
Ending Sounds
Each unit includes/is:
-audio directions
-self correcting
-engaging
-interactive
-no prep
When you download this product, you will receive a PDF file with a link to the BOOM cards.
What's Not to LOVE about BOOM cards. They are
-self correcting
-engaging
-fun and interactive
-paperless
-easy to prep
-can be used on IPAD, Tablet or interactive whiteboard, or computer
What do I need in order to use Boom?
You will need:
- A FREE Boom Learning account
- A computer, laptop, tablet, ipad or Chromebook
- An updated internet browser or the BOOM app
- Internet connection
Digital and Printable Bundles:
Yearlong Digital and Printable Bundle
Yearlong Digital and Printable Science Bundle
Yearlong Printables (Only) ELA and Math
Yearlong Science Printables (Only)
Digital Only Bundles
Seesaw Digital Bundle Science, Literacy and Math
Google Classroom Kindergarten ELA & Math Bundle
Google Classroom Preschool ELA & Math Bundle
Google Classroom Science Bundle
More Distance Learning Products
Homeschool Unit 1: Spring and Seasons Kindergarten
Homeschool Unit 2: Weather Kindergarten
Home Learning 4 Weeks Preschool
If you are looking for more ideas for preschool you may like:
Center Labels for Preschool (I am Statements and Rotation Labels)
Dinosaur Math and Literacy Centers Preschool
Penguin Activities, Centers and Crafts for Preschool
Are you looking for more science centers?
More Kindergarten Ideas:
Editable Sight Word Games Bundle
Color by Primer Sight Word Bundle
Color by Code Math and Literacy Bundle
Math and Literacy Bundle for the Year
Copyright Kindergarten Rocks
Follow us on:
Report this resource to TPT
Standards
to see state-specific standards (only available in the US).
Count to 100 by ones and by tens.
Count forward beginning from a given number within the known sequence (instead of having to begin at 1).
Write numbers from 0 to 20. Represent a number of objects with a written numeral 0-20 (with 0 representing a count of no objects).
Understand the relationship between numbers and quantities; connect counting to cardinality.
When counting objects, say the number names in the standard order, pairing each object with one and only one number name and each number name with one and only one object.