BUNDLE 26 Cursive Handwriting Video Lessons ALL CAPITAL LOWERCASE Extra Practice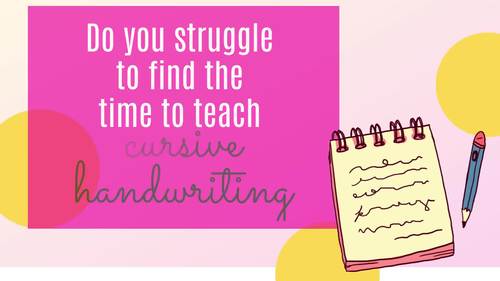 ;
What educators are saying
I loved this bundle! The videos are great for my visual learners! Pefect for teaching in my SPED classroom.
My kids love this program! The videos are great and can be used either as a center or whole group. It is really a great tool to help us teachers with cursive writing.
Products in this Bundle (3)
Bonus
Editable Cursive Student Awards Certificates
Description
Save 20% when you buy this BUNDLE $$$$ + BONUS: Cursive Awards Certificates
Finally, there is a way to teach cursive handwriting without using all your core instruction time! These video lessons provide your students with guided practice and explicit instruction on cursive letter formation while freeing you up to teach other content. This bundle includes lessons for all lowercase and uppercase letters and provides tons of extra practice worksheets.
Perfect for DISTANCE LEARNING, STATIONS, or AT-HOME PRACTICE
====== BUNDLE FEATURES ========
Access to 26 Video Lessons (teaching all uppercase & lowercase letters)
26 Worksheets to accompany the video lessons (2 letters per worksheet)
13 Extra Practice Pages to use after each lowercase lesson
13 Extra Practice Pages to use after each uppercase lesson
55 Page Cursive Copywork Growth Mindset Quotes to provide additional practice after students have learned all upper and lowercase letters
Includes worksheets with & without QR codes
Includes links for SafeShare & YouTube videos.
Includes cover page if you would like to make it into a workbook.
Includes upper and lowercase cursive alphabet reference page.
Includes blank lined paper for extra practice.
Two versions of letter posters; one shows cursive and print side-by-side, and the other shows cursive over the print so kids can see the relationship.
Letters are taught in developmental order using a style similar to Zaner-Bloser.
Please see the PREVIEW for a picture of the exact alphabet style that is used.
>>>>>>>BUNDLE BONUS<<<<<<<
Editable Student Cursive Certificates/Awards- 5 different student awards that allow you to type in student names
SEE WHAT OTHERS ARE SAYING
This was one of the best investments I have made in my 36-year teaching career!! The worksheets were extremely beneficial, but, in my opinion, the videos were the icing on the cake! My students were able to watch as you formed each letter, listen to your verbal instructions, and stop to review as many times as they needed. What a wonderful opportunity to encourage quality end products and growing independence!! I would highly recommend this cursive writing bundle!! Thank you so much!! -Stephanie W.
Get this! Having someone with an expertise in cursive explain the procedures is the best! My students were learning cursive at their own pace by watching the videos on their own. -Dana C.
I LOVE this resource. My students get excited for each day's lesson, and they love giving feedback on their experience of learning how to write each letter. Teaching cursive has always been a daunting task, but this resource is a life-saver! I highly recommend this. -Dana F.
I cannot say enough about this product. If you have to teach your students cursive, then this is a must-have! Thank you so much for your hard work. It has saved me so much time. -Dawn B.
This resource has been a lifesaver! The teacher in the videos is engaging and I love how she explains the lessons. My students are focused and enjoying learning how to write in cursive. Having this resource ready to use keeps me consistent with cursive lessons. Typically I tend to run out of time for it. I've made so many videos over the past year and a half I was thrilled to find these amazing videos that I could actually use and not have to remake! Thank you so much!! -Angie H.
Why teach cursive?
-Students are highly motivated to learn cursive so they are engaged.
-It improves handwriting and eliminates letter reversals.
-It actually helps dyslexic students and other struggling learners with spelling and handwriting.
+++ You may post these videos and worksheets on your Google Classroom or another platform that is accessible only to your students. Please DO NOT post them publicly so that anyone may access them. These may NOT be used on platforms such as OUTSCHOOL.
+++++TRY FOR FREE+++++
Check out the Lesson 1 Video (first lowercase lesson)
Grab the free worksheet for Lesson 1
Check out the Lesson 14 Video (first uppercase lesson)
Grab the free worksheet for Lesson 14
*The videos are viewable on YouTube, and student lessons do not contain ads.
*SafeShare.tv links are also included if you prefer not to use YouTube.
Report this resource to TPT