BUNDLE: Guided Reading High Interest Passages & CCSS Aligned Activities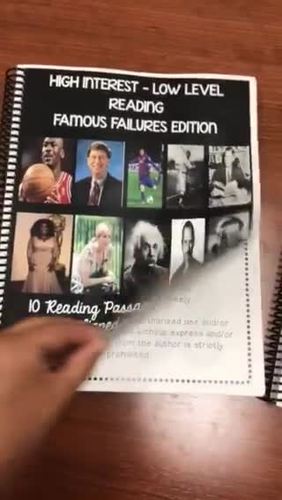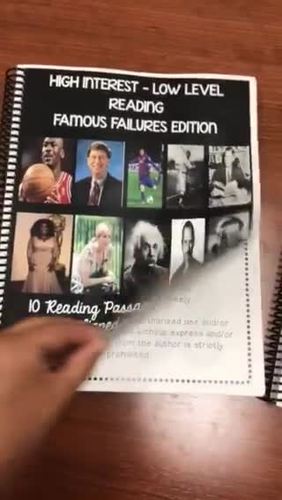 Created By
Ashley Brennan Academics
Products in this Bundle (5)
Get the NEW GROWING BUNDLE here and SAVE:GROWING BUNDLE Guided Reading High Interest Passages and CCSS Aligned ActivitiesVocabulary, comprehension, fluency, grammar, spelling, and sequencing activities for each passage. These HIGH INTEREST reading passages are geared toward grade level students and

Get the BUNDLE and SAVE 27%:GROWING BUNDLE Guided Reading High Interest Passages and CCSS Aligned ActivitiesVocabulary, comprehension, fluency, grammar, spelling, and sequencing activities for each passage. These HIGH INTEREST reading passages are geared toward grade level students and older student

Get the NEW GROWING BUNDLE here and SAVE:GROWING BUNDLE Guided Reading High Interest Passages and CCSS Aligned ActivitiesVocabulary, comprehension, fluency, grammar, spelling, and sequencing activities for each passage. These HIGH INTEREST reading passages are geared toward grade level students and

Get the NEW GROWING BUNDLE here and SAVE:GROWING BUNDLE Guided Reading High Interest Passages and CCSS Aligned ActivitiesVocabulary, comprehension, fluency, grammar, spelling, and sequencing activities for each passage. These HIGH INTEREST reading passages are geared toward grade level students and

Get the NEW GROWING BUNDLE and SAVE: GROWING BUNDLE Guided Reading High Interest Passages and CCSS Aligned ActivitiesVocabulary, fluency, comprehension, grammar, spelling, and sequencing activities for each passage. These HIGH INTEREST reading passages are geared toward grade level students and old
Bundle Description

Standards
This BUNDLE includes the very popular HIGH INTEREST READING PASSAGES for Famous Failures, Extreme Sports, Amazing Animals, Amazing Attractions, and Extreme Jobs. THIS BUNDLE IS COMPLETE WITH THESE 5 EDITIONS!
These are available for individual purchase or save 27% with the bundle.
Vocabulary, fluency, comprehension, grammar, spelling, and sequencing activities for each passage. These HIGH INTEREST reading passages are geared toward grade level students and older students reading at a lower level. They are sure to engage students in the reading process. Perfect for small group reading and special education students. There are 10 reading passages that are 3 pages each. Each reading passage includes a vocabulary interactive notebook, vocabulary matching page, grammar, a spelling sort, timeline, and comprehension questions. Activities are aligned to Common Core standards. Answer keys are included.
The 10 Famous Failures included are:
Michael Jordan
Oprah Winfrey
J.K. Rowling
Walt Disney
Albert Einstein
Dr. Seuss
Babe Ruth
Bill Gates
Steve Jobs
Lionel Messi
The 10 extreme sports included are:
Skateboarding
Mountain Biking
BMX
In-line skating
Surfing
Snowboarding
Kayaking
Scuba Diving
Skydiving
BASE Jumping

The 10 Amazing Animal Passages with activities included are:
Sloth and Tarsier
Narwhals and Belugas
Pangolins and Armadillos
Hippopotamus and Walrus
Gila Monster and Scorpion
Sea Horse and Manatee
Frogs of the Rainforest
Sea Otters and Prairie Dogs
Chinese Water Deer and Okapi
Caracal and Cheetah
The 10 Extreme Job Passages with activities included are:
Video gaming careers
Film careers
SWAT & Bomb Squad
Extreme science careers
Professional Athletes
Forensic Detectives
Fishing Careers
Robotics
Aerospace engineers
Animal Trainers
The 10 Amazing Attractions Passages include:
The Great Wall and Terracotta Warriors
Roller Coasters of the World
Stonehenge and Easter Island
Pyramids of the World
Machu Picchu and Rio de Janeiro
Colosseum and Taj Mahal
Cadillac Ranch and Enchanted Highway
Arches National Park and Slot Canyons
Extreme Islands
Great Barrier Reef and Dead Sea
You may also like:
Math Concepts and Applications Practice Sheets Bundle Grades 2, 3, and 4 Special Education
Writing Process Folder and Figurative Language Lesson Bundle
Sight Word Spelling Emoji Task Cards Bundle
Bully Prevention Anti Bullying Lesson and Activities
Disability Awareness Social Skills Lesson and Flip Book
Click to connect with me :)
Email: ashleymbrennan@yahoo.com
Log in
to see state-specific standards (only available in the US).
Acquire and use accurately a range of general academic and domain-specific words and phrases sufficient for reading, writing, speaking, and listening at the college and career readiness level; demonstrate independence in gathering vocabulary knowledge when encountering an unknown term important to comprehension or expression.
Demonstrate understanding of figurative language, word relationships, and nuances in word meanings.
Determine or clarify the meaning of unknown and multiple-meaning words and phrases by using context clues, analyzing meaningful word parts, and consulting general and specialized reference materials, as appropriate.
Apply knowledge of language to understand how language functions in different contexts, to make effective choices for meaning or style, and to comprehend more fully when reading or listening.
Demonstrate command of the conventions of standard English capitalization, punctuation, and spelling when writing.
Teaching Duration
3 months
Report this Resource to TpT