BUNDLE Word Family and Vowel Teams | 27 Crafts for Word Families and Vowel Teams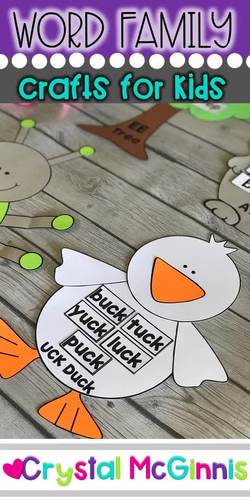 ;
What educators are saying
I am so obsessed with this resource! It is so simple to use, and so stinking cute and engaging for young learners!
I loved this resource! It has been the best way to finish our week with a word family! Easy to prep and kids can do them independently.
Products in this Bundle (27)
showing 1-5 of 27 products
Description
If you are using my Word Family or Vowel Team crafts in your classroom, you will love this bundle (26 crafts so far). This bundle includes my AB CRAB, ING KING, AT CAT, OG DOG, IG PIG, EE TREE, UB CUB, OO MOON, EN HEN, UN SUN, UG BUG, AT BAT, OP STOP SIGN, AKE SNAKE, ICK CHICK, OT POT, AN VAN, IP SHIP, AG FLAG, OW COW, ITE KITE, AR CAR, ET NET, AP CAP, and UCK DUCK. I have also added an SH Sheep to practice the digraph SH, and a CH Chipmunk. These crafts would make a perfect literacy center, Friday fun activity, or whole group word work activity. You can print these crafts on construction paper or white paper. You choose! The kiddos can use my pre-printed words, or they can write their own. These crafts would make an adorable display to practice word families throughout the year.
Report this resource to TPT