'BUSY BODIES' ~ (Grades 3-7) Curriculum Song Video l Distance Learning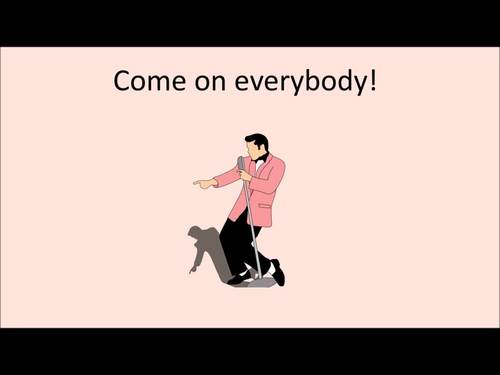 ;
Description
'BUSY BODIES' (Grades 3-7) is a curriculum-aligned song that helps students to understand functions of various human body systems (respiratory, circulatory, digestive, skeletal, nervous) and the need to make healthy lifestyle choices.
Students read, sing & learn along as the curriculum-aligned MP4 song & lyrics video plays, and lyrics & images display on your classroom whiteboard and/or other technological devices!
FYI: 'Busy Bodies' also available as:
CURRICULUM KARAOKE™
• Not musical ~ NO worries!
• Just download the MP4 song video and play on your classroom whiteboard or computer!
• Students read / sing / learn along as the song plays and the lyrics display on the screen
• No need to print out lyrics or create a powerpoint - the Mp4 does it all for you, making it easy for the whole class or school to follow the lyrics on any screen and read/sing along together.
• Stop video at any time, to discuss/clarify /reinforce content, define words, discuss punctuation, etc.
*BLOG POST ~ CURRICULUM KARAOKE™
FYI: Our curriculum-aligned songs target outcomes & learning sequences of curriculum documents, and support & integrate learning across key subject areas.
They are perfect for:
Motivating and engaging students
Introducing new units of work
Kickstarting discussion
Summarising & reinforcing learning content
Aiding recall of important information
Extending literacy
Assembly & performance items
Integrated learning
Arts integration
Poetry study/units (lyrics)
Distance learning & homeschooling...
A Review:
'In terms of application to the classroom, and usability by teachers they rate a tick in every box.' ~ Brendan Hitchens, Teacher, Music In Action: A Magazine for Educators
**This download includes an Mp4 CURRICULUM KARAOKE™ track (lyrics & song vocals, in a video format, for use on computers, smart boards and other technology devices).
Sample Lyrics
Chorus
I'm a busy body, if you know what I mean,
A fine-tuned, moving, thinking machine;
From my awesome brain to my great big heart,
I'm a walking, talking work of art!
(I'm a walking, talking work of art!)
Verse 1
The Respiratory System on our lungs it depends;
Breathing in and breathing out, it never ends.
There's no doubt about it, we can't live without it,
Respect the gift of life and treat it well, my friends.
©Lyrics: Nuala O'Hanlon, B.Ed; Cert Teaching
Music: Kathryn Radloff, B.A. (Hons) Psych; Post Grad, Cert, Ed:
*Blog Post: Curriculum Karaoke™
Teacher's Testimonial:
'This is a very good resource and the lyrics are excellent. After learning the song, I had my students highlight the important facts and they really seemed to understand the information quicker and retained the information.' ~ Teresa T. (5/5 Star Rating)
COPYRIGHT: ©Lyrics: Nuala O'Hanlon / Music: Kathryn Radloff: KEYSTONE CREATIONS ~ Educational Songs. All rights reserved. This song and accompanying package are for the use of the purchaser/purchasing school only. Neither this work nor any part of it may be reproduced, distributed, performed or displayed in any medium, including electronic or digital (except within purchasing school), without permission in writing from the copyright owner.
KEYSTONE CREATIONS ~ Educational Songs
A Lesson in Every Lyric®
Teaching Duration
Lifelong tool
Report this resource to TPT