Back To School Speech Therapy Articulation Search BOOM CARDS Flashlight Activity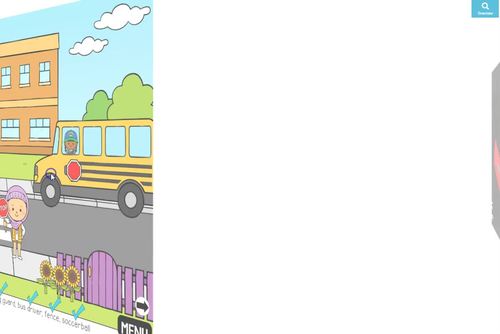 ;
the PDF links to a Boom Card deck of 32 cards
Compatible with Digital Devices
The Teacher-Author has indicated that this resource can be used for device-based learning.
What educators are saying
Love this! I have kids on my caseload who always ask for this activity. Versatile -addresses many targets!
This is an extremely useful resource for zoom sessions. My students love the hidden feature of this activity.
Description
This BOOM CARDS™ deck includes 15 different SCHOOL scenes, each containing 10 different words for a specific speech sound/blend. The student uses a flashlight to search the dark scene for the 10 items listed on the bottom of the card. The following slide shows the same scene without the dark overlay, but with check marks for the student to click and drag to each of the 10 items they found on the previous card for extra speech practice!
The following sounds/blends are included:
g, k, f, v, s, z, th, sh, ch, j, l, r, l blends, r blends, s blends
You can target your student's speech at various levels using this deck:
WORD level: Say each target word by itself (i.e. "chair")
PHRASE level: Use a description word with the target (i.e. "blue chair)
SENTENCE level: Create a sentence about the word (i.e. "The teacher is sitting in the chair."
STORY/CONVERSATION level: Make up a story about the picture. (i.e. "The teacher walked into the classroom and noticed the pencil sharpener under the blue chair. When she went over to pick it up.....")
CLICK HERE for a free playable preview of this deck.
See this BLOG POST and this FREE VIDEO to learn more about Boom Cards!
Check out the MORE versions of this activity:
Halloween Speech Search Articulation Activity BOOM CARDS™
Thanksgiving Speech Search Articulation Activity BOOM CARDS™
Christmas Speech Search Articulation Activity BOOM CARDS™
Valentine's Day Speech Search Articulation Activity BOOM CARDS™
For a LANGUAGE version of this activity, see:
School Themed Language Search BOOM CARDS™
Click here to see more FALL teletherapy activity ideas!
Check out more NO PRINT articulation resources:
Articulation Ghosts BOOM CARDS™
Speech Cities: An Articulation Activity BOOM CARDS™
One Page Picture Scenes for Mixed Groups Articulation Language
The Fix for Mixed Groups: No Prep Speech and Language Pages
Menus for Articulation Practice
Speech Space: An Articulation Activity BOOM CARDS™
ABOUT BOOM CARDS
To use Boom Cards, you must be connected to the Internet. Boom Cards play on modern browsers (Chrome, Safari, Firefox, and Edge). Apps are available for modern Android, iPads, iPhones, and Kindle Fires. For security and privacy, adults must have a Boom Learning account to use and assign Boom Cards. You will be able to assign the Boom Cards you are buying with "Fast Pins," (a form of play that gives instant feedback to students for self-grading Boom Cards). For assignment options that report student progress back to you, you will need to purchase a premium account. If you are new to Boom Learning, you will be offered a free trial of our premium account. Read here for details: http://bit.ly/BoomTrial.
You may be eligible for a free trial from Boom Learning. Read here for details: http://bit.ly/BoomTrial. If you choose not to stay on a premium account after your free trial, you will still be able to assign all your Boom Cards to as many students as you see fit using Fast Play pins (which give instant feedback for decks that are self-grading). You will not be charged when your free trial expires.
Boom Learning and Boom Cards are the trademarks of Boom Learning Inc. Used with permission.
Total Pages
the PDF links to a Boom Card deck of 32 cards
Report this resource to TPT