Back To School Speech Therapy Game for Articulation and Language BOOM CARDS™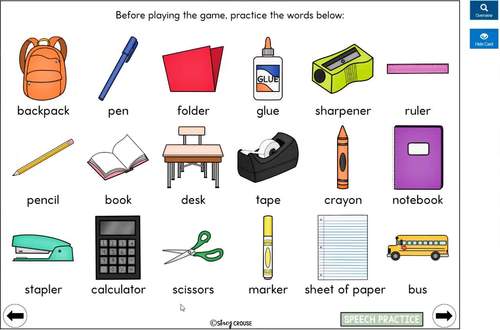 ;
the PDF links to a Boom Card deck of 43 cards
Compatible with Digital Devices
The Teacher-Author has indicated that this resource can be used for device-based learning.
What educators are saying
Great way to practice and reinforce vocabulary knowledge. I like that it is a great seasonal resource.
Description
This is a motivating BACK TO SCHOOL THEMED BOOM CARDS™ GAME that's full of LANGUAGE OPPORTUNITIES....but can be used for ARTICULATION too! There are many ways to target language goals with this one activity (just see the first card of the preview for ideas!) while using a relatable theme AND fun vocabulary.
You won't have any trouble motivating your students, as they race to find which school-themed object (i.e. pencil, desk, school bus, notebook, etc.) is shown twice on each card!
The first card of the deck gives ideas for how to target a variety of language goals, including verbs, categories, description, and more. The next card displays 18 pictures with labels, to help your students become familiar with the themed vocabulary, if needed.
On each of the next 40 cards, there are two boxes, each containing 9 pictures. One picture in both boxes is the same.... and it's a race to find and call out the duplicated picture!
At the end of the deck, there is one card that displays all 18 labeled pictures again. This time, the images are "moveable", so students can find words with their target articulation sound, and drag and drop the pictures for more isolated speech practice. You could also have a student create a story using the selected words.
CLICK HERE FOR A ★ FREE PLAYABLE PREVIEW ★
This deck is FULL of versatility– use this deck for your entire caseload! Just adapt the activity to focus on whatever skills your students are working on!
Get more BACK TO SCHOOL activity ideas here!
ABOUT BOOM CARDS
To use Boom Cards, you must be connected to the Internet. Boom Cards play on modern browsers (Chrome, Safari, Firefox, and Edge). Apps are available for modern Android, iPads, iPhones, and Kindle Fires. For security and privacy, adults must have a Boom Learning account to use and assign Boom Cards. You will be able to assign the Boom Cards you are buying with "Fast Pins," (a form of play that gives instant feedback to students for self-grading Boom Cards). For assignment options that report student progress back to you, you will need to purchase a premium account. If you are new to Boom Learning, you will be offered a free trial of our premium account. Read here for details: http://bit.ly/BoomTrial.
You may be eligible for a free trial from Boom Learning. Read here for details: http://bit.ly/BoomTrial. If you choose not to stay on a premium account after your free trial, you will still be able to assign all your Boom Cards to as many students as you see fit using Fast Play pins (which give instant feedback for decks that are self-grading). You will not be charged when your free trial expires.
Boom Learning and Boom Cards are the trademarks of Boom Learning Inc. Used with permission.
Total Pages
the PDF links to a Boom Card deck of 43 cards
Report this resource to TPT