Back To School Thematic Unit for Special Education - Engaging and Hands On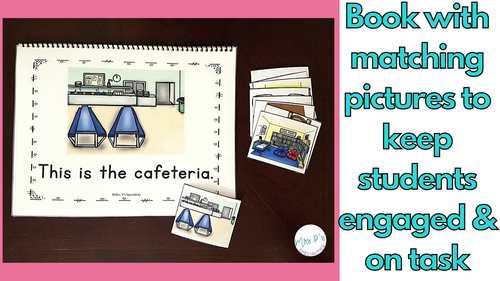 ;
Also included in
Get a WHOLE SCHOOL YEAR worth of theme units designed specifically for students with disabilities. You will get 20 units in all. If you bought these 20 units individually, it would cost you $170. Buying the bundle SAVES YOU $60.00!!! Do you have students who need targeted instruction & repeated

Price $110.00

Original Price $170.00

Save $60.00

Take the stress out of going back to school! This mega bundle has you covered and will make planning and teaching vocabulary and language, rules, expectations, reading, and math quick and easy. All of these resources are hands-on and engaging. Many of the materials are already leveled for you to mak

Price $32.40

Original Price $42.25

Save $9.85
Description
Teach students the language and concepts they need at the beginning of the school year. Do you have students who need targeted instruction & repeated progress? This theme unit is designed to enhance & further your student's language development, vocabulary, reading, and math skills through hands-on and visually supported lessons and activities. 
WHO IS IT FOR?
Hands-on learners
Students who need repetition & varied practice in order to progress and generalize skills
Classrooms with students at multiple levels
Students with language-based disabilities such as autism
FEATURES:
Differentiated to save you time
Detailed instructions for each activity for easy implementation
Language & vocabulary based 
Designed to immerse students in the vocabulary and concepts leading to better learning while targeting standards
10 extension activities are included to help you use the materials in even more lessons
WHAT'S INCLUDED?
Vocabulary word wall cards
Vocabulary graphic organizers: 3 levels
Full-page & color easy reader
Half-page black-line easy readers: 2 levels
Write the room: 2 levels of recording sheets
Language & vocabulary concept activities: targets receptive understanding of feature, function, and class
Vocabulary sorting: 3 levels of sorting cards
Alphabet clip cards: matching upper and lower case letters
Counting clip cards: one-to-one correspondence
School bus themed tens frames center
Addition Center and worksheets
Count the room: 2 levels of recording sheets
Graphing Center: 2 Levels
Reading Comprehension Activities
Leveled Texts: 3 books with 3 versions
Scrambled Sentences: 3 levels
10 Extension activities to keep the learning going
Get HUGE savings by buying the Special Ed Thematic Unit BUNDLE***
Here's what teachers are saying:
✏️ "Love these thematic units! Makes my life so much easier! I can prep easily and spend more time teaching ❤"
-Wendy Z.
✏️ "I love this thematic unit! I did community helpers and dentist units last year and my kiddos LOVED them! I bought the bundle and cannot wait to have a theme every couple of weeks using these! I especially can't wait to use this one soon! Great work! I love your entire store." -Deanna B.
✏️ "So happy with this resource. This has been a beginning of the year lifesaver!" -Robyn M.
Connect with me:
Newsletter • Instagram • Facebook • Blog
Don't miss out on discounts, freebies, and new products! Simply click the green star under my store name to follow my store.
NEED HELP? Before leaving feedback:
Don't miss out on discounts, freebies, and new products! Simply click the green star under my store name to follow my store.
This product by Pamela Petralia is copyrighted for single classroom or caseload use only. This product may not be resold and can be copied for personal use within a classroom only. If you have questions, please email pamela@mrspspecialties.com  ©Pamela Petralia
Report this resource to TPT
Standards
to see state-specific standards (only available in the US).
Count to 100 by ones and by tens.
Write numbers from 0 to 20. Represent a number of objects with a written numeral 0-20 (with 0 representing a count of no objects).
Directly compare two objects with a measurable attribute in common, to see which object has "more of"/"less of" the attribute, and describe the difference. For example, directly compare the heights of two children and describe one child as taller/shorter.
Solve addition and subtraction word problems, and add and subtract within 10, e.g., by using objects or drawings to represent the problem.
Follow words from left to right, top to bottom, and page by page.