Back to School Activities Math Scavenger Hunt Team Building Math Review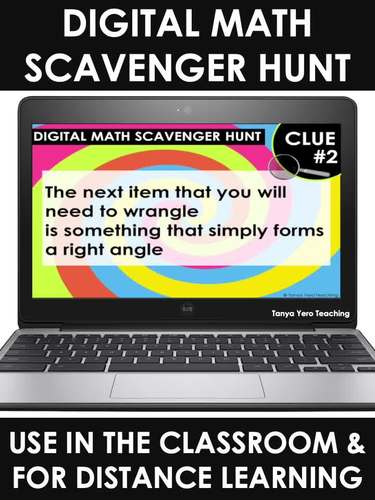 ;
Zip

Google Apps™
Includes Google Apps™
The Teacher-Author indicated this resource includes assets from Google Workspace (e.g. docs, slides, etc.).
What educators are saying
This was absolutely perfect! Just what I wanted and I was so happy to find it! So well made and easy to use! Thank you so much for this awesome resource!!
Very happy with this engaging resource. All of her resources are so amazing, highly recommend seller.
Description
This ready to go scavenger hunt is the perfect back to school, teambuilding, or getting to know you activity. Whether you are at home implementing distance learning or in a traditional classroom setting this digital scavenger hunt will bring some school fun to your class!
What's included?
- 3 formats for PowerPoint and Google Slides- everything is preloaded for you!
- Student recording sheet (both in print and digital format)
- Teacher directions and tips for prep
- 25 ready to go slides containing math riddles that cover the following concepts-
pounds/ounces
Angles
Polygons
Money
Decimals
Fluid ounces
Multiples
Scalene triangles
Trapezoids
Parallelograms
Measuring in feet, yards, centimeters, and meters
Octagon
Prime numbers
Symmetry
Intersecting lines
Perpendicular lines
Parallel lines
Isosceles triangles
Equilateral triangles
Composite numbers
Pentagons
CHECK OUT OUR NEW HALLOWEEN DIGITAL SCAVENGER HUNT!
Teaching Duration
45 minutes
Report this resource to TPT