Back to School Challenge-Text Dependent Questions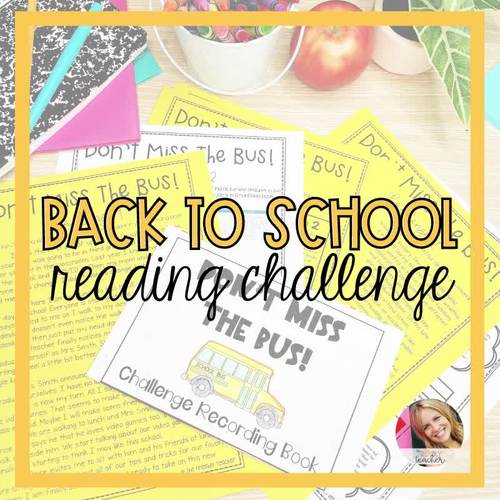 ;
22 plus a Google Drive version and the badges
What educators are saying
This was a fun back to school activity. Not only was it a fun way for the students to interact with each other, but it was a great review of various reading skills !!!
My students love the Challenges by The Friendly Teacher. This is yet another great resource created by her!!!
Also included in
Monthly engaging and rigorous challenges for students to practice their reading and writing skills. Students practice theme, main idea and detail, compare and contrast, context clues, inferencing, point of view, text structure, text features, character traits, and literal/nonliteral meanings. Why wi

Price $19.99

Original Price $36.24

Save $16.25

Are you a third grade teacher who wants everything you need for back to school? This FULL back to school bundle with reading and writing activities will do just that! This bundle includes back to school writing lesson, back to school read alouds and lesson plans, back to school math challenge, revi

Price $14.99

Original Price $25.48

Save $10.49
Description
The students will practice text dependent questions, text features, point of view, comparing and contrasting, inferences, moral of the story, main idea and detail, and character traits in this ENGAGING Back to School challenge.
The students will go through a series of eight challenges. Each challenge will require them to complete a reading activity. Each activity will earn them a school supply. Once completing the eight challenges and earning their school supplies they will get to get on the "bus" for the first day of school!
Why will these challenges help your students grow?
Engagement- Students will be engaged from the beginning to the end of the challenges. They won't even realize how hard they are working and how much they are learning about hard skills!
Rigor- These challenges are HIGH LEVEL and make students really think about the text. They also work on many reading skills.
Low Prep- You can just print and do the challenge or you can go all out and transform your room! It truly is up to you!
What's Included?
A Google Drive and Paper Version of the Following:
Challenge 1:
Read a story and answer questions to show understanding of the text.
Challenge 2:
Students will look at pictures and determine which ones are text features. They will have to name the text feature and what role in plays in nonfiction writing.
Challenge 3:
The students will read 4 different points of view of the first day of school and match them with the object.
Challenge 4:
Compare and contrast two versions of the same story
Challenge 5:
Students will look at pictures and captions, and then make inferences from them.
Challenge 6:
Read a story and determine the central message or moral of the story.
Challenge 7:
The students will read a nonfiction piece about the history of education. They will then create a collage using a bus stating the main idea and four supporting details.
Challenge 8:
The students will look at three different character snapshots. They will then have to determine a character trait for each character and provide proof of that trait.
For this challenge all you need is to set up a "bus" in the middle of the room. This can be done by simply just setting up chairs in a row or you can turn it into a full transformation. Then, when students earn their way on the bus you have games, technology, or books waiting for them! All students have to complete the challenges before the bus leaves! When they all complete you can do a fake ride to the first day of school. I usually reward my kids with popsicles or extra recess when they complete it!
What are others saying?!
Jenny- Great way to see where my students were coming into 4th grade with these particular skills.
Sheila- I used this product our first week of school. A great mini-room transformation and the students were so excited to earn their school supplies throughout the activity.
Kerry-Great activity to get the students back into the routine of school, learn to work in the classroom and be successful>>>HEAD HERE FOR A WHOLE YEAR OF CHALLENGES<<<
I loved doing mini-transformations each month that would engage my kiddos, but I wanted it to be easy to prep. I also wanted the challenge to be very rigorous, so that my students were working very hard during a time that they were also engaged. Lastly, I wanted to make sure we were reviewing and assessing skills monthly. That is where these challenges came into play. Now each month we practice skills, I get a small assessment in, we are SO engaged, we make memories, and we challenges ourselves! I hope you can too!
Much Love,
Hannah
The Friendly Teacher
Total Pages
22 plus a Google Drive version and the badges
Report this resource to TPT
Standards
to see state-specific standards (only available in the US).
Ask and answer questions to demonstrate understanding of a text, referring explicitly to the text as the basis for the answers.
Recount stories, including fables, folktales, and myths from diverse cultures; determine the central message, lesson, or moral and explain how it is conveyed through key details in the text.
Describe characters in a story (e.g., their traits, motivations, or feelings) and explain how their actions contribute to the sequence of events.
Determine the meaning of words and phrases as they are used in a text, distinguishing literal from nonliteral language.
Refer to parts of stories, dramas, and poems when writing or speaking about a text, using terms such as chapter, scene, and stanza; describe how each successive part builds on earlier sections.