Back to School Digital Escape Room Activity - Math and LA - Team Building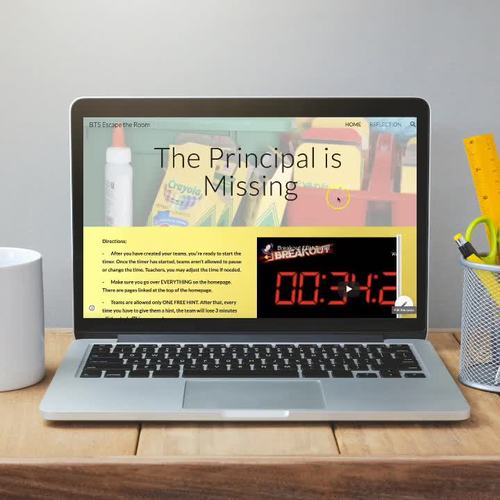 ;
Zip

Google Apps™

Internet Activities
Includes Google Apps™
The Teacher-Author indicated this resource includes assets from Google Workspace (e.g. docs, slides, etc.).
What educators are saying
Kids always love digital escape rooms! I like how this one is ELA and math combined which is perfect for back to school when I'm not really following my exact schedule.
My virtual loved it! It's engaging and the seller was super helpful in sending the Google Form to my email since the website wasn't working on my board's network.
Also included in
Digital EDUcational Escape Rooms are very similar to scavenger hunts. They involve students to work in teams to use clues to crack multiple locks in a set amount of time. Digital breakouts apply learning in a fun and engaging way. This Digital Escape the Room Bundle requires students to use a Googl

Price $48.96

Original Price $49.62

Save $0.66

Back to School time is back, and I have just the activities you need to start the year with LOW PREP and NO HASSLE! This fantastic bundle features nine unique Digital Activities! No paper, pencil, or fuss is involved in introducing these activities to your students.You will build your classroom comm

Price $32.00

Original Price $37.93

Save $5.93
Description
Get your students excited with this BACK TO SCHOOL DIGITAL ESCAPE ROOM! The first day of school has arrived, and students are gathered in the auditorium to listen to the principal deliver the opening announcements. The students and teachers wait patiently, but the principal never walks on stage. Instead, the office assistant lets some teachers know the principal is missing! Your students must break open the locks by solving the puzzles to locate the principal.
Digital EDUcational Escape Rooms are very similar to scavenger hunts. They involve students working in teams to use clues to crack multiple locks in a set amount of time. Digital Escapes apply learning in a fun and engaging way. This escape requires students to use a Google Form™ instead of actual locked boxes.
Digital EDUcational Escape Rooms:
• Enhance team-building
• Involve collaboration and communication among students
• Teach skills and content in a fun way
• Enable students to think critically and problem-solve
• Include technology
• Students learn important standards as they complete these fun, high-interest activities
• There's NO PREP, just share the Google Sites link provided
ACTIVITIES INCLUDED...
Intro scenario and directions to the breakout.
Room 1 - Classroom: Students solve the first puzzle by unscrambling the words.
Room 2 - Library: Students arrange the books in ABC order.
Room 3 - Gym: Using Google Sheets™ students will solve the math problems according to their grade level (easier problems are at the bottom). Make sure to press "enter" after each problem. If the problem is worked correctly, the cell will turn color. This color sequence will be the clue for a lock.
Room 4 - School Store: School supplies and prices are listed on the chart. At the bottom of the page, some of the items are listed. Students will write the prices and then add themto get the total price.
Room 5 - Principal's Office: Students see which direction the arrows are facing as they locate the coordinates (paired numbers).
Google Form™ for codes to locks. Students will need to write their answers on a sheet of paper so they can put all of the answers in at one time.
Reflection (students will be forced to make a copy of the form).
***BEFORE YOU PURCHASE THIS PRODUCT, MAKE SURE YOUR DISTRICT DOES NOT BLOCK YOU FROM USING OUTSIDE WEBSITES SUCH AS GOOGLE SITES™, JIGSAW PLANET, GOOGLE SLIDES™, GOOGLE FORMS™, ETC. ***Sweet Integrations is not responsible for blocked sites by school districts. If you are having problems accessing the site, please contact IT department to see if outside Google Sites™ are blocked.
Teachers love this activity because it is LOW PREP and NO HASSLE.
TEACHERS LIKE YOU HAVE SAID...
⭐️⭐️⭐️⭐️⭐️ "This was a fun back to school activity for my students. They love digital breakouts and it involves collaboration as well. It is very simple for the students to grasp what they need to do and they love the challenge. It was a great way to get students back into the mode of learning, without it being too hard for them. Thank you so much for sharing this wonderful resource! I will be using it for future years as well!"
⭐️⭐️⭐️⭐️⭐️ "This was such a fun start to the school year! I've purchased multiple escape rooms from you and they never disappoint! I even got our principal to film a video of where she had been and played it for my students after we successfully escaped! Thank you for creating this resource!"
⭐️⭐️⭐️⭐️⭐️ "This was a fun way to kick off our school year! The students really enjoyed this escape room and they were able to work together on it."
*******************************************************************
YOU MAY ALSO LIKE…
→ Back to School - Digital Escape Room - 4th Grade Math Review
→ Back to School or Open House Night Classroom Routines and Expectations Templates
→ Back to School - All About Me Digital Activity - Google Slideshow
*******************************************************************
Copyright © Sweet Integrations. All rights reserved by the author. Permission to copy for one classroom only. You can purchase additional licenses if more than one classroom uses the product.
© 2015 Google and the Google Apps are registered trademarks of Google Inc.
*******************************************************************
Follow Me for sales, product launches, and FREE resources.
*******************************************************************
Drop by my blog, Sweet Integrations for more ideas for your classroom!
Report this resource to TPT