Back to School First Grade Activities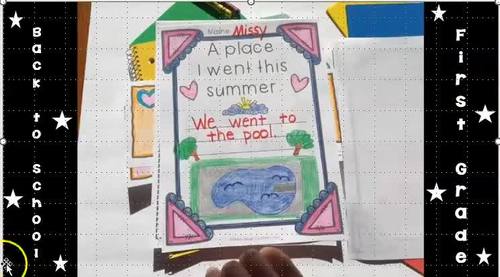 ;
Also included in
Help your students get ready for back to school with this bundle! Save 20%!Fact Family Activities for Back to School. Roll dice, get 3 numbers to make 4 facts! Use dice and dominoes to engage students! These fun interactive printables can be laminated to become an instant re-usable activity!Back to

Price $19.20

Original Price $24.00

Save $4.80
Description
You have your room ready for back to school night and you have your day blocked, planned and scheduled. However, do you know how each student is going home that first day or need activities to fill those time slots on the first day? This fun back to school activity will help you be ready for that first day back to school in first grade!
Cover
Terms
Connect with me, resources, standards
Table of Contents
Teacher directions
Student divider page
Parent note (Color & B/W)
Student desk name label (Hearts/Stars)
How I am going home
Self Portrait
Writing Activities

Family
Teacher
Pet
Playground
Friend
Where I went this summer
Pet
Lunchroom
I am special because...
Back to School Social Activities
Find a friend

First Grade
Secret Message
Portrait
Color sheet boy
Color sheet girl
How I feel today
Graph class feelings
Sight words (5 pages)
I know my numbers (3 pages)
Graph number of boys and girls in our class
Assessments: Only meant for grouping for upcoming learning groups

I know my sounds
I know my letters
I can write my letters
I can write my numbers to 30
"Great back to school resources! Thanks!"
"That first day made easy!"
"This was great in my first grade class!"
"I use these every year... thank you!"
Teaching Duration
1 month
Report this resource to TPT
Standards
to see state-specific standards (only available in the US).
Order three objects by length; compare the lengths of two objects indirectly by using a third object.
Count to 120, starting at any number less than 120. In this range, read and write numerals and represent a number of objects with a written numeral.
Distinguish between defining attributes (e.g., triangles are closed and three-sided) versus non-defining attributes (e.g., color, orientation, overall size); build and draw shapes to possess defining attributes.
Demonstrate understanding of the organization and basic features of print.
Follow words from left to right, top to bottom, and page by page.