Back to School Night Google Slides |Meet the Teacher Template Editable Slideshow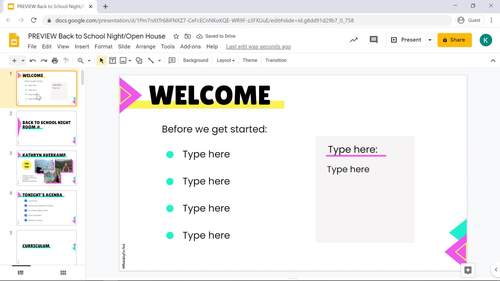 ;
PDF

Google Apps™
Includes Google Apps™
The Teacher-Author indicated this resource includes assets from Google Workspace (e.g. docs, slides, etc.).
What educators are saying
This is a super cute ppt template for back to school night. I think the design and colors are fun and engaging without being too much. Thanks for a great template!
My parents loved the presentation I gave for Back to School Night. The presentation gave me a good starting point for creating my slides.
Also included in
Get $145 worth of free products with our entire year bundle! 50+ activities and resources in Google Slides to use with your 2nd grade students. Back to School activities, agenda slides, vocabulary digital notebook, biography report templates, parent teacher conference slides, graphic organizers, cou

Price $149.00

Original Price $290.50

Save $141.50

Get $125 worth of FREE products with this entire year bundle! 40+ activities and resources in Google Slides to use with your 3rd grade students. Back to school activities, digital agenda slides, parent teacher conference slides, holidays around the world, graphic organizers, multiplication mystery p

Price $129.00

Original Price $253.50

Save $124.50

SAVE $32.00 with this Back to School Digital Bundle! These teacher and student resources will help you run your first weeks of school (and beyond). All of these resources will help build your classroom community with parents and students. Use them every year! Only need the teacher resources? Click h

Price $32.00

Original Price $64.00

Save $32.00

Start off the year with less stress and more confidence! Simple, colorful, and professional looking Slides for Back to School Night, introducing yourself to students, collecting Back to School parent information and keeping students organized from day one with daily agenda slides.What's Included? Me

Price $18.00

Original Price $30.50

Save $12.50
Description
WOW parents with this eye-catching editable Google Slides presentation. 53 designed slides - more than just headers like most you see on TpT - to help you limit text, include images, and help make your Meet the Teacher/Back to School Night/Open House run smoothly. Slides to discuss the curriculum, procedures, distance learning, volunteer opportunities, and staying connected are all included. Yes, this works in PowerPoint, too!
Need a slideshow to introduce yourself to students, too? Click here.
▶️ Watch the video preview to see every slide that's included and how you can customize them.
53 Editable Slides + Blank Create Your Own Slides
Directions for presenting this presentation to parents and sharing the link with them to review again
Step-by-step instructions for editing, adding links, Bitmojis, and images to slides
Step-by-step instructions for creating an Amazon wish list and adding a QR code to a slide
These are the slides I created. However, you can change ANY of these titles to match your lingo by clicking and typing. You can also create your own slides.
Welcome (before we get started)
Back to School Night/Open House
About the Teacher
Tonight's Agenda
Curriculum
Daily Schedule
Writing
Reading
Spelling
Word Study
Math
Social Studies
Science
Health
Specials
Distance Learning
Google Classroom
Seesaw
Flipgrid
Zoom
Google Meet
School and Classroom Policies
Arrival and Dismissal
Attendance
Homework
Grading Policies
Testing
Behavior Management
Birthdays
Health Policies
Dress Code
Field Trips
School Supplies
Volunteer Opportunities
Volunteers Needed
Wishlist
Save the Date/School Events
Stay Connected
Communication
Google Photos
Contact Info
Questions
Before You Leave
YES! One of the best features is that you can easily customize the slides so they fit your classroom.
ALL of the text it editable. Just click and type!
Delete any of the pre-made boxes or bullets
Create your own slides
Easily change all the fonts
Yes! This presentation has made Back to School Night so easy. You don't have to worry about remembering what to talk about and you can use it again next year!
Yes! Simply click File - Download As - PowerPoint after you open it in Google Slides.
These slides are perfect for the experienced Google teacher and one who is completely new to Google. Step-by-step instructions are included for everything from customizing headings and inserting images, to adding links and Bitmojis.
*NOTE: When you purchase this product, the license can be used for one classroom, not an entire grade level or school. Please purchase multiple licenses if it will be used by more than one teacher. Thank you.
Kathryn Averkamp - kat@makewayfortech.com
Google Certified Educator
Master's degree in Educational Technology
Taught each grade K-4 over the past 11 years
Awarded Teacher of the Year for the 2019-2020 school year
♥ Don't forget you can earn TpT credits by leaving a review after you purchase products.
----------------------------------------------------------------------------------------------------------------------------
⭐⭐⭐⭐⭐More Google Activities ⭐⭐⭐⭐⭐
Beginning of the Year
• Meet the Teacher Letters and Slideshow
• Back to School Night/Open House/Meet the Teacher Presentation
• Back to School Forms for Parents and Students
• Top 5 Picks of Summer Collaborative Class Activity
• 9 Back to School Google Activities
• All About Me Collaborative Slideshow
• Back to School Games and Activities Jamboards
• Digital Growth Mindset and Classroom Rules Poster Activity
• Student of the Day/Week Digital Posters & Class Book
• ENITIRE BACK TO SCHOOL BUNDLE ($31 worth of free products)
All Year Resources
• Virtual Parent Teacher Conferences
• Assignment and Agenda Slides with Timers
• Digital and Printable Newsletters
• Collaborative Kindness Activities in Google Slides
• Printable Growth Mindset and Inspirational Quote Posters
• ENTIRE YEAR BUNDLE ( $17 of free products!)
Learn Google Classroom for Teachers
• FREE PDF Guide to Google Classroom
Google Jamboards
• Back to School Games and Activities Jamboards
• Writer's Workshop Anchor Chart/Class Mini-Lesson Jamboards
• Math Mats and Manipulatives Jamboards
• Reading Response Jamboard Templates
• Valentine's Day Class Jamboard Activity
• January and February Discussion Jamboards
• March and April Discussion Jamboards
• Jamboard Templates GROWING BUNDLE (GET THEM ALL)
Writing/Reading
• Animal Research Report in Google Slides
• Biography Report Template in Google Slides
• Host a Poetry Writing Celebration! (Virtual or In-Class)
• Distance Learning Writing Prompt Journal "My At-Home Adventure."
• Digital Reading Logs and Graphic Organizers
• Digital Vocabulary Notebook For Any Subject
• Digital Stickers: Improvement Needed + Motivational
• Mother's Day Cards in Google Slides
Math
• Add and Subtract within 20 Word Problems (Great for review/assessment)
• Repeated Addition, Arrays, Equal Groups (Great for review/assessment)
• Entire Year Digital Multiplication Mystery Pictures in Google Slides
• Counting Coins and Bills Activities and Assessment
• Subtraction - Regroup or Not?
• Subtraction with Regrouping Word Problems Review (Topic 6 Envision)
• 2ND GRADE MATH BUNDLE ($20 worth of free products)
Social Studies
• Me on a Map Digital Flipbook + Landforms Digital Flipbook
• Google Slides Sharing Projects (Timelines, Family Traditions, Community Workers Current Events)
• Communities: Rural, Urban, and Suburban in Google Slides (+ Google Earth!)
Report this resource to TPT