Back to School STEM Apple Activities Bundle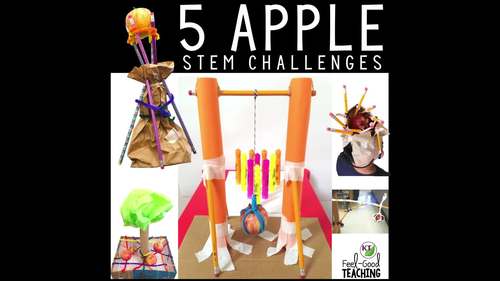 ;
What educators are saying
I used many of these activities for a summer STEM camp with 3rd-6th graders. Excellent variety of activities.
I use this resource every year at the beginning of the year. I am able to get to know my students, for my students to get to know each other, and work together.
Products in this Bundle (6)
showing 1-5 of 6 products
Description
These Back to School STEM / STEAM challenges are a great way to build community, establish procedures, and get to know how your kids tick! Plus, they're a great intro to forces and interactions and Newton's three laws of motion.
You want to start the school year with something fun...
...something different
...something that fires up creativity & critical thinking
...something that gets kids collaborating and communicating
...something that allows you to learn a ton about your students in a very short amount of time
...something that sets the tone for an incredible year with the best teacher ever!


______________________________________________________________
The basic premise:
Students work in partners or groups against criteria & constraints lists to design and build solutions to design challenges using symbols of the season: apples and school supplies! Modification suggestions are included to make these challenges engaging and productive for students in grades 2 - 8.
Bring the joy back to your classroom with collaborative, hands-on, brain-busting work (disguised as fun)!
______________________________________________________________
There are five STEM design challenges included in this bundle:
⭐ Back to School STEM Challenge: Apples Aloft
⭐ Back to School STEM Challenge: Apples Afar
⭐ Back to School STEM Challenge: Apple Ally
⭐ Back to School STEM Challenge: Apple Annihilator
⭐ Back to School STEM Challenge: Apples A-head

______________________________________________________________
Note: This is the printable version. If you are in a 1:1 / paperless classroom, you will want to check out the digital option for use with GOOGLE SLIDES (TM) instead.
If you have questions about which version is right for you, please feel free to leave me a question using the product Q&A below.
______________________________________________________________
Materials you'll need to do the activity are easily modified. Materials lists can be found in the product descriptions for each individual challenge linked above.
______________________________________________________________
Resource includes:
Overall STEM Tips
Suggestions on timing and whether or not to treat these challenges as competitions
What to say (and what not to say) during STEM Challenges
5-event Data Tracker handout
NGSS aligned standards, Grades 2 – 8
Plus, each challenge comes with:
Teacher Tips
Links to STEM Challenge How-to Videos
Links to individual challenge walk-throughs
Materials and timing
Criteria & Constraints (including modifications to increase difficulty for older students)
Measuring results
Post-design extension activities list
Student Handouts
Criteria and Constraints list (color and B&W; editable)
Results and Design Analysis (color and B&W; editable)
Discussion Questions (color and B&W; editable)
Extension templates
Process Flow Map
Math Extension
Plus, other design-specific handouts (see each individual challenge resource description page for more details)
~~~~~~~~~~~~~~~~~~~~~~~~~~~~~~~~~~~~~~~~~~~~~~~~~~~~~~~~~~~~~~~~~~~~~~~~~~~~~~~~~~~~~~~~~~~~~~~~~~~~~
The preview shows an overview of what is included in each challenge. You can find more details by clicking on the individual challenges titles at the top of each preview slide or on this page. Please don't hesitate to contact me with any questions!
_____________________________________________________________
What are teachers saying about this bundle?
"Wow wow wow! Everything under the sun is included in this amazing packet. I can't believe how much work you've done to collect and assemble it all. This was the most amazing set of projects to add to my mini unit on force and motion (and Isaac Newton) during my summer science camp. The materials were easy to collect, the directions were super clear (she made videos!!!) and there are more resources than you could imagine using for all age groups. She has challenges, extensions, and super cool links to songs all embedded in a clear, easy to read format.  I will use this every year!"
"I loved this resource. I used it with my STEAM classes in middle school and they had a great time and were 100% engaged!"
"My Class loves these challenges! So easy to put to use in the classroom. I also am thankful for the videos. Thank you!"
"I learned I was teaching a year-long STEAM class the day before classes started. This bundle was a life saver. I am currently breaking it down into a 5 week challenge and used someone else's suggestion of calling it the Fall Apple A-lympics. The PDFs and editable PPTs are easy to read and adapt. Materials can be found around the house or in the office, which is great for someone like me who was given last minute notice and doesn't have a huge budget. The students are working on the Apples Afar challenge right now and they are enjoying it. Thank you for your wonderful work."
"I plan on using this as Apple A-lympics for the first week of school. I love how differentiation is worked in the labs and different levels of difficulty are recommended."
~~~~~~~~~~~~~~~~~~~~~~~~~~~~~~~~~~~~~~~~~~~~~~~~~~~~~~~~~~~~~~~~~~~~~~~~~~~~~~~~~~~~~~~~~~~~~~~~~~~~~
NOTE: You can save even more by purchasing this bundle as part of the STEM CHALLENGE YEAR-ROUND MEGA-BUNDLE!!!
~~~~~~~~~~~~~~~~~~~~~~~~~~~~~~~~~~~~~~~~~~~~~~~~~~~~~~~~~~~~~~~~~~~~~~~~~~~~~~~~~~~~~~~~~~~~~~~~~~~~~
You might also like these resources:
⭐ Analyze and Interpret Data Unit
⭐ Back to School Ice Breaker Activity
⭐ Back to School STEM Challenge Activities: 1:1 PAPERLESS Version
⭐ Build a Boat STEM Challenge Mini Bundle
⭐ Card Tower STEM Challenge Mini Bundle
⭐ Halloween STEM Challenge Bundle
⭐ Oral and Written Communication Skills Task Cards
⭐ STEM Challenges: Year-Round Mega Bundle
~~~~~~~~~~~~~~~~~~~~~~~~~~~~~~~~~~~~~~~~~~~~~~~~~~~~~~~~~~~~~~~~~~~~~~~~~~~~~~~~~~~~~~~~~~~~~~~~~~~~~
Video preview music credit:
"Electrodoodle" Kevin MacLeod (incompetech.com)
Licensed under Creative Commons: By Attribution 3.0 License
http://creativecommons.org/licenses/by/3.0/
Report this resource to TPT
Standards
to see state-specific standards (only available in the US).
Develop a simple sketch, drawing, or physical model to illustrate how the shape of an object helps it function as needed to solve a given problem.
Analyze data from tests of two objects designed to solve the same problem to compare the strengths and weaknesses of how each performs.
Evaluate competing design solutions using a systematic process to determine how well they meet the criteria and constraints of the problem.
Ask questions, make observations, and gather information about a situation people want to change to define a simple problem that can be solved through the development of a new or improved object or tool.
Plan and carry out fair tests in which variables are controlled and failure points are considered to identify aspects of a model or prototype that can be improved.