Back to School Social Narratives and Comprehension + Google Slides™ | Special Ed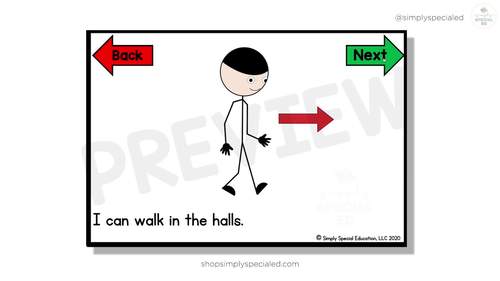 ;
What educators are saying
The students enjoyed the stories and it was great having the comprehension component to go alongside. Thank you!
Description
Back to School Social Narratives and Back to School Comprehension
Printable + Google Slides™ + Interactive PDF
Includes different versions for each social narrative!
+ digital
+ books
+ 1 page
13 Social Narratives:
+ Saying Hello to Friends
+ Classroom Rules
+ Riding the Bus
+ Walking in the Halls
+ The Playground
+ Washing my Hands
+ Manners in the Cafeteria
+ Fire Drill
+ Cooking in the Classroom
+ Asking for Help
+ Gym Safety
+ Recess Time
+ Breakfast & Lunch Manners
Comprehension (printable):
3 levels for each Social Narrative
+ blank response
+ lined response
+ picture response
Comprehension (digital):
Questions from field of 2 or field of 3
HOW DOES THE DIGITAL VERSION WORK?
+ All of the digital social narrative can be downloaded and used as Interactive PDFs.
+ All books are included separately to allow you to assign to students any way you choose to digitally. 
+ Quiz option is at the end of each story and includes immediate feedback.
+ Multiple choice quiz is self correcting (students can't move on until they get it right)
+ For online use you must have Google Slides™. Direct link is included to save to your Google drive which will allow you the ability to upload to your Google Classroom™
READ FIRST: These units are included in The First 10 Days bundle.
• The First Ten Days- Special Education
More back to school resources?
• Classroom Setup Bundle (includes this resource and the entire First 10 Days bundle)
• Back to School Basic Skills NO Prep Pack!
• Back to School Forms for Special Education
• Adapted Book Bundle: Back to School Interactive Books
FIND ME HERE!
Report this resource to TPT