Balancing Chemical Equations Complete 5E Lesson Plan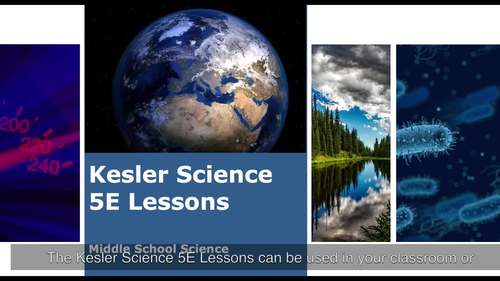 ;
Zip

Google Apps™
Includes Google Apps™
The Teacher-Author indicated this resource includes assets from Google Workspace (e.g. docs, slides, etc.).
What educators are saying
I used this as a review at the end of the unit- students needed a refresher on the concepts- this served as a great activity! Students were engaged and had great discussions. Thank you!
I actually used this to help teach myself balancing chemical equations while studying for the Praxis exam. It was an amazing resource! I highly recommend it when teaching middle school kids
Also included in
This is the ultimate lesson plan bundle for science teachers. The lesson plans are designed to take the focus off of lesson preparation and put it back into teaching. *** Top Middle School Science Curriculum All-Time on TpT ***All lessons are aligned to middle school NGSS and TEKS standards. You c

Price $543.76

Original Price $971.00

Save $427.24

Chemistry 5E Lesson Plans Bundle - Everything you need to teach a unit on chemistry. Each of the lesson plans follows the 5E model and provides you with the exact tools to teach the topics. All of the guesswork has been removed with these NO PREP lessons.Complete 5E Lessons Included for Each Topic

Price $72.80

Original Price $130.00

Save $57.20

Welcome to CAUGHT. This is an NGSS unit that integrates a storyline and projects with existing Kesler Science inquiry labs, station labs, and 5E Lessons. In this unit, students will be sent through a fictitious Forensics Academy to learn chemistry principles and evidence-gathering skills they need t

Price $71.20

Original Price $165.99

Save $94.79
Description
Make lesson planning the easiest part of your day! All the materials you need to teach an engaging, multi-day lesson on balancing chemical equations are included in this Balancing Chemical Equations 6th, 7th, 8th Grade Complete Lesson. Minimum prep and student-led learning allow you to focus on real student success!
Your junior high students will answer these essential questions:
What are the different parts of the chemical equation?
How can we tell if a chemical equation is balanced or not?
How does balancing equations relate to the law of conservation of mass?
What makes this Kesler Science Complete Lesson stand out?
Differentiated materials for students who need more support
Multimodal learning to keep middle school students interested
Maximum flexibility in formats - Printable? Digital? YES!
Editable PowerPoints so you can tailor the materials for your classroom
Spanish translations of vocabulary, station lab reading passage, and interactive notebook pages
Save $$$ and Bundle
Save over 35% when purchasing the Chemistry 6th, 7th, 8th Grade Complete Lesson Bundle (13 individual middle school topics)!
Save over 40% when purchasing the 6th,7th, 8th Grade Mega Complete Curriculum Bundle for junior high and middle school (99 individual topics)!
The lesson is based on the well-researched 5E Model, which covers Engagement, Exploration, Explanation, Elaboration, and Evaluation. 
Look at what is included to cover each stage of learning!


Objectives and Word Wall Cards with English and Spanish vocabulary
Teacher file with engaging ideas for class discussion and a class activity - many lessons with a student activity and/or common topic misconceptions
The student-led station lab is differentiated for all learners and learning styles. With nine stations, you can introduce balancing chemical equations to your middle school students in a variety of ways! 
Input Stations offer students multimodal ways to absorb lesson learning.
Explore It! - Hands-on demo or experiment connects students with information through engagement.
Read It! - Students read a short passage and answer comprehension questions. Choose from differentiated reading passages in English and Spanish.
Research It! - Students visit a website, perform tasks, and answer related questions.
Watch It! - Students learn through a short video and discussion on their lab sheet.
Output Stations provide ways for your junior high students to show what they know about balancing chemical equations.
Organize It! - Students use printable hands-on card sorts or manipulate digital images to foster categorization skills.
Write It! - Students respond to open-ended questions and communicate in complete sentences.
Illustrate It! - Students sketch or draw concepts; visual activity can increase recall and retention of new information.
Assess It! - Students answer more formal questions to demonstrate mastery and vocabulary in context.
Bonus Station!
Challenge It! This station offers fun extension activities for your early finishers to push their learning even further. This also provides the class with another reinforcement option. 
Editable PowerPoints in standard and interactive versions with differentiation
NEW! Interactive notebook templates in multiple formats, including digital INB files and print files in Spanish and English
Note-taking templates to help students follow along with presentations
Student-choice projects on balancing chemical equations to extend the learning in-class or at home
Assessment questions updated for STAAR 2.0 (Texas end-of-year testing) and available in dependent and modified versions
Review questions and a worksheet for class discussion, test practice, or homework
Can This Resource Be Used for Virtual Learning?
Absolutely! The station lab from the Exploration section and the PPT/INBs from the Explanation section have been created so that students can use them on campus or in a virtual learning environment. 
Terms of Use
Copyright © Kesler Science LLC. All rights reserved by the author. This product is to be used by the original downloader only. Copying for more than one teacher, classroom, department, school, or school system is prohibited. This product may not be distributed or displayed digitally for public view. Failure to comply is copyright infringement and a violation of the Digital Millennium Copyright Act (DMCA). Clipart and elements found in this PDF are copyrighted and cannot be extracted and used outside of this file without permission or license. Intended for classroom and personal use ONLY.
Report this resource to TPT