Balloon Car Project STEM Challenge - Newton's Laws of Motion in Action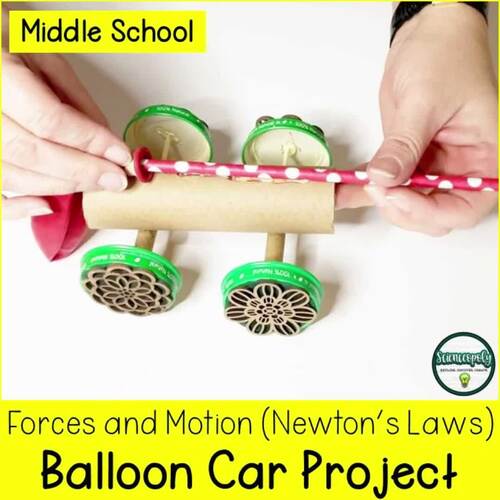 ;
13 student worksheets, teacher presentation (PPT and Google Slides), plus awards for race day
What educators are saying
Definitely a highlight in this very hands off kind of year. Used an electric pump to blow up balloons as a work around ; )
Description
Do you want to bring Newton's Laws of Motion to life with a hands-on STEM activity that will challenge your students? Are you looking for engaging ways to assess your student's knowledge of forces and motion? The balloon car project STEM challenge is an excellent way for your students to apply Newton's Laws of Motion in the classroom and this resource is packed full of everything you need to make the learning experience fun and valuable including...
Review and Application Worksheets
Teacher Presentation for review and Balloon Car Project procedures (PPT and Google Slides)
Data Collection Worksheets
Data Analysis Worksheets
Graphic Organizer and Essay Outline
Teacher Tips Pages
Race Day Awards
Students begin with a review of Newton's 3 laws of motion, using the Review and Application worksheets. Each worksheet is dedicated to one of Newton's laws and specifically guides students through its application to the balloon car project.
The teacher presentation (available in PowerPoint and Google Slides) will also walk your students through a review of the three laws of motion. Content on the slides is editable so you can customize them to suit the needs of your classroom.
The teacher presentation also includes instructions and guidelines for the balloon car project STEM challenge. You can edit the instructions and guidelines direction on the slides to make them work for your students.
Now it's time to build! Students spend several days constructing and adjusting their cars, using collaboration and critical thinking skills. As they do this, they will use the Balloon Car Project Worksheets to collect data about their cars and their classmate's cars. On race day, you can use the included Balloon Car Project Awards to give students acknowledges such as fastest car.
Finally, it's time to analyze the data. Students will use the Data Collection Sheets and Class Data Analysis Graph to determine if there is a correlation between mass and speed. They can also write about their data and experience using the included graphic organizer and essay outline (this is a great tool if you want to partner with an ELA teacher!)
Also included are the Teacher Tip Pages, providing you with lots of support, tips, and ideas, so that you can easily implement this hands-on STEM challenge into your science classroom!
Be sure to check the PDF and video previews to see all that's included and how you can use it in your classroom as you prepare your students to apply their knowledge of Newton's Laws of Motion!
Total Pages
13 student worksheets, teacher presentation (PPT and Google Slides), plus awards for race day
Teaching Duration
2 Weeks
Report this resource to TPT
Standards
to see state-specific standards (only available in the US).
Understand that positive and negative numbers are used together to describe quantities having opposite directions or values (e.g., temperature above/below zero, elevation above/below sea level, credits/debits, positive/negative electric charge); use positive and negative numbers to represent quantities in real-world contexts, explaining the meaning of 0 in each situation.
Follow precisely a multistep procedure when carrying out experiments, taking measurements, or performing technical tasks.
Write arguments focused on discipline-specific content.
Conduct short research projects to answer a question (including a self-generated question), drawing on several sources and generating additional related, focused questions that allow for multiple avenues of exploration.
Reason abstractly and quantitatively. Mathematically proficient students make sense of quantities and their relationships in problem situations. They bring two complementary abilities to bear on problems involving quantitative relationships: the ability to decontextualize-to abstract a given situation and represent it symbolically and manipulate the representing symbols as if they have a life of their own, without necessarily attending to their referents-and the ability to contextualize, to pause as needed during the manipulation process in order to probe into the referents for the symbols involved. Quantitative reasoning entails habits of creating a coherent representation of the problem at hand; considering the units involved; attending to the meaning of quantities, not just how to compute them; and knowing and flexibly using different properties of operations and objects.